HTPC 2003 - Motherboard, Processor, Memory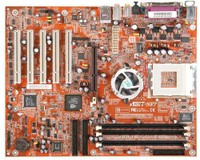 The Motherboard - Abit NF7-S nForce2
For this component you can choose the product based on what suits your needs. Some of the factors you may wish to consider are:
Brand/Platform: AMD or Intel? DDR memory compatibility? Number of USB ports?
Capacity For Future Upgrades: How much memory is needed to accomplish tasks? Is a CD ROM needed? DVD ROM, or even a burner? How many hard drives or how much storage space is required? Is a RAID configuration required? These options may sacrifice much space for speed. Do you have a 4x AGP card or a newer 8X AGP card? One may also want to think about how many case fans the HTPC will need, and if the motherboard can power them.
Onboard Features: Do you want to use integrated networking? RAID? On-board audio? Depending on what one plans to do with their HTPC, they could save a lot of money by buying a motherboard with some or all of these features onboard. However, going this route may save money but may also sacrifice performance.
For this article we will be using an Abit NF7-S nForce2 motherboard which supports a wide range of AMD processors. The Abit version of the nForce2 series of motherboards are very reliable, well built, perform great, and are loaded with lots of useful features.
The main features that draw me to this board are:
Some of the latest cutting edge technology is built right into the board, including AGP 8X specification, Serial ATA 150, Dual Channel DDR interface, 400 mHz DDR memory bus, onboard 10/100 LAN and fully USB 2.0 compliant.
Powerful BIOS options: This particular Abit board has one of the most powerful bioses I have come across. Complete voltage control for all components, AGP frequency control and lock, complete FSB frequency adjustment scale, full scale memory latency adjustments, hardware thermal protection shutdown settings, and CPU/memory speed divider just to scratch the surface.
The inclusion of the MCP-T APU (audio processing unit) coupled with the well known Nvidia Soundstorm software. This is a highly regarded sound processor in the computer audio field, especially considering it is an onboard unit. It comes with a digital optical output and is capable of Dolby Digital 5.1 surround sound for higher sound quality and multichannel environments. This is a great addition to this motherboard and one still has the freedom to replace it with an add on specialty sound card in the future if so desired.
My only complaint about this specific motherboard is that it does not include one very handy feature that other versions of the nForce board include. It is lacking smart fan technology, which performs the same function as it does in our power supply. This feature senses system temperature and adjust the fan speed accordingly to either provide better cooling or lower ambient noise by reducing fan rotation depending on temperatures. This feature would have proved quite useful but unfortunately is not present. However, this shortcoming can be negated by either using an add in hardware fan controller, 7 volt modding the fans or simply using more efficient but low RPM fans.
The Processor - AMD XP-M 2500+
Since the motherboard we are using requires an AMD CPU, our choice will be the AMD XP-M 2500+. The "M" in that code stands for mobile, meaning that this particular chip is intended for laptop use. However, it is the exact same as the normal desktop version of the AMD Barton 2500+ with one very substantial difference, and this variation is exactly why I insist on using this chip for this application. The mobile version of the 2500+ runs on 1.45 vcore, versus its desktop equivalent running on 1.65 volts. This is quite possibly one of the most important factors in our system. 0.2 volts overall may seem quite miniscule, but that 0.2 volts could mean the difference of 5 to 10 degrees celsius, perhaps more. The lesser core voltage one utilizes, the less heat is generated, therefore less cooling resulting most importantly in less fan noise overall. Of course, you can also add better cooling and overclock the heck out of this processor!
This processor, coupled with a large high performance copper heatsink and a large finned, low RPM / mid CFM rated fan and a quality thermal interface material such as Arctic Silver 5 is a great combination for balancing cooling performance and fan noise. I would recommend going with the Thermalright SP97, shown below.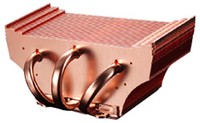 The Thermalright SP97 heatsink with heatpipe. This heatsink is entirely made of copper and accepts a 92 MM fan for higher performance. The heatpipes serve to remove and carry extra heat away from the processor core.
The Panaflo 92 MM fan. Spins at 2450 RPM pushing 48 CFM at 30 dB. The most important factor for choosing a fan for this project is balancing the dB rating with the fan output (CFM).
The Memory - Corsair PC3200 DDR RAM
I have learned from personal experience time and time again that there is no substitute for brand name RAM. The reliability, speed, and warranty are all factors that make it worthwhile to purchase memory from a recognized manufacturer. A few top names in memory these days are Corsair, OCZ, Kingston, Mushkin and Crucial. More often than not, top name manufacturers offer a full lifetime replacement warranty on their RAM, so it is more than worth it to spend the extra money now and have memory that is garanteed to work perfectly for life. It isn't often that hardware manufacturers will make that promise! Furthermore, generic name RAM will often suffer from poor memory timings/latency, and this very important performance factor will be unspecified to the consumer at time of purchase. More on timings/latency further down in the article.
I prefer the Corsair RAM, so we will be going with 1024 megs of Corsair PC3200 LL in which the LL stands for "low latency." This technology gives our system a small boost as low latency in this context means that the timings that the bus speed operate on for the memory are enhanced. The typical high speed timings (or latency) this RAM operates on is 2-3-2-6.To also take advantage of our dual channel memory bus feature, we will use a 2 X 512 megabyte matched pair, often called a dual channel kit.