Wiring the A/V Rack Wall
You Need Tools to Pre-Wire
The tools you need to complete the pre-wire job are dependant on the type of pre-wire you need to install: new construction or retro. New construction pre-wire installations are much easier because the wire is installed before the sheet rock and insulation. You have complete access to the stud bays and attics. Retro custom installations are a little more difficult because you need to fish wire in pre-existing walls with the sheet rock in place. In some cases, you may need to cut the sheet rock to provide access for the wire run, then patch and refinish the sheet rock.
Basic Tool List: New Construction
Heavy duty corded or cordless drill
Wood boring, auger, or paddle drill bits
Hammer
Ladder
Camera
Various hand tools like screw drivers
Basic Tool List: Retro Custom Installation
Heavy duty corded or cordless drill
Wood boring, auger, or paddle drill bits ( may need longer lengths)
Fish tape or fiberglass fish rods
Bright Flashlight
Ladder
Various hand tools
Roto zip or drywall saw
Dry wall patching tools
Dust Mask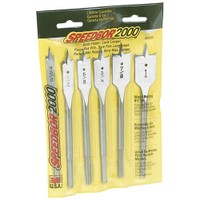 Retro pre-wiring can be dirty, frustrating, and sometimes dangerous. If you don't have the skill and knowledge to perform the various tasks or if you are unsure of your ability, my best advice is to hire a competent A/V installation professional.
Let's Get Busy (A/V Rack Wall)
Now that we have established the location of the audio/video equipment in the room and have the tools to complete the job, it's time to get our hands dirty. The photo shows typical stud framing of an exterior wall with the wall studs installed 16-inches on center. Partitioned interior wall may or may not have blocking installed between the studs as illustrated in the photo designated by the letter "B". As previously stated, if you are pre-wiring new construction, blocking will not present a problem because you have access to the inside of the stud bay to drill holes in the blocking. If you have a retro pre-wire you may have to cut out the sheet rock to drill through this blocking to run your wire. A quick word about drilling holes in stud framing before we proceed. As a rule, I never drill more than two holes with a maximum size of 1-inch in a stud bay. The reason for this is because it could potentially weaken structural stud framing. In the picture, you see only two holes for each stud bay with the holes drilled in the center of the 2x4 blocking. The same rule should apply for drilling through the framing top plate of the wall. If you are not sure about the local code regulations, you may want to consult with your local planning and building department.
Low voltage work boxes as illustrated with the letter "C" should be large enough to accommodate all of your wire. Note the location of the low voltage boxes in the photo; they are installed above the high voltage romex electrical circuit to prevent RF electrical interference. A good rule to follow when pre-wiring your home theater is to always keep your pre-wire as far away as possible from high voltage electrical wire. Looking at the photo you will see that high voltage romex is also installed vertically in the stud bay as illustrated with the letter "D", there is no pre-wire installed next to the romex that runs vertically up the wall. Instead, the wire is installed in the next stud bay.
If you have a retro installation, you should locate electrical outlets on the wall and high voltage electrical romex wire runs before you drill into the stud framing. Nail plates are installed everywhere the pre-wire goes through the stud framing as illustrated with the letter "E" The nail pates prevent the wire from being damaged if a nail or screw is installed in the wall after sheetrock is installed. Flex tube conduit is installed in the wall as illustrated with the letter "A". The conduit is left empty and provides access for future wire pulls for future expansion. This low cost item is often over looked in high end home theater pre-wire installations. Electrical outlets as illustrated with the letter "F" also need to be considered. You need not spend your money on "audiophile" electrical outlets but should install commercial grade 20 amp outlets. The reason for using the commercial grade outlet has nothing to do with sound quality: that's all BS. The main reason is that commercial grade outlets have better grabbing power. The tangs used in the commercial grade outlets will hold heavy power cords better than conventional 15 amp "El-cheapo" outlets. Partially dislodged power cords can create system hum and buzz so spend the extra $2 for the good outlets. The last thing I want to mention about the photo and illustration is how the wire is installed. It hangs gently with no sharp bends and comes out of the low voltage box as a trunk of wire.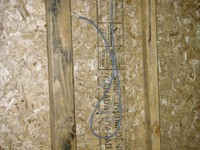 For my dedicated home theater room, I installed allot of extra wire because wire is relatively cheap and you never know what you will need for future upgrades. Starting with the speakers I wired for the main left, center and right speakers. Additionally, I ran wire for an alternate pair of front speakers and an additional center channel. I also installed five runs of RG6- QS just in case I ever acquire self amplified speakers. For the subwoofers, I used two Blue Jeans LC-1 pre-terminated subwoofer cables. I pre-wired two additional RG6-QS cables for the future. For the surround sound channels, I pre-wired for two side mounted surround speakers, two optional surround speakers at the back of the room, and two EX channels. I ran two RG6-QS cables to the rear corners of the room for future upgrades. When you have completed the speaker pre-wire runs, lightly tack the wire to the back of the wall for any wall mounted speakers and leave an additional 2-3 feet of wire to pull out of the wall after the sheetrock is installed. Now that you have completed all of your in-wall pre-wire, take photographs of all your wiring in the stud faming. This will help you locate it after the sheetrock is installed. Pick a central location and record measurements to the location of each wire or mark the measurements on the floor where the wire is located in the wall. All of the future upgrade cable should be neatly coiled in low voltage boxes.
oasis posts on June 07, 2007 13:54
hello all,

searched forum and think this probably as good a thread as any to ask some questions about something i'm trying to accomplish. my house was wired when built in '97' running RG-6 from different originating points for both SAT and cable and terminating in livingroom. RG-6 was then run throughout for distribution to different areas of house including an outside pool area.
i recently installed outdoor antenae for OTA HD reception and use the pool area RG-6 to bring HD signal to the reciever. but now i can't watch TV by pool because i use that line to bring HD signal in. I can either watch HD inside or TV outside. when i want to watch TVoutside i have to disconnect and reconnect a bunch of wires which is a pain.
i don't want run a seperate dedicated wire (bust out walls) from antenae unless absolutely necessary. here's my question. is a device (or other solution) which would allow OTA HD signal to be carried into the house and SAT signal out to pool TV simultaneously using the same RG-6? in other words can RG-6 be used to send seperate signal simultaneously and in opposing directions (like fiber optic)? thx.
griffit5 posts on June 07, 2007 09:10
Should speaker cables be routed separately from all other cables? Or is it OK to run them side by side with RG6, HDMI, and data lines?
RLA posts on June 06, 2007 16:43
I know it really doesn't matter but I don't like the idea of having wires that are unuseable hanging out inside the walls and attic.

This is a very common scenario when builders use so called "low voltage specialists" to install complex wiring in today's multi-media homes. I get many calls a year from frustrated home owners complaining about wire that was installed in correctly, wire in the wrong locations or the wrong wire installed. Unfortunately once the sheet rock goes up its hard to fix mistakes. All wiring should be tested before sheetrock is installed. Cat 5 wiring if fairly delicate because it is high gauge and is a solid core, even introducing a sharp 90-degree bend in the cable can break a conductor. If you have just one or two conductors that are dead in the CAT-5 wire the other conductors can still be used for audio transmission, video transmission up to 75- feet if shielded or trigger wire. If you read the article it will guide you through the wire install process. Installation of conduit in the stud bay is very cheap insurance, but many builders will scoff at this idea because they haven't a clue about pre-wire.
RLA posts on June 06, 2007 16:29
In the article, there is an outlet above where the projector will be mounted. Assuming that you don't want the projector plugged directly into the wall, will you be using some sort of surge protection on it? If so, how?

If you want to keep it clean then terminate the rack end side of the romex with a heavy duty grounded plug. This can get plugged directly into a rack mounted line conditioner or suppressor. Another alternative is to use something like the Furman AC-215 mounted in close proximity to the projector.
http://www.furmansound.com/product.php?div=01&id=AC-215_PRO
[furmansound.com]
MDS posts on June 06, 2007 13:42
I like the alternative idea of hanging the cables with additional wire fastened to some kind of support instead of staples.

The reason I'm thinking that would be better is that in my house I had one CAT5 wire that was dead and the installers that were suffering in the hot attic told me that it was punctured by a staple. They pullled a new cable but could not get the old one out. I know it really doesn't matter but I don't like the idea of having wires that are unuseable hanging out inside the walls and attic.