Home Theater Prewire Basics - Introduction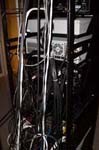 wire mess
Pre-wiring homes for today's complex home theater systems can often times be a very frustrating task even for the highly skilled A/V professional. There are many factors that need to be considered before a home is wired for video and sound. This basic tech tip article may help guide you through the rigorous process thus turning this project from daunting to fun and educational. We will give you guidance on how and where to route your cables, as well as tips on the proper cables to use for your installation.
Planning
A key factor before you start pre-wiring your home is planning.
A/V equipment rack location
Selecting and installing the correct wire for the pre-wire
Pre-wire for future upgrades and flexibility
Use the correct tools when pre-wiring
Route the wire correctly in the wall and in the ceiling
Terminate the wire correctly to the A/V components
A/V Equipment Rack Location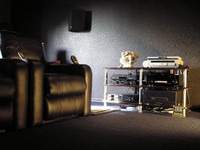 The first step is to know where your home theater equipment will be installed in the room. This is the central location where all the wire from speakers, subwoofers, TVs, front projection systems and accessories will merge and be terminated to the equipment. In my dedicated home theater I prefer having my A/V component rack on the side wall at about the half way point of the room. I prefer this location because of its close proximity to my chairs. This location also provides uniform and shorter wire runs to my front projector and multiple speaker systems. You can install the A/V rack in just about any location in or out of the room. Generally, I don't recommend placing A/V components in close proximity to the video viewing surface. The reason for this is simple. In a darkened room, power indicator lights and LED indicators on the A/V components can be distracting and glare off the viewing surface. If the A/V component rack is placed in a position that is not in a direct line of sight, the A/V equipment lights become less of a distraction and your viewing will be more enjoyable.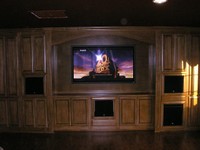 If you choose a location behind the seated position or out of the room you will need to consider using a RF based remote control. IR based remote controls need line of sight for proper operation. Many homes have custom A/V cabinetry that will house a large screen TV and A/V components on a front wall and often doors will cover the A/V equipment for concealment. If this is the case with your future installation, you should consider the use of a non glare surface for the doors and must remember that A/V equipment needs proper ventilation. If you look closely, below the A/V rack pictured above you can see wire coiled up and hidden underneath. This wire will be used for system expansion or future system upgrades. I have spot lighted the area and pulled the wire out to the front of the rack for the photo, normally it would not be seen.
oasis posts on June 07, 2007 13:54
hello all,

searched forum and think this probably as good a thread as any to ask some questions about something i'm trying to accomplish. my house was wired when built in '97' running RG-6 from different originating points for both SAT and cable and terminating in livingroom. RG-6 was then run throughout for distribution to different areas of house including an outside pool area.
i recently installed outdoor antenae for OTA HD reception and use the pool area RG-6 to bring HD signal to the reciever. but now i can't watch TV by pool because i use that line to bring HD signal in. I can either watch HD inside or TV outside. when i want to watch TVoutside i have to disconnect and reconnect a bunch of wires which is a pain.
i don't want run a seperate dedicated wire (bust out walls) from antenae unless absolutely necessary. here's my question. is a device (or other solution) which would allow OTA HD signal to be carried into the house and SAT signal out to pool TV simultaneously using the same RG-6? in other words can RG-6 be used to send seperate signal simultaneously and in opposing directions (like fiber optic)? thx.
griffit5 posts on June 07, 2007 09:10
Should speaker cables be routed separately from all other cables? Or is it OK to run them side by side with RG6, HDMI, and data lines?
RLA posts on June 06, 2007 16:43
I know it really doesn't matter but I don't like the idea of having wires that are unuseable hanging out inside the walls and attic.

This is a very common scenario when builders use so called "low voltage specialists" to install complex wiring in today's multi-media homes. I get many calls a year from frustrated home owners complaining about wire that was installed in correctly, wire in the wrong locations or the wrong wire installed. Unfortunately once the sheet rock goes up its hard to fix mistakes. All wiring should be tested before sheetrock is installed. Cat 5 wiring if fairly delicate because it is high gauge and is a solid core, even introducing a sharp 90-degree bend in the cable can break a conductor. If you have just one or two conductors that are dead in the CAT-5 wire the other conductors can still be used for audio transmission, video transmission up to 75- feet if shielded or trigger wire. If you read the article it will guide you through the wire install process. Installation of conduit in the stud bay is very cheap insurance, but many builders will scoff at this idea because they haven't a clue about pre-wire.
RLA posts on June 06, 2007 16:29
In the article, there is an outlet above where the projector will be mounted. Assuming that you don't want the projector plugged directly into the wall, will you be using some sort of surge protection on it? If so, how?

If you want to keep it clean then terminate the rack end side of the romex with a heavy duty grounded plug. This can get plugged directly into a rack mounted line conditioner or suppressor. Another alternative is to use something like the Furman AC-215 mounted in close proximity to the projector.
http://www.furmansound.com/product.php?div=01&id=AC-215_PRO
[furmansound.com]
MDS posts on June 06, 2007 13:42
I like the alternative idea of hanging the cables with additional wire fastened to some kind of support instead of staples.

The reason I'm thinking that would be better is that in my house I had one CAT5 wire that was dead and the installers that were suffering in the hot attic told me that it was punctured by a staple. They pullled a new cable but could not get the old one out. I know it really doesn't matter but I don't like the idea of having wires that are unuseable hanging out inside the walls and attic.