Zoom, Compact, and Ultra-Compact Models
Although there is a clear separation between D-SLR cameras and near SLR's the same cannot be said about our next group of cameras. The Zoom camera is smaller than the near SLR, but has almost all of the same functionality. Their category name stems from the fact that these cameras have a good set of optics with a generous aperture and up to 12X analog zoom. These cameras usually come in a good mid-sized body with a fairly large LCD. Nearly all of them have a simple viewfinder or no viewfinder at all and have large controls over scene modes and camera operation. Although most of the bodies of these cameras are about as wide and tall as a compact camera, their larger lens and controls require a thicker body. In most cases their body is twice as thick as a comparable compact camera. These cameras often share the same software with near SLR's and compacts, but offer superior flexibility in shooting compared with the compact cameras.
The Zoom camera's lens offers excellent range and low light shooting without a flash. The cameras are small enough to easily accompany you on your trips, but you won't be putting them in your pocket, and you may find it uncomfortable to hang it from a lanyard in front of you. Unlike SLR's and near-SLR's which when worn clearly feel like a piece of equipment, the less expensive zoom camera often isn't as durable as its larger brethren and can suffer from minor bumps. However, these cameras are relatively inexpensive, being easily under $300 and usually come in a variety of media types. These cameras will sacrifice some image quality for a more convenient size, but aren't so small that they can be dropped into a pocket. They don't normally allow complete control of the shutter or aperture, but normally have a pretty good range of scene modes and menu adjustments. They are large enough to have a decent fill flash, but don't expect the range of the flash to be as far as the zoom range of the camera. One perk is that many of these cameras include optical stabilization to improve stability and reduce blurring at maximum zoom. There will be no shooting in the RAW here. These cameras will usually offer JPG and TIFF options along with a few adjustments.
Compact Cameras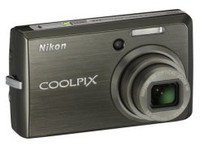 Compacts and ultra-compacts make carrying a camera no more difficult than a wallet. These cameras fit easily into pockets, can be worn around the neck and can be packed with on any trip. Part of their allure, is that when turned off, the cameras fold up to a nice flat box and are relatively sturdy. They are normally small enough to fit in the palm of your hand, and can be under 3/4 of an inch thick when turned off. Some newer models are even thinner than a half an inch!
Compact cameras take quite a few seconds to get turned on. During this time the lens gets into position extending from the surface of the camera up to two inches. These cameras usually have a simple viewfinder or none at all, but most people take pictures while looking through the LCD. Manufacturers are well aware of this tendency and use large clear LCD panels that take up the entire back of the camera. Unfortunately this means there are few spaces left for controls. In order to include the same functionality that the larger zoom cameras have, the compacts must have an involved menu system to include this functionality. This means to make any adjustment, you will be diving into a menu system - possibly several layers deep.
These cameras have small optical zooms, usually no more than 3X and reasonable megapixel ranges (we've seen them as high as 8). They often have some number of special effects for image processing, and are limited to smaller scale recording media like SD and Memory Stick. Although battery life hasn't been discussed up to this point, these cameras offer decent shooting life and normally have custom rechargeable batteries, but you also may find the occasional model that still uses AA or AAA batteries. They have largely inadequate fill flashes, but offer advanced red eye reduction. In order to accommodate this reduction, cameras of this class (this includes zoom, near SLR's, compacts and ultracompacts) will light the flash a couple of times to reduce the size of the subject's pupils before shooting. Moreover these cameras often have an infrared range finder to determine how bright the flash should be lit.
Something akin to all of these types of cameras (excluding SLR's) is that they have a complicated autofocusing and subject finding algorithm. Some of these cameras even have advanced face finding. Yet, all of this measuring and flashing does increase how much time will elapse between when you depress the shutter button and when the camera actually takes a picture. Even some of the best cameras will take over a second to actually shoot a picture after having depressed the shutter. This is why most of the cameras have an autofocus indent. When pressing the shutter button half way you will feel a stage one stop that will make the camera autofocus and range find. The camera is now ready to take a picture and will release the shutter after a moment's hesitation after depressing the shutter button the rest of the way.
The major players have reached some limitations on what they can include in their cameras. Although the megapixel density increases marginally with each iteration of the cameras, the software functionality is really the only thing being actively updated. However, since many of these cameras are quite inexpensive, some people are beginning to treat them as disposable, updating their camera often.
UltraCompacts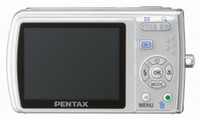 Ultracompact cameras are everything their name implies. These cameras can slip into a pocket, in some cases almost unnoticed. Their optics are small and often not in the center of the camera (somewhat distorting their field of view. Many have dispensed with any viewfinder at all instead having a large LCD taking up the entire rear panel of the camera. These cameras will have a simple fill flash and several shooting modes. Some even have marginal analog zooms, however since the lenses of these cameras do not extend far beyond the body, their optics are going to be the worst of the bunch. Arguable, since no amount of electronics can make up for bad optics, you are going to shoot the least technically good pictures. However, they are still going to be much better than any cell phone picture and infinitely better than not having a camera at all.
Many manufacturers have even done work to make these cameras more attractive to people beyond just kids and moms. Some have touch screen controls on the LCD to make it easier to get to the camera's functions, while others have added some advanced sharing features. These cameras make a great second camera to take out to the beach or a theme park. Their flashes are quite limited so unless you only want to shoot faces, they are not going to produce great pictures indoors or in low light. They can light up the subject, but often nothing else.
In the Box
No matter what camera you choose to buy, remember the whole point is preserving memories. Although not addressed here, all cameras are going to come with some rudimentary software for cataloging and editing photos. Don't expect anything too phenomenal here since the margins on cameras have fallen drastically over the past two years and companies are not including many extras. Additionally, most of these cameras will use a custom battery and spares will not be cheap (check eBay for deals). Some cameras indicate they can only work with one operating system or another, but this always refers to the included software and not the camera itself. Some manufacturers differentiate themselves by providing services after the picture is taken. Kodak, for example, has an extensive suite of utilities that will allow you to manipulate, edit, and catalog your photos. From there you can order prints and packages directly from the interface. Others contract out to secondary services for similar functionality. Both Microsoft Windows and Apple Mac OS X provide some level of photo handling, most notably the iLife suite from Apple. Lastly, most camera manufacturers have adopted the universal Pict-Bridge standard which allow cameras from any manufacturer to communicate with enabled printers without the need for a computer. This will allow you to use the LCD of your camera to locate, enhance, crop, and then print a photo all without ever touching a computer.
Have fun and shoot lots of pictures - and remember to back them up! Even the most dedicated pro will shoot hundreds of photos in order to get one gem. Deleting photos doesn't cost anything, and to the photographer in all of us, nothing beats getting that one lasting memory.
ThA tRiXtA posts on June 09, 2008 15:55
NainoKami posts on June 09, 2008 13:19
"So, a 55mm lens (standard stock lens on most D-SLR cameras) will actually have an equivalent focal length of about 12 mm."
Uhm... I mean no disrespect, but that's just plain wrong.
If you have a 50mm prime on a Canon XTI which has a crop factor of 1.6 for example, you'll get an equivalent focal length of 80mm.
Sony has a crop factor of 1.5, the Four Thirds system has a crop factor of 2.0 and so on...
If in doubt:
http://alphamagic.wordpress.com/2008/01/03/digital-slr-crop-factor/
[alphamagic.wordpress.com]
Kind regards,
Simon
jwenthold99 posts on June 09, 2008 10:51
I just bought a Canon XSI three weeks ago, it does have live view, and all I can say is wow!

The quality of the pictures is amazing, and I am already picking out the lenses I NEED to get. The kit lens is ok, but I like shooting with no flash so I need something more sensitive.

Any other audioholic photo buffs? I would welcome any tips to help me improve my pictures.