Building an HTPC - Adding the Components
This guide to building your HTPC will give you the basics, and teach you some things to watch out for, but your mileage will vary as all installs are different, as is each installer's level of experience. We'll try to give you some pointers along the way and do our best to help you avoid some of the common pitfalls.
Step One: Open up the chassis/case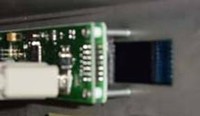 Getting familiar with your HTPC case, or in this case, chassis, will help you avoid common pitfalls and ensure the correct order of events. Open up the chassis and take a look at the way it is assembled so that you can determine the correct order of component insertion. In the case of the Vision II, you will want to remove the hard drive retainer and make any modifications to the display filter first. I chose to remove the standard red filter and replace it with blue. I also took this time to attach the vacuum florescent Matrix Orbital display to the front of the unit via the threaded mounts provided. Be careful when attaching these glass displays to the pre-mounted bolts - one slip and you will have $90 worth of cracked glass! Order is important - in the case of the Vision II there is no way to make changes to the display once you insert the motherboard and drives!
Step Two: Hard Drives, Power Supply and Motherboard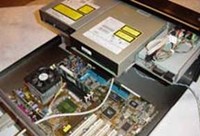 You will want to mount your hard drives first, if you have a removable tray system. In the case of most traditional PC cases, you can install the hard drives after the motherboard and Power Supply. With the Vision II, the order was: hard drive, motherboard, power supply. This offered me the most room to move and enabled a simple installation process. Regarding hard drives, we'd recommend at least 80GB if you want to store large amounts of files for playback on your HTPC, even larger [dedicated] drives can come in handy if you plan to use your HTPC for recording video (to be covered in a subsequent article). If you are running anything over an 800MHz processor you should be looking at a 300W power supply minimum. Anything above 1.7GHz will most likely want a 350W power supply. Getting a power supply that is too small may result in spontaneous reboots in WindowsXP due to not having enough power to drive all peripherals like hard drives, VFDs, NIC cards, sound cards, and even some video cards which require additional power to run.
Step Three: Fans, Processor & RAM
Once the mother board is placed within the chassis or case, you can add the CPU, chassis fans and RAM. We recommend 256MB of RAM or more for a successful HTPC. It will free up 128MB for Windows XP and provide you with enough additional RAM to run your DVD software and other applications. We will also go ahead and recommend at least 800MHz to run a decent HTPC for DVD, CD and MP3 playback. Again, be sure to get something at or above 2GHz if you plan to run Windows Media Player 9's new HD video format. WeÕve found that the best bang for the buck can be found at the AthlonXP 2000+ level.
When inserting the processor, be sure to use suitable thermal conductive grease between the processor and the heatsink. Failure to do this will result in a poor thermal connection between the processor and heatsink - and problems are almost sure to follow.
Be sure to get some quiet chassis fans and ensure they cause air to flow across the motherboard to aid in cooling the processor and carry heat out of the case. I usually prefer to use 2 lower RPM fans, one for intake and one for outputting hot air. There are a number of inexpensive, low-noise solutions out there. IN addition, many motherboards will regulate fan speed based on temperature, a nice feature which serves to reduce noise when the CPU isn't being taxed too heavily.
Step Four: Add Your Optical Device(s)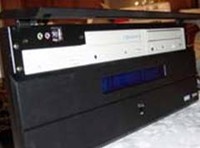 I have found that computers no longer need floppy drives, however if you have an extra one lying around - go ahead and add it to the system. The one optical drive you will absolutely need is a DVD-ROM drive. It may also be nice to include either an integrated or separate CD-RW drive for backing up media and storing it for later retrieval. In the Vision II case, up to two (2) optical drives are mounted side by side, next to an (optional) floppy drive.