BD-P1000 Measurements and Viewing Evaluation
Compatibility
The Samsung BD-P1000 Blu-ray Disc player can handle BD-ROM, BD-RE/R, DVD-Video, Audio CD, DVD-RAM, DVD-R/RW, and CD+/-R/RW. JPEG and MP3 on CD is supported, though supposedly DVD+R/RW formats are not (don't worry, it played several DVD+R discs just fine for us). SACD and DVD-Audio are not supported, but most of these discs have DTS tracks and those formats appear to be working themselves into a niche market (DVD-Audio) or extinction (SACD) regardless.

Video and Audio Measurements & Testing
Since the Samsung BD player is certain to be used for upconverting standard DVDs to 1080p via HDMI, it was imperative that we explore how well the player handled the source interlaced signals coming off of standard definition DVDs. In particular, we were looking for solid deinterlacing and jaggie reduction performance, noise reduction and the ability to easily navigate unflagged 2:3 cadences. With an on-board FLI8638-LF chip, we were optimistic about the BD-P1000's abilities to perform with legacy media.
All final test scores were derived using the Samsung BD-P1000's HDMI output in 1080p mode unless otherwise specified.
Audioholics/HQV Bench Testing Summary of Test Results
Perfect Score is 130
Samsung BD-P1000 Benchmark total score: 73/130 (The Faroudja FLI8638-LF chip seems to be well-implemented, though we were disappointed by the lack of meaningful noise reduction)
Test

Max
Points

Results
1080p

Pass/Fail

Color Bar

10

10

Pass

Jaggies #1

5

5

Pass

Jaggies #2

5

3

Pass

Flag

10

10

Pass

Detail

10

10

Pass

Noise

10

0

Fail

Motion adaptive Noise Reduction

10

0

Fail

Film Detail

10

10

Pass

Cadence 2:2 Video

5

0

Fail

Cadence 2:2:2:4 DV Cam

5

0

Fail

Cadence 2:3:3:2 DV Cam

5

0

Fail

Cadence 3:2:3:2:2 Vari-speed

5

0

Fail

Cadence 5:5 Animation

5

0

Fail

Cadence 6:4 Animation

5

0

Fail

Cadence 8:7 animation

5

0

Fail

Cadence 24fps film

5

5

Pass

Scrolling Horizontal

10

10

Pass

Scrolling Rolling

10

10

Pass

Total Points

130

73



All tests were done with the HDMI outputs at 1080p. Any failed tests were checked in 720p as well.
Comments on Audioholics DVD Torture Tests
For the full list of features and testing, please see our DVD Player Benchmark Testing article. While we would have loved to see this $1000 player score better than anything costing less than that on the standard definition DVD market, this was not the case. The player did well, but lacked real noise reduction implementation and the ability to handle unflagged cadences other than 2:3. As we mentioned earlier, player response was very poor and remote functions while in the disc menu systems seemed to lag.
The Moving Zone Plates test failed instantly in both the horizontal and vertical resolutions with significant moiré and flickering. The 2-3 Zone Plate test fared much better, at least horizontally, until around +/-9. Vertically, it failed to pass. 2-2, as expected based on the HQV scoring above, which also failed.
Layer changes took an unimpressive 2.25 seconds, which will be very noticeable on dual layer standard definition DVDs.
One odd thing I noticed while using AVIA Pro was that the patterns would 'cycle' every 7 seconds with either a brief, or as long as 2 second, pause - at which point the pattern would break up or go to half resolution. The effect was similar to what sometimes happens when pausing a DVD on some players. This skipping was not present on any of my other DVD players and seemed to be a flaw in the way the BD-P1000 handles the cycling of fixed images or patterns as opposed to constant moving video.
Another puzzling fact is that the first batch of players were shipped with the Genesis FLI8638-LF chip configured to a high level of noise reduction. Given the poor noise reduction performance, I'm not sure that this has any real positive effect on the picture. Jim Sanduski, senior VP of marketing for Samsung's Audio and Video Products Group, issued a statement saying that " Samsung is currently working to revise the default settings on the noise-reduction circuit in the Genesis scaler chip to sharpen the picture. All future Samsung BD-P1000 production will have this revision and we are working to develop a firmware update for existing product."
Viewing Evaluation
While the 1080p deinterlacing tests were done on a Samsung HL-S5688W 56" DLP rear projection television, viewing evaluations were done using a Westinghouse LVM-42w2 monitor. What we didn't expect was the fact that the BD-P1000 absolutely refused to send 1080p to the Westinghouse display. Apparently the strict implementation of EDID for setting display resolutions prevented the Samsung from allowing the fully-compliant 1080p monitor to mate with it at the maximum resolution. To say this is disappointing is an understatement, especially since the player already has a mechanism in place to deal with incompatible monitors (you can eject the disc and hold the fast forward button on the front panel.) Based on Samsung feedback (or lack of it) this does not seem to be something that will be fixed with a firmware update.
We did the viewing test in the Westinghosue because, in comparing 1080p output with 1080i output we quickly ascertained that there was really no difference. This confused us, to say the least, until we heard back from Samsung about how the player handles 1080p/60 content. Apparently the player deinterlaces all 1080p/60 content into 1080i and then pumps it back into 1080p for the display. Because of this, the "1080p" Blu-ray player's 1080p output is no better than its 1080i output provided you have a decent deinterlacing display. This also means that the Blu-ray player has lost one of its only advantages over the competing Toshiba HD DVD player. Both are essentially 720p/1080i max resolution players. As HD DVD seems to be paying closer attention to its mastering process (and the VC-1 CODEC does a better job at maximizing use of disc space) this also explains the word-of-mouth picture quality advantage that HD DVD seems to be getting.
BD: The Fifth Element
It's no secret that the Blu-ray Disc release of The Fifth Element is possibly the biggest software train wreck that has occurred in a long time. It was so bad, that Sony is purported to be re-releasing it already from a cleaner master print. This has not been confirmed, but you can perhaps see that when we compared the two discs we were somewhat disappointed. Film grit and artifacts (the non-digital kind) abound and render a very dirty picture (similar to watching a well-used print in the theater). It's digital - it should be cleaned up and frankly the people at Sony Pictures should know better.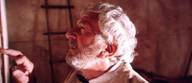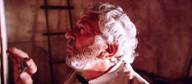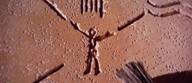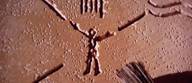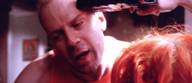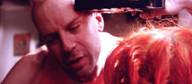 Helios HVD2085 (left) vs. Samsung BD-P1000 (right)
In each example I could see a bit more actual resolution in the Samsung image (look at hair and the edges in the hieroglyphics, but the amount of noise and film artifacts which showed on the screen took away from the overall quality of the film. In all honesty the Superbit DVD is a nicer presentation as the picture is cleaner and more pristine. This is a critique of the software. If all things were equal, the BD version would win out due to better (real) edge detail.