PS3 and BD 2.0 Conclusion
Now, on to the good stuff, right? BD Profile 2.0. Ahhh, it's finally here. The promise of a complete specification has now been realized for the winner in the HD war. What's the advantage, you might ask? Internet connectivity! OK, there is some extra local storage as well, but BD Profile 1.1 provided goodies like multiple video and audio stream decoding. So, the real question: "Is any of the above really worth it?" The first two movies with full BD 2.0 support were released in January of 2008 and they will be the test subject today.
Blu-ray: Saw IV
I am not much of a horror fan, so I picked this one up as a rental. To be honest, I didn't watch the movie, I just dug into the extra features to see what BD 2.0 could offer. Other than a bunch of normal on-disc video extras, there was a MoLog option in the menu. This movie blog thing required a login and password to access. It provided an on-screen keyboard to allow sign up and log in options. After 10 mins of frustration with the slow character input, I was ready for something good. The MoLog let me view clips predefined by other users and they could add comments or some cheesy effects. The screen shot says it all folks!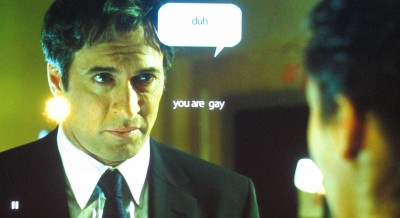 This was the first clip I played and it was rated the most popular. It's funny to some, offensive to others, but absolutely a waste of time. Oh, and that's a little explosion by the guy's ear, not a Michael Bayesian lens flare. None of the other clips were much better, so I didn't bother with wasting my time making and submitting my own clip.
Blu-ray: War
OK, so I bought this one, as I am a Jet Li and kung fu fan. Again, I haven't yet had time to watch the actual movie, but skipped directly to the features. Of course, there were the obligatory video extras, but there were some BD 1.1 video features as well. It was possible to watch multiple video streams with the director's commentary, but it was just a little window of Philip G. Atwell's face as he watched and talked. I wasn't impressed with this particular implementation, but it worked as advertised. There was another short clip of the prop guys showing how the "axes in the chest" scene worked, and that was certainly more interesting as a video overlay. Yeah, that's all well and good, but what about BD 2.0?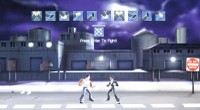 There was this little Kung Fu game where you could pick a series of blocks and kicks with the remote, then execute the series. At the end, no matter what I did, it said I lost. I don't like losing at games, not even very stupid games. I was given the option to upload my score to the online server and check the stats. Of course, I had to create a user and password for this disc as well, and after another painful few minutes, I sent my score away to the online tournament of champions. I was pretty happy with my ranking of 98 out of 108. That means another 107 people wasted their time like I did, and 97 of those lost to me, so I felt pretty good at that point... until I realized that I probably got those numbers backwards and I only beat 10 people. In your face, 10 losers!
In any case, these discs just proved to me that BD 1.1 has some potential and that BD 2.0 has yet to be implemented in a truly compelling manner. Future movie releases may paint the picture differently, but for me, I doubt I'll be wasting my time creating user logins for the lamest content ever.

Conclusion
Is it possible to use the PS3 only for Blu-ray playback? It certainly is, as long as the remote control and other quirks are acceptable for your particular situation. Picking up the controller and playing a casual game or two might not be bad for the average guy, either. One major hurdle is that every studio wants to use Profile 2.0 features to capture your information, forcing you to log in with an email address and password in order to perform even basic interactive functions. This has got to stop or, in our opinion, Profile 2.0 will be considered anathema to most users due to the difficulties and annoyance of "typing" with a remote control.

Should a happy user owning a BD 1.0 or 1.1 player run out and buy the PS3 just to get the newest 2.0 software? Maybe. Perhaps. It all depends. But I will say  that the PS3 is the cheapest Profile 2.0 player on the market - by a LONG shot. In addition, having an Internet connection and Ethernet port on your player sure will make it easy to upgrade firmware in the future - as we saw with the recent addition of dts-HD support. That's at least one of the primary advantages I can clearly see at this point. That and the ability to perhaps stream new HD movie previews to your screen instead of the same 10 that Disney/Pixar tries to force you to watch before every movie they make… Of course, I may need something like a 100Mbit connection at home that costs $5000 a month, but that's beside the point.
Paul Atreides posts on October 11, 2008 19:08
I'm coming into this discussion rather late, but I bought a PS3 about a month ago and wanted to share my experience. I've used it for Blu-ray playback, photo storage and slide shows, and music playback and storage.

As everyone else has said, there is nothing to criticise about the Blu-ray playback. Disc loading and unloading is extremely fast. There is a resume feature that I really like. You can unload a disc, then reload it later, and playback will start exactly where you left off.

I have the Blu-ray remote, which is highly recommended for movie playback. However, for photo slide shows, the game controller is best. The joysticks allow for precise and effortless zooming, panning and scanning.

CD playback sounds good and ripping a CD is very easy. I haven't tried SACD playback, yet--I still need to buy a couple discs.

My only criticisms of the PS3 are: 1) It does get hot; 2) The cooling fan does make some noise and 3) It does not allow a CD to be ripped into a lossless codec or wave file, though it will play both .wav and .wma files. If you can get past those three issues, then I would recommend the PS3 highly, even if you don't ever play a game on it.
rrehart posts on April 04, 2008 16:04
I have been using the PS3 for my primary BD/DVD/CD/HTPC since I got it in Jan '07. It has worked flawlessly for me. I have it hooked up to my A/V controller via HDMI. In your article you mention the pain of entering your name/email/password for these BD 2.0 sites via remote. I, too, found that to be a problem, but I easily solved it with the Logitech MediaPro keyboard for the PS3 (logitech.com/index.cfm/keyboards/keyboard/devices/3616&cl=us,en).

It works as seamlessly as the SIXAXIS controller and solves the remote-as-a-keyboard text entry issue.
GlocksRock posts on April 04, 2008 15:35
corey;397076
How does the PS3 compare to the Xbox 360 as a music player?
They both play music from the optical drive, and from a PC connected to the network. The PS3 will also play SACD as long as it's not a 40 gig PS3, and the PS3 connects to the CDDB or something similar so when you put in a retail cd and you have the PS3 connected to the internet, it retrieves the disc information such as title, track names, and artist. Both will rip and store music onto the hard drives, and both will play music from a .mp3 player or flash drive. I also find that the 360 has much better visualizations than the PS3.
jnmfox posts on April 04, 2008 14:57
A IR to Bluetooth adapter was just released that apparently will allow you to fully control your PS3 with a universal remote, including power on/off .
http://ir2bt.com/
[ir2bt.com]
corey posts on April 04, 2008 13:56
How does the PS3 compare to the Xbox 360 as a music player?