Panasonic DMP-BDT330 and DMP-BDT230 3D Blu-ray Disc Players
Summary
Product Name: DMP-BDT330 and DMP-BDT230 3D Blu-ray Disc Players
Manufacturer: Panasonic
Review Date: January 07, 2013 22:15
MSRP: $129.99 - $269.99
First Impression:

Pretty Cool
Executive Overview
At CES Panasonic introduced two new 3D Blu-ray Disc Players, the DMP-BDT330, DMP-BDT230. Panasonic is also continuing to manufacture its 3D 2012 models (the DMP-BDT500 and DMP-BBT01). All four of these players include Panasonic's proprietary IPTV platform, VIERA Connect1 that offers streaming services such as Netflix, HuluPlus, Amazon Instant Video, Vudu, CinemaNow and YouTube.
A new feature, Display Mirroring, takes into account the increased smartphone and tablet use while viewing programming on your TV. Users can take content on their smartphone or tablet (via the Android 4.2 operating system or higher) and view the same images, videos or games on a large screen to share with family and friends. Display Mirroring is available on the BDT330 as well as the BDT230 Blu-ray players.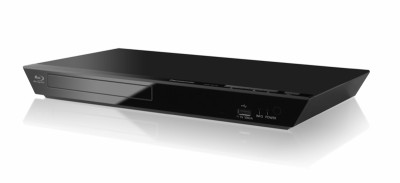 The BDT230 is the direct successor to the 2012 BDT220, which features built-in Wi-Fi, 2D-3D conversion, a web browser with pointer cursor, and Panasonic's proprietary IPTV platform, VIERA Connect. All of Panasonic's 2013 Blu-ray Disc Players include built-in Wi-Fi with the exception of the BD79 which is wireless-ready.
Panasonic's line of Blu-ray Players also features high-quality network audio (DLNA compatable) as well as 192kHz/32bit Audio DAC on the 3D-capable models (BDT500) and built-in 4K up-scaling (BDT330). Additionally the BDT500, BBT01, BDT330 and BDT230 feature 2D-3D conversion for any content and the BDT500 and BDT330 models also include twin HDMI ports.
Pricing Breakdown
DMP-BDT230 - $129.99

DMP-BDT330 - $199.99

DMP-BDT500 - $349.99

DMP-BBT01 - $269.99
DMP-BD79 (2D) - $79.99

DMP-BD89 (2D) - $99.99

The 2013 devices seem to be created to match some of the design innovations seen with VIERA televisions. The two new 3D-capable Blu-ray models include Miracast – a display mirroring feature which enables users to transfer their own photos and videos captured on Smartphone and Tablet devices to their HDTV screen with the swipe of a finger.
The Panasonic 2013 Blu-ray Players will be available in February 2013.
majorloser posts on January 08, 2013 07:43
Adam;941522
I'm looking forward to these! Do you know if the DLNA allows for video streaming, too?
Last year they were talking about devices with "DLNA Premium Video" for streaming copy-protected video content.
Adam posts on January 07, 2013 22:57
I'm looking forward to these! Do you know if the DLNA allows for video streaming, too?