Oppo BDP-103 Universal 3D 4K Blu-ray Player Review
Summary
Product Name: BDP-103 Universal 3D 4K Blu-ray Player
Manufacturer: Oppo Digital
Review Date: December 05, 2012 21:40
MSRP: $499
First Impression:

Gotta Have It!

Specifications

Disc Types
BD-Video, Blu-ray 3D, DVD-Video, DVD-Audio, AVCHD, SACD, CD, HDCD, Kodak Picture CD, CD-R/RW, DVD±R/RW, DVD±R DL, BD-R/RE
BD Profile
BD-ROM Version 2.5 Profile 5 (also compatible with Profile 1 Version 1.0 and 1.1)
Internal Storage
1GB (Actual space available for persistent storage varies due to system usage)
Output
Analog Audio: 7.1ch, 5.1ch, stereo.
Coaxial/Optical Audio: Dolby Digital, DTS, up to 2ch/192kHz PCM.
HDMI Audio: Dolby Digital, Dolby Digital Plus, Dolby TrueHD, DTS, DTS-HD High Resolution and DTS-HD Master Audio, up to 7.1ch/192kHz PCM, up to 5.1ch DSD.
HDMI Video: 480i/480p/576i/576p/720p/1080i/1080p/1080p24/4Kx2K, 3D frame-packing 720p/1080p24.
Input
HDMI Audio: Dolby Digital, Dolby Digital Plus, DTS, AAC, up to 5.1ch/192kHz or 7.1ch/96kHz PCM.
HDMI Video: 480i/480p/576i/576p/720p/1080i/1080p/1080p24/1080p25/1080p30, 3D frame-packing 720p/1080p24.
MHL Audio: Dolby Digital, Dolby Digital Plus, DTS, up to 5.1ch/192kHz PCM.
MHL Video: 480i/480p/576i/576p/720p/1080i/1080p24/1080p25/1080p30, 3D frame-packing 720p/1080p24.
Audio Characteristics
(Nominal specification)
Frequency: 20Hz – 20kHz (±0.05dB), 20Hz – 96kHz (-4.5dB ~ +0.05dB)
Signal-to-Noise Ratio: >115dB (A-weighted)
THD+N: < 0.006% (1kHz at 0dBFS, 20kHz LPF)
General Specification
Power Supply: ~100V – 240V, 50/60Hz AC
Power Consumption: 35W (Standby: 0.5W in Energy Efficient Mode)
Dimensions: 16.8 x 12.2 x 3.1 inches (430mm x 311mm x 79mm)
Mass: 10.8 lbs (4.9kg)
Operating Temperature
41°F - 95°F
5°C - 35°C
Operating Humidity
15% - 75%
No condensation
Parts & Labor Warranty
2 Years
Executive Overview
At the 2012 CEDIA Expo the show floor may have had lots of 4K displays, new speakers to demo, and a whole host of audio and video products - but one device was shared in whispers. There was no booth... no demo room... just secret meetings all over the place. If you're a fan of our site you're probably aware that we're talking about the Oppo BDP-103 Blu-ray Player. At first glance the new Oppo looks both very similar and very different than the existing BDP-93. In fact, the front panel is almost entirely identical save for more robust-looking buttons and slight modifications to the LCD display. There are also inputs for MHL and USB on the front panel.

But... Take a look at the back and you'll see dual HDMI outputs but also an HDMI input. There are dual USB inputs and also full 7.1 audio outputs. Of course if you have legacy audio connections you can still use the optical or coax digital output of the player to connect it to your AV receiver. The BDP-103, like the former BDP-93, includes an RS-232C connection for home control systems. What you WON'T see are any analog video outputs. These are now officially, as of 2013 at least, disallowed under the new analogue sunset rules which state that no licensed player that passes decrypted AACS content to analog video outputs may be manufactured or sold by a Blu-ray adopter after December 31, 2013. Since Oppo didn't think it would be a great idea to have to re-adjust the hardware on their player mid-production, I'd say this was a good advance call.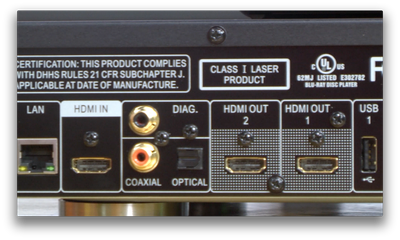 HDMI "in" means that you can make up for a lack of a receiver or enough HDMI inputs.
Or you can use the Oppo as a switch of sorts to feed just one HDMI cable to your television.

Now let's go back again to the dual HDMI outputs and HDMI input on the back of player. The two HDMI outs can be split so that one sends just audio to an AV receiver and the other goes to your display. This is good if you have a 3D television but a receiver that can't pass 3D. Same goes for the eventual issues we'll have with 4K. You can also use them as true dual outputs, sending both audio and video to 2 different displays at once.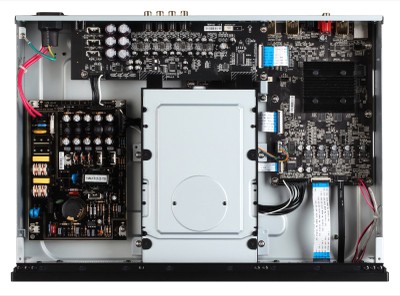 The HDMI input actually lets you set up a cable box or some other source device that will then feed into the player. Then you can select the source device via the player's Input button at the top of the remote. This means you can use the BDP-103 in-line with the another device - and that's going to be good for people who don't have an AV receiver or who just have a couple of source devices but they don't have another HDMI cable running to their television. It also has another use and that's for audio return channel (ARC) control. While it lets you select between the MHL front input and the HDMI back input, it also gives you control over whether you are using HDMI output 1 or 2 to provide ARC audio from your TV.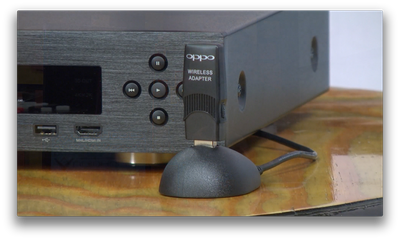 You can place the dongle directly in the player or use this included extension

We connected the BDP-103 to the Internet using Ethernet, but you can also use the included Wireless b/g/n dongle with any of the 3 USB connections to make this a wireless player.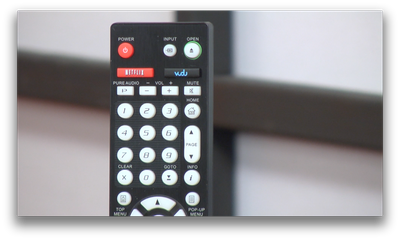 Absolutely LOVE the backlight on this remote control!
The remote control is very similar to the previous model, however it added to the top Netflix and Vudu buttons and it reorganized the navigation controls to be a little more standard so that you don't slip off accidentally and touch something you're not supposed to. We also like the new backlight. The button is about the same except it's round - and when you press it you get a nice white white light instead the more amber glow of the old remote.
Listening Tests

Okay let's talk play back. The Home menu now has icons for Netflix, Vudu, film fresh, YouTube, Pandora and Picasa. It's not clear whether Oppo can add more applications at a later date. Right now it seems to be very fixed in what the player will offer - but knowing Oppo, the sky's the limit. Aside from the benefits of Netflix, Vudu and others, we also liked the effortless way in which the player can stream audio, video and photos from network computers. We streamed a ton of both Pandora music and also high resolution audio content and loved how well this player sounded in reproducing the material.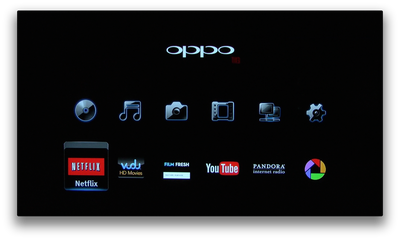 Then we tried out some High Resolution sources like Ernest Ranglin's 'Order of Distinction', an AIX Records Blu-ray that features Dolby TrueHD 5.1 audio. Ranglin's guitar work was just a beautiful as we experienced with the BDP-93 and the piano and percussion accompaniment was rich and clean. This is a great recording since it's recorded and mixed without any DSP boxes or compression. It's as pure as it comes. In fact both the video and audio quality on this player are superb, as verified by real-world testing as well as using the Spears & Munsil Blu-ray test disc and other objective reference sources we rely on for evaluation.
Audioholics Bench Testing Summary of Test Results
Oppo BDP-103 Benchmark Score: 130 (perfect!)
Test
Max
Points
Component
1080p
Component
Pass/Fail
Color Bar
10
10
Pass
Jaggies #1
5
5
Pass
Jaggies #2
5
5
Pass
Flag
10
10
Pass
Detail
10
10
Pass
Noise
10
10
Pass
Motion adaptive Noise Reduction
10
10
Pass
Film Detail
10
10
Pass
Cadence 2:2 Video
5
5
Pass
Cadence 2:2:2:4 DV Cam
5
5
Pass
Cadence 2:3:3:2 DV Cam
5
5
Pass
Cadence 3:2:3:2:2 Vari-speed
5
5
Pass
Cadence 5:5 Animation
5
5
Pass
Cadence 6:4 Animation
5
5
Pass
Cadence 8:7 animation
5
5
Pass
Cadence 3:2 24fps film
5
5
Pass
Scrolling Horizontal
10
10
Pass
Scrolling Rolling
10
10
Pass
Total Points
130
130*


HQV HD Perfect Score is 100
Oppo BDP-103 Benchmark Score: 100 (perfect!)
HD Tests
Max
Points
HDMI
1080i
Pass/Fail
HD Noise
25
25
Pass
Video Resolution Loss
20
20
Pass
Video Reconstruction
20
20
Pass
Film Resolution Loss
25
25
Pass
Film Resolution Loss Stadium
10
10
Pass
Total Points
100
100*


*Tested via HDMI output 1
Comments on Calibration and Bench Testing
We're not surprised by the results of this test. In fact, what's really needed is a set of new tests to work out the increasingly vague but present issues with 3D and 4K upconversion. Fortunately, Spears & Munsil are working on a new disc that will address at least some of this. Exciting stuff and something we're looking forward to checking out. In the meantime, the current version allowed us to verify that the Oppo was sending proper output levels to our calibrated reference Epson Pro Cinema 6010 Projector, it also let us verify that the player doesn't exhibit color peaking. And the Oppo has pristine geometry, with no pixel clipping. The dynamic range of this player is stellar—there is absolutely no banding across the grayscale and, as a result, the depth of images presents a very rich picture, particularly when you blow it up to 100 inches or more.
Viewing Tests
When we queued up movies like the ending fight sequence in Resident Evil: Afterlife, the ability of the BDP-103 to not crush the top end of the luminance range was apparent as the entirely-white room formed the backdrop against which Albert Wesker takes on Chris and Claire Redfield in a dramatic fight scene. I've seen players lose the detail on the floors and walls in this scene and that didn't happen here. Of course, it didn't happen with the Oppo BDP-93 either, but that's just more good news for those of you contemplating an upgrade. Another place I really appreciated the dynamic range of this player was in the film Batman: The Dark Knight Rises. When Bane fights Batman the first time in the industrial complex. Here, particularly when Batman cuts the lights, any deviation on the part of the player to reproduce the full black level dynamics required leaves you seeing a blotchy black mess, even on a display that is calibrated for the full dynamic range of HD video. This scene, while dark, was nuanced such that we could discern resolution in the darkest areas that hadn't hit the limits of the format. In particular, watch the skin of Bane's back as he lectures the Dark Knight on darkness. This player looks GOOD.
Conclusion
Oppo has hit another one out of the park. The BDP-103 may not be light years ahead of the BDP-93, but it is ready for 4K conversion and the Marvell Qdeo processing is one of the best systems on the market in our testing. The player has some other whiz-bang features like 2D-to-3D conversion but overall you want to buy this if you've been out of the market for a while or are looking for a flagship Blu-ray player. If you've already got a BDP-93 - congratulations you've made a fine choice and there's little reason to upgrade just yet.
OK, the question of the week is this: What is the most important feature in a Blu-ray player? Dual HDMI outs? Pristine video quality? Network features? Let us know in the comments below the video and while you're there, subscribe to our YouTube channel. Our Facebook page is where it's at for the latest news, reviews and updates, so be sure to 'Like' our Page: facebook.com/audioholics. And if you can't wait even a second for your AV fix, follow us on Twitter @AudioholicsLive.
PENG posts on February 13, 2013 18:21
Good thing I bought the 590 instead. For under $100, the $590 suits me well. It allows me to save the Oppo for 2 channel music only.
j_garcia posts on February 13, 2013 15:03
I've been saying for a while that 4K really isn't necessary at this point, so that's nothing new. Even when 4K does hit the consumer level market, they won't come down to "mere mortal" levels of pricing for a while. I don't think 4K was really a main draw for these players though; it just so happens that the processors are out that can do it now so they used them - the fact that the display market is lagging behind created the disparity. We will likely see every new player that comes out this year with 4K now because average consumers don't know any better.

Yes, these players with the uber-processing will likely be better than the Sonys and Pannys, but as I've said all along, on a typical size display, the average person won't really be able to tell the difference. The better processing is targeted at those who ARE interested in the best processing and who also likely have much larger than average displays, not average joe.
Darkwing_duck posts on February 13, 2013 14:47
looks like Andrew Robinson managing editor over at hometheaterequipment.com had a few things to say about the S790 and its 4K upscaling capability : Post 9 and 12
Sony Ships 4K Blu-ray Player (BDP-S790 Including UltraViolet™)
[hometheaterequipment.com]
"
It actually doesn't matter for the player is still a 1080p player at heart and as for the 4K projector, well, it does it's own upscaling, making the player's upscaling largely irrelevant. There's actually no way to test Sony's 4K upscaling claims as it pertains to the Blu-ray player for even if left on your HDTV isn't going to look any different. I couldn't even feed the upscaled 4K image to my JVC e-Shift fauxK projector for even it can only accept a 1080p signal before upscaling it internally to QFHD.
It's a stupid feature on a stupid player that is half cocked and nothing more than an interim product aimed at cashing in on the uninformed before the player you really want, and will NEED, is released."
and
"
Why bother with 4K upscaling? 1080p upscaling was one thing when we all had 1080p HDTVs but no one has 4K displays. Furthermore, when we do have 4K displays why would you make a pit stop at buying a 4K upscaling Blu-ray player when real 4K players are right around the corner? I have to believe that early 4K displays will have to upscale, which again, makes the Sony player silly. Now, are the other features it offers worthwhile? Maybe, I can't comment on that, but the feature they're hoping will attract people, 4K, that's unnecessary.
I must say I'm not impressed with how 4K is being handled and rolled out thus far. It's really disheartening to me because I'm a huge proponent of the technology."
PENG posts on February 12, 2013 21:51
Darkwing_duck;950967
So why do people rave about the Oppo players if HD playback could possibly be the same as players HALF its price? Could you assume all those owners use the de-interlacing function for DVDs? Id just stick with a Sony S790 then or one without 4k playback to save a few bucks
People also rave about the 790, and I bet Sony sells more players than Oppo. Both have their fans, and that's quite normal.
Grador posts on February 12, 2013 21:50
Darkwing_duck;950967
So why do people rave about the Oppo players if HD playback could possibly be the same as players HALF its price? Could you assume all those owners use the de-interlacing function for DVDs? Id just stick with a Sony S790 then or one without 4k playback to save a few bucks
The built in DACs are better than that built into your receiver. Some (many?) would argue that this is irreverent. What they get you for certain are fantastic build quality and the ability to play almost all formats of disk.