BD390 Menu System
Before I got too far into using the player I took a look around the Menu system. It was quite easy to use and there were only a few areas that will need attention during 99% of consumers' experience with this player. The rest are tweakers and already skipped this section anyway! The main screen delivers the options to Play a movie, browse photos, listen to music files, examine the contents of an attached USB drive, launch Netflix movie streaming, stream YouTube videos or Setup the system. After a firmware update we were also able to access the CinemaNow system and rent/purchase movies.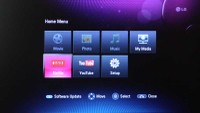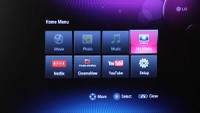 Main menu before firmware update (left) and after (right)
Display Menu
Entering the Setup menu gives you access to Display, Language, Audio, Parental, Network and Other settings & preferences. The system defaults (correctly) to a 16:9 aspect ratio. While you can use Blu-ray with a 4:3 television you are quite possibly one of these if you do. In addition to Aspect Ratio, the Display menu lets you set the 1080p refresh mode to 60Hz or 24Hz and also sets YCbCr (the correct default) or RGB color levels. Resolution can be set up to 1080p and is handy for those who want the player to output only the maximum resolution of their set. Currently, this player can output up to 1080i over component video and up to 1080p via HDMI. It cannot output 480i via HDMI – a shame since some displays will do a much better job up-converting DVDs than this player. The player can also be set to auto-negotiate display resolution via the EDID code contained and transmitted within the HDMI signal.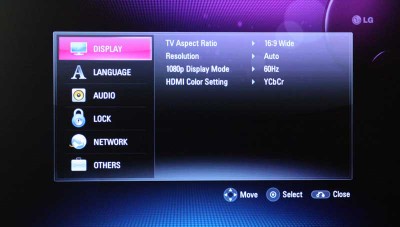 Audio Menu
The Audio menu allows you to set the preferred HDMI audio output settings. It can output PCM audio in both stereo and multi-channel mode and can output a DTS signal for compatible receivers as well as a pass-through mode that outputs (among other things) native Dolby TrueHD and DTS-HD Master Audio. You can also set the sampling frequency output of the player from 48kHz to 192kHz. Many modern receivers will be able to handle 192kHz, but legacy users can downgrade as necessary.

Bass management is also provided for the analogue 7.1 outputs. This means that you can set the speakers size to either Large or Small, and determine how the bass frequency information will be sent to each speaker or the sub. You can also set the Level for each speaker – enabling a much more accurate sound when using the analogue outputs (typically with an older AV receiver). You cannot set Distance (speaker delay), so those using this with larger rooms or unusual configurations may run into some minor issues with delay and phase coherency. If you have the rare receiver that performs bass management on analogue inputs, set all the speakers to Large and let your receiver handle the work of allocating the low frequency information and speaker delay.
Network Menu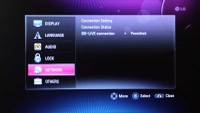 One of the unique features of the LG BD390 is that it can make a connection to a wireless 802.11b or 802.11g router. That means that even if you don't have Ethernet (Cat5x cable) run to your Blu-ray player, you can still enjoy the network features of this player. While we primarily used a 100 Mbps wired connection for this review, we did test the wireless-g functionality and found it to be adequate enough to get us maximum quality for SD Netflix content. This menu also gives users access to setting the BD-Live connection as "Permitted" (always active/allowed), "Partially permitted" (permitted for content that is certificated), and Prohibited (no BD-Live access allowed).

Others
The Others menu houses such settings as menu skin, BD Storage selection and formatting, and checking/deactivation of your Netflix account. You can also use this area to perform a software (firmware) update. The update process was very simple, flawless, and the front VFD display gave excellent feedback for each step. The download was also quite speedy and we were pleased to find that the Firmware update was sophisticated enough to be able to add CinemaNow to our main menu screen.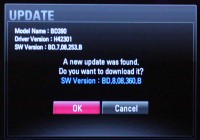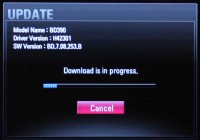 The player checks and alerts you when an update is available; Downloads didn't take long; we did one more firmware update after this and noted (with pleasure) that it didn't affect our player or Picture Adjust settings)
myoo posts on August 27, 2009 02:14
Hello, I'm pretty new to the home theater ballgame, and I'm assembling my shopping list. Trying to choose between the BD-390 and the Oppo.

Can the BD-390 be set to automatically output a signal in the format of the source? I see that it can auto-match the format of the display, but that's not what I'm after... I want my Denon AVR 3310CI(Same video processor chip as the Oppo has, I think) to do the upconversion to 1080p. It seems like a bit of a pain to have to change formats each time I play a disc with a different resolution, not to mention having to figure out what resolution the disc was originally recorded in. . .

And, will there be a significant loss of fidelity using component output to get a 480i signal to my Denon AVR (as opposed to what I'd see if HDMI throughput were possible)?

Is netflix on-demand 480i or 480p?

thanks,
myoo
Clint DeBoer posts on August 20, 2009 08:41
corey;605529
I was just commenting on what seemed to me to be a somewhat odd turn of phrase & didn't expect to have my understanding of HT basics questioned.
Not my intent to insult. I often respond to things for everyone's benefit, even when I quote. Lots of people think that if a sub doesn't go down to 20Hz you don't have a lot of bass.
Clint DeBoer posts on August 20, 2009 08:37
I didn't measure it or do extensive listening sessions. I tested them in two-channel mode and they seemed to handle everything very well.
Omega Supreme posts on August 18, 2009 10:04
I noticed at the end of the review the 390 received a "Very Good" for the analog audio output. But I thought Clint did not test the analog audio outputs only HDMI. Did I miss something?
allargon posts on August 07, 2009 16:07
rgriffin25;607109
You need to add a thumb drive/ external memory to use BD Live on BD370. (Not a big deal considering USB memory sticks are dirt cheap.)

The differences between the 370 and 390 are..
The BD390 has 1GB of internal memory, has 7.1 Channel analog out, and wifi capabilities. Everything else is basically the same.
You can get a 4GB DaneElec (sp?) microSD w/ USB reader at Target for $9.99 right now. It's tiny and discreet. However, the PS3 might be a better fit for you depending on the gaming and multimedia player stuff.