BD390 First Impressions and Build Quality
Network video and downloadable content seems to be catching on, and companies like LG Electronics are bringing it to consumers in droves through the use of BD Profile 2.0 players like the BD390. What sets this player apart, however is the integration of wireless n technology which means that users can cut the hard line and enjoy Netflix, YouTube and CinemaNow movies with simple wireless connectivity. Don't think this is a big deal? Consider that 4 out of the top 5 television manufacturers are now integrating Netflix and other streaming video technologies into their newest sets. With a product like the LG BG390, now you can bring that same functionality to your existing flat screen television while also playing back standard DVD's and Blu-ray discs - all from one machine.

First Impressions and Build Quality
Before I go into the build quality of the LG BD390 networked Blu-ray player, I think it's important to note that this is one of the most sophisticated, fast, ergonomic Blu-ray players I've yet used. The player is fast – and by "fast" I mean that the player allows you to insert a disc just 3 seconds after hitting the Eject button from Standby. You can go from power on to your first screen in just 19 seconds. If you want to eject your disc, it will do it – no questions asked. Power down is even faster. You simply don't spend much time waiting on this player to do much of anything – a refreshing change from the first-generation players that we tested not too long ago.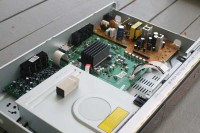 The quality of the internals of this player are nothing to write home about, but nor are they surprising or lacking in anything essential to a good networked BD player. These days everything takes place on chips. And if you're sending your audio and video over HDMI that means that the huge power supplies, endless layers of circuit boards and robust grounding plates are pretty much overkill. We won't say that we don't appreciate those extra touches, but if you're looking for a Blu-ray player that has maximum features and you aren't necessarily in need of the world's best 7.1 analogue outputs, then some of these new players may surprise you. Inside we found the power supply, audio/video board, BD drive, and a dedicated card for the bass-managed 7.1 audio outputs.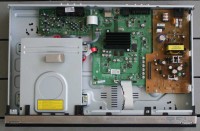 LG BD390 (left) and Oppo BDP-83 (right)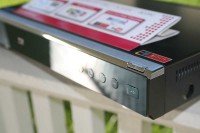 The player features a beautiful reflective high gloss black front panel that is adorned with a brushed metal trim piece that rides over top and displays the various and asundry logos which are now obligatory (but thankfully no longer on the front face) on these players. The player is very lightweight and takes up little more than a rack space in height. The VFD (Vacuum Florescent Display) delivers not only basic Playback time info, but also serves as a mini message board for what's occurring with the player. Whether play/pause functions or firmware updates, this VFD provides some useful feedback to the consumer to let them know what's happening at all times. We especially loved the backlit navigation controls which, in addition to being incredibly cool with their blue backlighting, also lighted up and down in sequence to indicate boot up and shut down. One thing we found odd was that LG placed identical looking corner controls for Eject and Power – one on the right and one on the left. Since the Power button was oriented above the drive mechanism I don't want to tell you how often I powered down the player when all I wanted was to eject the Blu-ray disc!
The back of the player sports HDMI, component and composite video outputs. We are definitely in the era of the death of the S-video output. While we like what S-video did for the quality of video in the 80s and early 90s, we never liked the poorly designed multi-pin connector and couldn't wait for it to die quickly in a post-component video era.

Video, audio, LAN and 7.1 analogue audio outputs. USB is only on the front and is thus intended for flash drive media rather than hard drives.
myoo posts on August 27, 2009 02:14
Hello, I'm pretty new to the home theater ballgame, and I'm assembling my shopping list. Trying to choose between the BD-390 and the Oppo.

Can the BD-390 be set to automatically output a signal in the format of the source? I see that it can auto-match the format of the display, but that's not what I'm after... I want my Denon AVR 3310CI(Same video processor chip as the Oppo has, I think) to do the upconversion to 1080p. It seems like a bit of a pain to have to change formats each time I play a disc with a different resolution, not to mention having to figure out what resolution the disc was originally recorded in. . .

And, will there be a significant loss of fidelity using component output to get a 480i signal to my Denon AVR (as opposed to what I'd see if HDMI throughput were possible)?

Is netflix on-demand 480i or 480p?

thanks,
myoo
Clint DeBoer posts on August 20, 2009 08:41
corey;605529
I was just commenting on what seemed to me to be a somewhat odd turn of phrase & didn't expect to have my understanding of HT basics questioned.
Not my intent to insult. I often respond to things for everyone's benefit, even when I quote. Lots of people think that if a sub doesn't go down to 20Hz you don't have a lot of bass.
Clint DeBoer posts on August 20, 2009 08:37
I didn't measure it or do extensive listening sessions. I tested them in two-channel mode and they seemed to handle everything very well.
Omega Supreme posts on August 18, 2009 10:04
I noticed at the end of the review the 390 received a "Very Good" for the analog audio output. But I thought Clint did not test the analog audio outputs only HDMI. Did I miss something?
allargon posts on August 07, 2009 16:07
rgriffin25;607109
You need to add a thumb drive/ external memory to use BD Live on BD370. (Not a big deal considering USB memory sticks are dirt cheap.)

The differences between the 370 and 390 are..
The BD390 has 1GB of internal memory, has 7.1 Channel analog out, and wifi capabilities. Everything else is basically the same.
You can get a 4GB DaneElec (sp?) microSD w/ USB reader at Target for $9.99 right now. It's tiny and discreet. However, the PS3 might be a better fit for you depending on the gaming and multimedia player stuff.