SONY BDP-S780 3D Network Blu-ray Player Overview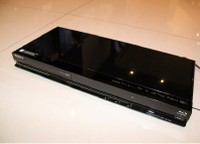 Sony offers some of the best value in Blu-Ray players today. With five models all offering network access and three of them being 3D capable, SONY has an answer for everyone's Blu-Ray needs. The Sony BDP-S780 model is their flagship and comes packed with the most features for their Blu-ray product line. SKYPE video calling, 3D up-conversion, and Sony's SBMV (Super Bit Mapping 16bit processor) lead the feature list for the BDP-S780, and distinguish it from the rest of the pack. Beyond these three features the BDP-S780 retains the complete suite of Network Video and Music options we've come to expect from a SONY player. Additionally this Sony unit is one of the fastest players out there, and with the "Quick Start" power mode engaged, the player will boot up and load the Sony Cross Media Bar Menu system (XMB) in about three seconds, and Blu-Rays just a few seconds beyond that. Bottom line the BDP-S780 meets just about every requirement for a great Blu-Ray player today and won't disappoint even the most feature hungry user.
Networking
The network features Sony offers in the BDP-S780 is about as complete as it gets for a Blu-Ray player. Sony provides over 30 different Internet video channels in all, and features pretty much every heavy hitter that's in the network video channel market. The BDP-S780 has you covered for Netflix, Youtube, Hulu Plus, Vudu, Amazon Video-On-Demand, and Sony's Qriocity Video Unlimited. Additionally, Sony provides access to some other smaller Internet Video Channels such as Blip.tv, Crackle, the NHL Vault, the Michael Jackson Video Collection, and Sony's 3D experience to name a few of the other video options available.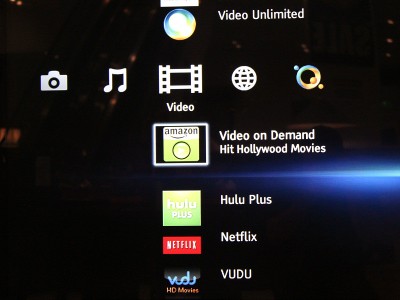 Sony BDP-S780 Supported Streaming Services
Check out the all the Major Players in Video Networking on this player in the screenshot above. For network music applications, Sony once again provides a very complete list of options for the network music enthusiast. Pandora Internet Radio…check; Slacker Radio…check; Sony Qriocity Music Unlimited…check; DLNA network file sharing…a BIG CHECK! Like the video options, the BDP-S780 contains lots of other network music options, but those apps just listed are the key ones most users will find pertinent.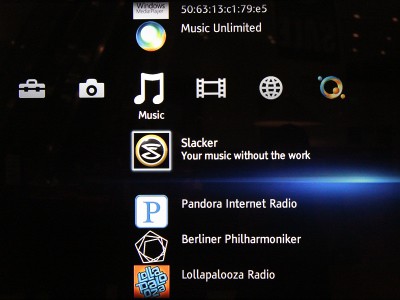 Slacker and Pandora Lead the Network Audio section for this player
Clearly the BDP-S780 has tons of Network features that we've all become accustom to, but what about today's latest and greatest apps? Heck Netflix has been around since 2008, so I'd expect it in a player at this point, and Sony hears you loud and clear here. Where's the video conferencing one might ask? Well SKYPE takes care of that and Sony even makes an exclusive SKYPE camera that plugs into one of USB ports on the player (model CMU-BR100 msrp $149.99). What about the apps the player doesn't have? Well since the player is network updateable, new Video and Music features will find their way into the unit as fast as Sony can license them! For example, CinemaNow is already listed as "coming soon" in the video apps list, so Sony does intend to support and update the unit beyond the initial point of purchase. Also with extremely fast network file sharing, practically any music, video, or photo files you add to your home shared network, the BDP-S780 will pick up and playback on your TV. Just remember to go get an HD camcorder otherwise those old 4:3 standard def home videos might not look so hot on the new 55" LED HDTV!
Let's talk about the player's DLNA file sharing for a second. The player has dedicated apps for Photo, Music, and Video files that are shared across the network, which makes file sharing a breeze to configure. Set your desired folder as "shared" on your PC, and the BDP-S780 will detect that computer and folder in the XMB. Select the file and play. The speed of playback will be determined by your Wi-Fi network, but if you have the latest N network router or you hardwire the internet, you should have extremely fast access to your shared media.
There is a couple of setup points that you'll need to know about before you get the network functions up and running. First and foremost like any Sony network device, you'll need to start up a Sony Account to register the player for network access to Netflix. The player will prompt you with an on screen message that says, "Please visit the Sony registration website internet.sony.tv/Netflix and put in the following access code…XXXX." This is a separate activation page from the one that accessing Netflix will ask you to go to (www.netflix.com/activate). Secondly, the player offers, "wireless protected setup" for easy network communication when initializing the unit. "Wireless Protected Setup" or WPS, is super important for those of you that don't remember your network password. Simply choose the WPS setup option, and go press that WPS button on the front of your Internet Router, and the BDP-S780 should quickly connect to the network without the hassle of manually keying in your network password.
Setup and Configuration
Okay, so all of these network features are amazing, and everything sounds great, but if you can't setup the player and configure it properly, this home theater all-inclusive cruise liner just turned into an antiquated DVD playing tugboat. Luckily, the setup process is pretty simple, and networking and all these special features really are accessible to even the home video networking novice.
Turn the player on for the first time, and the Sony basic startup wizard takes over and will guide you through the motions for getting the BDP-S780 up and running. Initial setup will ask you how its connected (HDMI, component, composite), and your display's native resolution (1080p, 1080i, 720p, etc.). When choosing the resolution, know that if you select a specific number, the player will use its internal video processor to upscale and force the resolution out for all content. However if you choose AUTO, then the player will best choose the resolution for the source and the screen. This is recommended for users that are not sure about their TV's resolution.
Other basic setup functions include the network setup featuring the WPS push button connection as stated earlier, as well as the "Quick Start Mode," which will allow the player to boot up very quickly from a standby power position. Quick start mode will use a bit of ghost power, but will make the speed of the player much more enjoyable. Don't expect to go make popcorn in between turning the player on and starting up the movie, because unlike older units, the BDP-S780 operates in seconds, not minutes.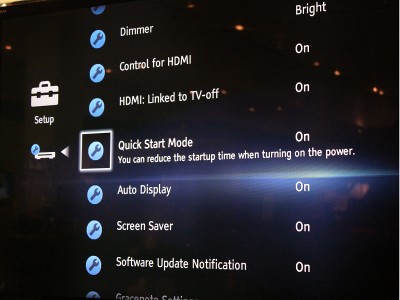 Sony BDP-S780 Quick Start Mode
BMXTRIX posts on November 21, 2011 17:55
HomeTheaterHiFi.com recently announced that they will no longer be using their Sony 570 players for review of televisions because the Sony players have an issue with screwing with the image along the way and no way to stop the Sony from doing so.
This issue, IMO, makes me wary of getting a Sony BD player now.
They say this issue is NOT present in the Panasonic DMP-BDT210, which is one that I've also considered (over my PS3).
Not sure if this particular Sony has this issue, but it seems like no Sony should be introducing any blemishes to the native digital stream.
The Secrets Blu-ray Player HDMI Benchmark - Part I
[hometheaterhifi.com]
I would say this suprises me, but Sony has been on my 'short' list for quality products for a while. Panasonic has long been a favorite of mine and I think for good reason. Cheaper, and better image.
Still, would love an Oppo.
Adam posts on November 21, 2011 09:28
Also, with the OPPO BDP 93 out there, what's the point of the new Sony?

At least in my case, price. I can confidently say that I'll never spend $500 (in today's dollars) for a blu-ray player.
sterling shoote posts on November 21, 2011 08:47
Also, with the OPPO BDP 93 out there, what's the point of the new Sony?
sterling shoote posts on November 20, 2011 23:54
Does this player play SACD's?
BMXTRIX posts on November 18, 2011 17:13
I think my two biggest concerns are noise and speed.

Noisy players obvious distract from the entire setup, but after having a PS3 since day one, I'm certainly used to a certain amount of noise during my BD playback.

But, speed...

Same thing! After years of having a PS3, I expect my BDs to load quickly. This is where every other stand alone player I've used has just failed to deliver.

It's good to hear that this model has pushed speed levels up to near, or perhaps even ahead of PS3 speeds. Makes it a very interesting possibility!