SONY BDP-S780 3D Network Blu-ray Player Performance and Advanced Video Features
Sony upgrades the BDP-S780 over the rest of their line by providing 2D-3D up-conversion, as well as the Sony "SBMV - Super-bit Mapping 16 bit" video processor to help improve picture quality. All Blu-Ray content seemed to be very resolved and had an extremely clean look. Standard definition disks are watchable, but are not quite as sharp as compared to images produced by say the DENON and OPPO players, that run more than twice the price of the Sony. After performing the HQV benchmark tests, the just decent quality of the DVD picture came apparent after revealing the SBMV clearly offers no noise reduction in the chip. While noise reduction is virtually non existent, the player passed every other test on the list.
Sony Blu-ray Player BDP-S780 Benchmark total score: 110/130
Test
Max
Points
1080p
Results
1080p
AUTO
Color Bar
10
10
Pass
Jaggies #1
5
5
Pass
Jaggies #2
5
5
Pass
Flag
10
10
Pass
Detail
10
10
Pass
Noise
10
0
Fail
Motion adaptive Noise Reduction
10
0
Fail
Film Detail
10
10
Pass
Cadence 2:2 Video
5
5
Pass
Cadence 2:2:2:4 DV Cam
5
5
Pass
Cadence 2:3:3:2 DV Cam
5
5
Pass
Cadence 3:2:3:2:2 Vari-speed
5
5
Pass
Cadence 5:5 Animation
5
5
Pass
Cadence 6:4 Animation
5
5
Pass
Cadence 8:7 animation
5
5
Pass
Cadence 24fps film
5
5
Pass
Scrolling Horizontal
10
10
Pass
Scrolling Rolling
10
10
Pass
Total Points
130
110


As standard definition DVDs becoming passé with all the internet video out there, the BDP-S780's ability to upconvert 2D to 3D is really what sets this player above the rest of the Sony line-up and into the realm of a top tier player. I had the preconceived notion that this feature would look the same as the 2D to 3D gimmick feature that so many 3D TV manufacturers put into their displays, and I must say I was dead wrong with my preconception. 2D to 3D conversion within the player is an absolute boon for any 3D enthusiast. Since we've had 2D to 3D upconversion available in TVs, converted images tend to have strange foreground and background depth issues that can make images look wobbly, and could easily introduce crosstalk into the image. Now with the 2D to 3D conversion being done within the player, the TV doesn't have to do the heavy lifting, and as a result, my eyes did not experience any of the already stated picture anomalies.
The BDP-S780's ability to perform the 2D to 3D conversion yielded a very excellent 3D image across all material I tested. My favorite example would be the opening space battle from Star Wars Episode III: Revenge of the Sith. The scene opens up with a large federation cruiser scrolling over the screen with two Star fighters making their way into the battle, and if no one told me it wasn't actually a 3D movie, I'd never know the difference. I also tested sections from Transformers Dark of the Moon on Blu-Ray and the DVD of Superman I, and all tests yielded a similar result, with none of the images suffering from any foreground to background mix-up.
Build Quality and Remote Control
As usual with a major brand Blu-Ray player, the BDP-S780 is extremely lightweight and takes up a very small footprint. At around 8" deep, it's probably as thin or thinner than the last DVD player you bought. The player's outside case is finished in the same high gloss piano black finish as most HDTVs. It has a slightly nicer look than the standard cheap metal casings most Blu-Ray players have, but its definitely not a super high end unit with a massive torroidal power supply. The rear panel on the unit has all the expected connections; HDMI, Component and Composite video with analog audio, Ethernet LAN port, Digital Coax and Optical audio ports, and a USB port. On the front of the player, the BDP-S780 is outfitted with an additional USB port, presumably for quick access to pictures, music, or video files, as well as hard buttons for Power, Eject, Play and Stop.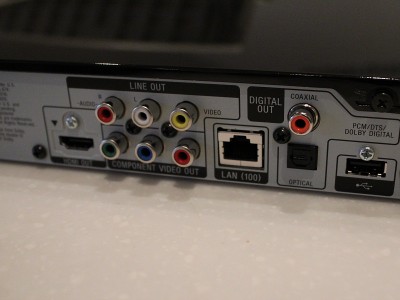 Sony BDP-S780 Backpanel

The Sony BDP-S780's backpanel is about as standard as it gets for a rear panel. Legacy connections such as composite cable for video and digital optical and Coax for audio are present. One major connectivity omission was not including dual HDMI output on the back panel. Both Panasonic and Samsung offer this feature in their competing top model, and having dual HDMI output will be very useful for anyone that has a HDMI 1.3 or ealier spec'd AV Receiver, since HDMI 1.3 is not capable of passing a 3D video signal to a display. A 3D video signal sent through a receiver can only be passed to a 3D display if the receiver has the HDMI 1.4 specification, so a Blu-ray player with dual HDMI output allows for separate connections to the AV Receiver for passing Hi-Def audio, and to a 3D display to pass the 3D signal. I guess Sony's thought is that most people who are purchasing the BDP-S780 have also recently upgraded to a new 3D HDTV, and presumably a new receiver along with the set. The funny part is that even the remote is equipped with a dedicated 3D button so one would think that Sony would be supporting all kinds of different 3D setup scenarios. Speaking of the remote lets check that out next.
Easy to hold, easy to use, buttons that are just spaced out enough, I give the Sony BDP-S780 remote an overall score of 85/100
The BDP-S780 remote is well laid out. The button schematic and size is nearly identical to last years predecessor the BDP-S770, and that's a good thing since that remote was very functional. As just stated above, on this year's remote there is a button for 3D located right underneath the volume control, which switches between 2D and 3D modes for regular 2D content. Also a nice touch are the glow in the dark buttons for all regular playback functions (play, pause, stop, chapter skip, etc.), but it doesn't compare to last years remote that was backlit!! Sony probably couldn't pack in the backlighting with that new 3D button!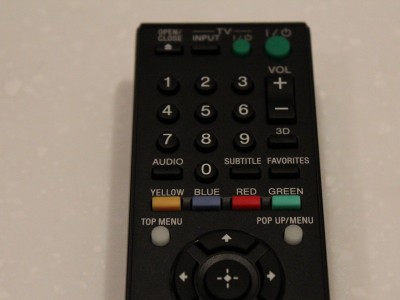 Check out that 3D button under the volume. Pretty useful instead of a menu toggle.
BMXTRIX posts on November 21, 2011 17:55
HomeTheaterHiFi.com recently announced that they will no longer be using their Sony 570 players for review of televisions because the Sony players have an issue with screwing with the image along the way and no way to stop the Sony from doing so.
This issue, IMO, makes me wary of getting a Sony BD player now.
They say this issue is NOT present in the Panasonic DMP-BDT210, which is one that I've also considered (over my PS3).
Not sure if this particular Sony has this issue, but it seems like no Sony should be introducing any blemishes to the native digital stream.
The Secrets Blu-ray Player HDMI Benchmark - Part I
[hometheaterhifi.com]
I would say this suprises me, but Sony has been on my 'short' list for quality products for a while. Panasonic has long been a favorite of mine and I think for good reason. Cheaper, and better image.
Still, would love an Oppo.
Adam posts on November 21, 2011 09:28
Also, with the OPPO BDP 93 out there, what's the point of the new Sony?

At least in my case, price. I can confidently say that I'll never spend $500 (in today's dollars) for a blu-ray player.
sterling shoote posts on November 21, 2011 08:47
Also, with the OPPO BDP 93 out there, what's the point of the new Sony?
sterling shoote posts on November 20, 2011 23:54
Does this player play SACD's?
BMXTRIX posts on November 18, 2011 17:13
I think my two biggest concerns are noise and speed.

Noisy players obvious distract from the entire setup, but after having a PS3 since day one, I'm certainly used to a certain amount of noise during my BD playback.

But, speed...

Same thing! After years of having a PS3, I expect my BDs to load quickly. This is where every other stand alone player I've used has just failed to deliver.

It's good to hear that this model has pushed speed levels up to near, or perhaps even ahead of PS3 speeds. Makes it a very interesting possibility!