SONY BDP-S780 3D Network Blu-ray Player or Sony Playstation 3 (PS3)?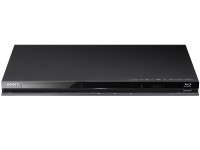 While this new Sony player is clearly a great machine, is it better than the other great Blu-Ray playing device Sony offers, the Playstation 3? Well let's review and decide.
First off is price point. They're the same. With Sony recently dropping the PS3 to $249, the BDP-S780 and PS3 are now tied from a price standpoint. So what does one do the other doesn't? Well they both offer network video and music options, although quite a bit less with the PS3 than with the BDP-S780. The PS3 plays awesome hi-definition and 3D video games, and the BDP-S780 does not. The Blu-Ray plays SACD and even offers DSD decoding over HDMI to a compatible receiver. The latest PS3 offers no SACD playback of any type. The SKYPE video calling feature is out and ready for the BDP-S780, the PS3 may get the update…someday. The PS3 is still not very universal remote friendly with its required $30-$100 universal remote adapters, whereas the BDP-S780 has a full set of discrete IR commands for control. Finally speedwise, they are both excellent, but as a video player the BDP-S780 seems to boot up and start movies faster than the PS3.
So as a standalone Blu-Ray player, I think the BDP-S780 takes the cake over Sony's own PS3 in nearly every category. Granted it doesn't play games like the PS3, but I'd prefer to have a great dedicated player in my home theater rig than the jack-of-all-trades PS3.
Conclusion
After going through all the features and setup options this Blu-ray player offers and really diving into the network functions, I can say that the Sony BDP-S780 would be a great addition to any home theater or video system that is in need for an upgrade to the latest in today's tech. Does it play video games like the PS3, NO. Does it have the audiophile quality analog output stages like disc players from OPPO and DENON, NO. What it does very well is play Blu-Ray movies without a hitch, and offers more networking options than most people will ever really know what to do with. For that alone I recommend this player wholeheartedly. Skip paying the $100 or so on a network media player and go get this BDP-S780 and you'll be adding the HD turbo charger your system really needs.
We would like to thank Adam Liebling from the "Just One Touch" installation firm for contributing this review to our website. www.justonetouch.tv
The Score Card
The scoring below is based on each piece of equipment doing the duty it is designed for. The numbers are weighed heavily with respect to the individual cost of each unit, thus giving a rating roughly equal to:
Performance × Price Factor/Value = Rating
Audioholics.com note: The ratings indicated below are based on subjective listening and objective testing of the product in question. The rating scale is based on performance/value ratio. If you notice better performing products in future reviews that have lower numbers in certain areas, be aware that the value factor is most likely the culprit. Other Audioholics reviewers may rate products solely based on performance, and each reviewer has his/her own system for ratings.
Audioholics Rating Scale
— Excellent
— Very Good
— Good
— Fair
— Poor
| Metric | Rating |
| --- | --- |
| High Definition Video Performance | |
| Standard Definition Video Performance | |
| High Definition Audio Performance | |
| Bass Management | |
| Deinterlacing & Scaling | |
| Build Quality | |
| Ergonomics & Usability | |
| Ease of Setup | |
| Features | |
| Remote Control | |
| Performance | |
| Value | |

BMXTRIX posts on November 21, 2011 17:55
HomeTheaterHiFi.com recently announced that they will no longer be using their Sony 570 players for review of televisions because the Sony players have an issue with screwing with the image along the way and no way to stop the Sony from doing so.
This issue, IMO, makes me wary of getting a Sony BD player now.
They say this issue is NOT present in the Panasonic DMP-BDT210, which is one that I've also considered (over my PS3).
Not sure if this particular Sony has this issue, but it seems like no Sony should be introducing any blemishes to the native digital stream.
The Secrets Blu-ray Player HDMI Benchmark - Part I
[hometheaterhifi.com]
I would say this suprises me, but Sony has been on my 'short' list for quality products for a while. Panasonic has long been a favorite of mine and I think for good reason. Cheaper, and better image.
Still, would love an Oppo.
Adam posts on November 21, 2011 09:28
Also, with the OPPO BDP 93 out there, what's the point of the new Sony?

At least in my case, price. I can confidently say that I'll never spend $500 (in today's dollars) for a blu-ray player.
sterling shoote posts on November 21, 2011 08:47
Also, with the OPPO BDP 93 out there, what's the point of the new Sony?
sterling shoote posts on November 20, 2011 23:54
Does this player play SACD's?
BMXTRIX posts on November 18, 2011 17:13
I think my two biggest concerns are noise and speed.

Noisy players obvious distract from the entire setup, but after having a PS3 since day one, I'm certainly used to a certain amount of noise during my BD playback.

But, speed...

Same thing! After years of having a PS3, I expect my BDs to load quickly. This is where every other stand alone player I've used has just failed to deliver.

It's good to hear that this model has pushed speed levels up to near, or perhaps even ahead of PS3 speeds. Makes it a very interesting possibility!