DV-983H Video Measurements and Viewing Tests
For our performance tests we used several test discs including Avia Pro, Digital Video Essentials (DVE) Pro, Silicon Optix HQV, as well as several real-world DVD clips. The idea is to test various performance metrics and get a good idea of how the player handles real world material in addition to more rigorous unflagged video tests.
All final test scores were derived using the Oppo DV-983H's HDMI output in 720p mode unless otherwise specified.
Audioholics/HQV Bench Testing Summary of Test Results
Perfect Score is 130
Oppo DV-983H Benchmark total score: 105/130 (This scores as one of the top players available)
Test

Max
Points

Results

Pass/Fail

Color Bar

10

10

Pass

Jaggies #1

5

5

Pass

Jaggies #2

5

5

Pass

Flag

10

10

Pass

Detail

10

10

Pass

Noise

10

0

Fail

Motion adaptive Noise Reduction

10

0

Fail

Film Detail

10

10

Pass

Cadence 2:2 Video

5

0

Fail**

Cadence 2:2:2:4 DV Cam

5

5

Pass

Cadence 2:3:3:2 DV Cam

5

5

Pass

Cadence 3:2:3:2:2 Vari-speed

5

5

Pass

Cadence 5:5 Animation

5

5

Pass

Cadence 6:4 Animation

5

5

Pass

Cadence 8:7 animation

5

5

Pass

Cadence 24fps film

5

5

Pass

Scrolling Horizontal

10

10

Pass

Scrolling Rolling

10

10

Pass

Total

130

105



*All tests were done with the HDMI outputs at 1080p. Any failed tests were checked in other output resolutions as well.
** According to Oppo, they pass 2:2 on the ABT VRS Evaluation disc, however they opted not to tweak the processor to pass HQV since they believe it would interfere with some real-world cadence processing.

Comments on DVD Benchmarks
This player is clearly a top performer with respect to video performance. Anchor Bay is no slouch when it comes to video processing and Oppo's implementation of it is very good, save for their lack of configurable Noise Reduction. Layer changes took just over 0.75 seconds on average (similar to past Oppo players) and we were very impressed at the way the DV-983H snapped to attention on several unflagged and complex cadences. If there is any sort of weird anomaly on the DVD, the Oppo seems to be well equipped to handle it. The DV-983H doesn't crop any pixels from the displayed image and the Moving Zone Plate tests looked great in 2-3 pulldown. The 2-2 pulldown Moving Zone Plate even looked good initially, though it broke up quickly which mimicked the results of the HQV testing - still better than most players do with this difficult test.
Noise reduction was almost nonexistent and we did notice a touch of edge enhancement that showed up when viewing high contrast test patterns. The default Sharpness setting of 0 shows this edge enhancement, but also creates a nice contrast. If you absolutely hate any enhancement, then backing it down to -1 will help quite a bit (this is the setting I preferred as I felt it was most natural). A Sharpness setting of -2 will remove artificial edge enhancement entirely, but the image softens significantly. Note that these settings don't have anything to do with material encoded onto the disc with edge enhancement artifacts.
Viewing Evaluation
When viewing material we looked for detail, lack of banding in bright and dark areas of the picture, and practical examples that would reflect the real-world effects of our many objective tests. What we found was that the Oppo renders a beautiful picture and really brings out the best standard definition DVD has to offer.
DVD: The Fifth Element (Superbit)


You're going to see a lot of this movie in any display or video source component review I do. It's simply a great title and represents some of the best picture quality in both the DVD and Blu-ray formats. We weren't surprised by anything we saw and found the DV-983H to put forth a great picture with no perceivable artifacts or jaggies anywhere in the common areas we check. Faces had all of the skin textures you could want, and the clothing and backgrounds which abounded in this film had a very realistic look and feel that seemed to pop off the screen if you looked closely. You know your detail is exceptional when you begin to see things like reflections in eyes and are able to take note and begin identifying some of the various materials used to make the props in the film.
What we did find interesting was to host a quick comparison of the Oppo DV-983H against the same title, only in Blu-ray format. A lot of people don't understand the fascination with Blu-ray and its increased resolution. There's a good reason for this: it's often hard to appreciate a significant difference when you sit back and have a good DVD player at your disposal. We snapped several pictures to illustrate Blu-ray vs. DVD expecting to show a vast difference. In all honesty, there WAS a difference, but the camera (much like our eye) rendered the results extremely similar from 11 feet away.

DVD Clip1 via Oppo DV-983H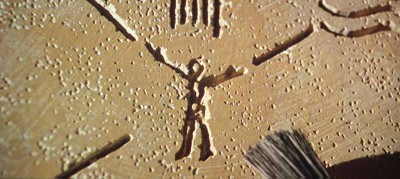 Blu-ray Clip1 via Playstation 3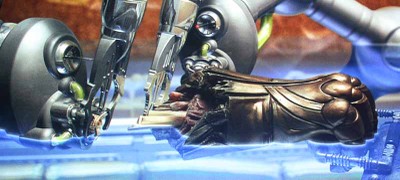 Blu-ray Clip1 via Oppo DV-983H - not much different when viewed from an appropriate distance
The next time you're in a store and marvel at the quality of Blu-ray - take about 7 or so steps back to your typical sitting distance and see if it's that much more amazing than a really good DVD player. We think it's definitely a step up in terms of quality, but we've also found that there are many things that affect whether HD is a big deal. This includes the quality of the source player, the resolution of the display, the distance you sit form the TV, and the actual movie content you are watching.
DVD: Lord of the Rings - Return of the King


This movie continues to be an incredible film, though a tad muted in the area of color. What it does well is present a fully dynamic picture whose histogram (black to white levels) is incredibly rich and, assuming a worthy display, is capable of separating the average players from the top performers. The Oppo did a really good job of bringing to life every nuance that was in this third installment of the Lord of the Rings trilogy. We've seen players only barely carry through detail, so that everything appears smoothed and washed out. Some players cannot handle the articulate detail present in on-screen elements like chain mail or detailed crests and emblems. During this film, which had ample of each, the DV-983H never broke into a moiré pattern or blurred details which were present in the digital video stream. Take a look at some of these shots: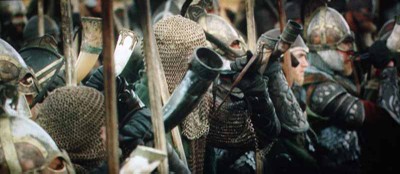 Move that chain mail across the screen on a Wal-mart special and see if it holds together!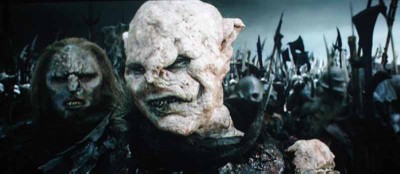 How someone so ugly can look so good is beyond me…
DVD: Band of Brothers


This epic World War II film series takes you through a roller coaster of emotion and scenery as Easy Company travels around Europe fighting off the Nazis. I found the various landscapes fascinating in that they captured the full range of textures and fast-moving imagery that makes for such great viewing material. One thing this picture isn't is "crisp". They instead opted for a smoother, grainer "old-school" film-like picture and so we mostly counted on the vast array of angles, granular landscaping and rugged equipment and uniforms to challenge the player to new levels. From the pics below, you'll see that the very natural look of the film was perfectly displayed and preserved and the Oppo didn't artificially attempt to sharpen it up or eliminate the natural picture noise which gave Band of Brothers its look and feel.
See also:
beigecat posts on March 27, 2009 07:54
I've recently upgraded my projector to a Mitsubishi HC6500 (1080p). I have recently learned of an interesting problem. I have a DV-983h connected via HDMI cable (Blue Jeans BJC Series-1) through a Yamaha RX-Z11 receiver. Interesting thing to note is that if DV-983h upscales the video to 1080p with the Yamaha Z11 set to "pass through" the HDMI input signal, then no video signal, at all, is output from the Z11 and audio become "choppy". If I bypss the RX-Z11 and connect 983h directly to the HC6500 with the 983h providing the video upscale to 1080p, then the projector correctly displays a 1080p image. If I set the 983h to output video at 480p and subsequently set the RX-Z11 to perform the video scaling to 1080p, then the projector displays a very nice 1080p image.

I believe this is an issue within the Oppo DV-983h. Communicating with Oppo about this I have learned they are already aware of this issue. Oppo claims they can neither test nor correct the problem as they do not have an RX-Z11 to test with. I have found several references to this problem on the internet in other websites. Some folks suspect it may be a compatibility issue since both the 983h and the Z11 use the same Anchor Bay video chip may be causing a conflict. I would suspect that the other Yamaha receivers using the same chip may exhibit the same problem.

To date Oppo has not responded with how they will approach correcting this issue for me, and other users with same problem. I had been plannig to acquire the Oppo BD-S83 Blu-ray when it became available, but with Oppo's poor response to correct the 983h issue fo me, I am rethinking my purchase of the BD-S83. I fear that since Oppo cannot identify nor correct this porblem in the 983h, then the same problem may carry over to the BD-S83 as it also uses the Anchor Bay chips. Interesting to note, I had offered to Oppo to participate in their BD-S83 Beta testing long before they "randomly selected" their Beta testers, but Oppo declined stating they already had enough testors. I find it curious that Oppo is reluctant to risk identification of a continued potential problem with a new Beta unit which they are preparing to distribute soon.

I really liked the Oppo DV-983h when I first installed it in Oct., 2008. That installation included a 720p projector. The displays had been impressive, especially considering the price range of the DVD player. Upscaling to 720p was not an issue regardless of the various combinations I tested. However, now that I can project a 1080p image, I am concerned that I may not be getting all of the video/sound "quality" available from the source material via HDMI. I currently have the DVD player set to output a 480p image and allow the Z11 to provide the upscaling. I have read that setting the DVD player to 480p may also inhibit sound production as this setting may limit the bandwidth available for audio through the HDMI connection.

I realize the DV-983h has now been discontinued, but I wanted to post my observation about this unit. It is a real disappointment to me. It appears the DV-983h was not the perfect unit everyone believed. Snce they have discontinued the player, my fear now is that this problem will never be addressed by Oppo. My concern is they may not correct any similar problem in the BD-S83 should it appear.

If anyone else has noted this problem and possibly devised a resolution please pass it along. I have tried all possible setting combinations on the various pieces of equipment to no avail.
Clint DeBoer posts on July 03, 2008 18:48
Keep in mind that it's also testing 60Hz 2:2 in NTSC. Oppo told me that they have issues with the HQV test but pass real-world and the DVDO tests for that cadence. No worries...
SiliconValley posts on July 03, 2008 08:44
Nice review. I have a lot of PAL 2:2 discs. They all play perfectly on OPPO 983. I am wondering the HQV 2:2 testing is not accurate, or maybe only good for their own chipset.
ivseenbetter posts on June 25, 2008 15:01
AcuDefTechGuy;426881
I think the only 3 advantages of the Oppo over the PS3 include Region Free playback, DVD-A, and the looks of an audio component vs game console.


And you don't have to worry about buying a Blutooth to IR converter to use your usual universal remote with the Oppo. I think that is a pretty important advantage. Don't get me wrong, I finally crumbled and got a PS3, but it really bothers me that I have to buy a signal converter for me to use it as a DVD player without having to use the PS3 controller.
AcuDefTechGuy posts on June 25, 2008 10:05
The PS3 is something else, especially when you can get the 40G PS3 for $399 at BB.

I was only a little bit surprised that the PS3 got a HQV score of 100 vs the Oppo's HQV score of 105. I guess only the Realta and Reon chips can get a perfect HQV score of 130? I bet we can't tell the difference in picture quality, though. Man, so the PS3 can do TrueHD, DTS-HD MA, play BD, play PS3 games, play SACD, and can upscale SD DVD with a HQV score of 100, which is practically the same as the $400 Oppo.

I didn't read the entire view, but how does the Oppo get a Hi-Def Video performance at all when it's just a SD DVD player and not a BD/HD player?

I think the only 3 advantages of the Oppo over the PS3 include Region Free playback, DVD-A, and the looks of an audio component vs game console.

The advantages of the PS3 over the Oppo include Blu-ray (true HD PQ & SQ -TrueHD/DTS-MA), and PS3 games.

If I had 2 boys, instead of 2 daughters, I would definitely get the PS3!