DV-983H Build Quality and Video Processing
We waited a bit to review the Oppo DV-983H DVD player. We had it just as early as everyone else, but we wanted to get our hands on what we felt is a potential competitor: the Sony Playstation 3. DVD players are undergoing a consumer and economic shift at present. With the rapidly dropping prices of existing upconverting players and the emergence of HDMI as a digital audio and video standard, DVD players are losing most of what differentiates them from each other. Audio used to be a major issue, but now it is really becoming difficult to "screw up" HDMI. In addition, video processing is becoming "old hat" and most players are doing a significantly better job than in years past. The real competition is with the emergence of Blu-ray and the decision of whether to purchase your, perhaps final, "high-end" universal DVD player or simply just to move on to the latest HD format. We already know that Oppo's many DVD players are a fantastic deal and offer stellar quality for the price, but with the introduction of a $399 model, the budgetary question becomes a real issue. This review will attempt to evaluate the flagship Oppo player in that light.
Unpacking & Build Quality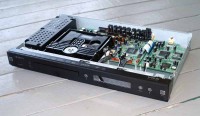 As with all Oppo players, this one came in a nice retail package and wrapped in a cloth garment. Unlike other Oppo players, the front face of the DV-983H is made of a piece of thick brushed aluminum and has the look of a minimalistic high-end piece of equipment. There are only 5 buttons on the front (Power, Eject, HDMI, Stop, Play/Pause), each of which have a backlight and are a nice metallic contrast to the black player. Lose the remote and you'll need to contact Oppo for a replacement if you want to continue to fully utilize the player. When each button on the front is pressed, the surrounding blue backlight lights up. In the case of the Power button it goes from having a red inset light (Standby) to Blue (On). The Play/Pause button's inset blue light only activates during use and then winks out after a couple seconds.
The player arrives with an extra-thick 14 ga. polarized power cord, HDMI cable, composite and analogue stereo RCA cables and a remote control with batteries. This is the same remote control that ships with all current Oppo DVD players. The HDMI cable is short enough to ensure that it will most assuredly work properly, but the presence of ferrite cores is not something that screams "quality".
There are four micro-LED lights which are used to indicate the HDMI output resolution (480/576/720p/1080i/1080p. If HDMI is disabled, the lights are all off. The main VFD (vacuum florescent display) screen is blue and sits back from the front panel to give the display some depth. The VFD has icons for what disc type is inserted (DVD, DVD-A, SACD, CD, HDCD, and A.Only) as well as visual cues for Mute, Track/Chapter, Title/Group, A-B Repeat and Random modes. There are also some icons which light up to show the presence of Dolby Digital, dts, EX modes, Play/Pause, Repeat (Single or All), and Angle. Oppo really crams a lot into the display, though given its size I don't think it will be used for much more than troubleshooting audio or video format issues.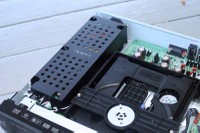 Opening up the unit (my favorite part), I saw that Oppo had been careful to physically shield the power supply from the rest of the components. They also located the circuit boards to the back of the chassis, separating them as much as possible from the VFD. It was nice to see that Oppo didn't succumb to the forces of darkness and place its electronics into a chassis that was grossly oversized in order to make the unit appear more "elite". They simply packaged the DV-983H into the same sized box they have used for their other models but gave it a nicely upgraded thick aluminum face. It's honest and it works.
Video Processing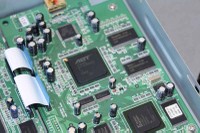 It takes two chipsets to make up the ABT-based system Oppo is using for the DV-983H. The Xilinx SPARTAN chip handles de-interlacing standard definition video, removing chroma artifacts and detecting the need for 2-3 pulldown. The ABT1018 chip handles video scaling up to 1080p, including frame rate conversion, aspect ratio control and adding video zooming features. Oppo did not, or could not, implement 24p output due to the methods they used to arrange the video processing on their board. ABT has long been highly regarded in its standard definition capabilities and is, in fact, one of several very competent processors available today. In fact, it's used by Denon, Yamaha, and a host of other manufacturers. For whatever reason (more detail is given below) Oppo opted to not successfully implement ABT's renowned Mosquito Noise Reduction circuitry in this player.
Should I Buy This Player?
We get asked this question a lot. In particular, the decision is often related to whether someone wants a solid upconverting DVD player or if they are ready to "go Blu". This decision is made difficult when the consumer looks at the $399 DV-983H, because it costs nearly as much as another nearly-universal DVD/BD player we are familiar with: Sony's Playstation 3 (80GB & 60GB models). Since these PS3 units also decode stereo and multi-channel SACD (though denying users access to DVD-Audio) it's an interesting comparison - and one we think everyone should engage in before making a final decision. We set up a short chart below to outline some of the major features of each:
Oppo DV-983H
Playstation 3
MSRP: $399
MSRP: $499 (80GB)
SACD: Yes (PCM)
SACD: Yes (DSD/PCM)
DVD-Audio: Yes (MLP)
DVD-Audio: No
Blu-ray: No
Blu-ray: Yes (Profile 2.0)
Video Processor:
Anchor Bay VRS
Video Processor:
Sony Cell Processor
HQV Score: 105
HQV Score: 100
1080p HDMI Upconversion: Yes
1080p HDMI Upconversion: Yes
HDMI v1.2
HDMI v1.3
Video Outputs: HDMI, component, S-video, composite
Video Outputs: HDMI + PS3 cable (composite, S-video, component options)
Audio Outputs: HDMI, TOSLINK, coax digital, 7.1 analogue
Audio Outputs: HDMI, TOSLINK, stereo analogue (via PS3 cable)
RS-232C Control: Yes
RS-232C Control: No
Remote: IR
Remote: Bluetooth (via controller or $20 add-on)
It's not hard to see that DVD player reviews are changing. Whereas in the past we judged players without the presence of new Blu-ray technology, we are now forced to consider products like the PS3 which offer excellent upconversion in addition to other benefits. In the face of the PS3 the Oppo DV-983H looks less compelling, however compared to other high-end universal players it screams "value". It definitely has some very nice features and is certainly a solid dedicated player.
See also:
beigecat posts on March 27, 2009 07:54
I've recently upgraded my projector to a Mitsubishi HC6500 (1080p). I have recently learned of an interesting problem. I have a DV-983h connected via HDMI cable (Blue Jeans BJC Series-1) through a Yamaha RX-Z11 receiver. Interesting thing to note is that if DV-983h upscales the video to 1080p with the Yamaha Z11 set to "pass through" the HDMI input signal, then no video signal, at all, is output from the Z11 and audio become "choppy". If I bypss the RX-Z11 and connect 983h directly to the HC6500 with the 983h providing the video upscale to 1080p, then the projector correctly displays a 1080p image. If I set the 983h to output video at 480p and subsequently set the RX-Z11 to perform the video scaling to 1080p, then the projector displays a very nice 1080p image.

I believe this is an issue within the Oppo DV-983h. Communicating with Oppo about this I have learned they are already aware of this issue. Oppo claims they can neither test nor correct the problem as they do not have an RX-Z11 to test with. I have found several references to this problem on the internet in other websites. Some folks suspect it may be a compatibility issue since both the 983h and the Z11 use the same Anchor Bay video chip may be causing a conflict. I would suspect that the other Yamaha receivers using the same chip may exhibit the same problem.

To date Oppo has not responded with how they will approach correcting this issue for me, and other users with same problem. I had been plannig to acquire the Oppo BD-S83 Blu-ray when it became available, but with Oppo's poor response to correct the 983h issue fo me, I am rethinking my purchase of the BD-S83. I fear that since Oppo cannot identify nor correct this porblem in the 983h, then the same problem may carry over to the BD-S83 as it also uses the Anchor Bay chips. Interesting to note, I had offered to Oppo to participate in their BD-S83 Beta testing long before they "randomly selected" their Beta testers, but Oppo declined stating they already had enough testors. I find it curious that Oppo is reluctant to risk identification of a continued potential problem with a new Beta unit which they are preparing to distribute soon.

I really liked the Oppo DV-983h when I first installed it in Oct., 2008. That installation included a 720p projector. The displays had been impressive, especially considering the price range of the DVD player. Upscaling to 720p was not an issue regardless of the various combinations I tested. However, now that I can project a 1080p image, I am concerned that I may not be getting all of the video/sound "quality" available from the source material via HDMI. I currently have the DVD player set to output a 480p image and allow the Z11 to provide the upscaling. I have read that setting the DVD player to 480p may also inhibit sound production as this setting may limit the bandwidth available for audio through the HDMI connection.

I realize the DV-983h has now been discontinued, but I wanted to post my observation about this unit. It is a real disappointment to me. It appears the DV-983h was not the perfect unit everyone believed. Snce they have discontinued the player, my fear now is that this problem will never be addressed by Oppo. My concern is they may not correct any similar problem in the BD-S83 should it appear.

If anyone else has noted this problem and possibly devised a resolution please pass it along. I have tried all possible setting combinations on the various pieces of equipment to no avail.
Clint DeBoer posts on July 03, 2008 18:48
Keep in mind that it's also testing 60Hz 2:2 in NTSC. Oppo told me that they have issues with the HQV test but pass real-world and the DVDO tests for that cadence. No worries...
SiliconValley posts on July 03, 2008 08:44
Nice review. I have a lot of PAL 2:2 discs. They all play perfectly on OPPO 983. I am wondering the HQV 2:2 testing is not accurate, or maybe only good for their own chipset.
ivseenbetter posts on June 25, 2008 15:01
AcuDefTechGuy;426881
I think the only 3 advantages of the Oppo over the PS3 include Region Free playback, DVD-A, and the looks of an audio component vs game console.


And you don't have to worry about buying a Blutooth to IR converter to use your usual universal remote with the Oppo. I think that is a pretty important advantage. Don't get me wrong, I finally crumbled and got a PS3, but it really bothers me that I have to buy a signal converter for me to use it as a DVD player without having to use the PS3 controller.
AcuDefTechGuy posts on June 25, 2008 10:05
The PS3 is something else, especially when you can get the 40G PS3 for $399 at BB.

I was only a little bit surprised that the PS3 got a HQV score of 100 vs the Oppo's HQV score of 105. I guess only the Realta and Reon chips can get a perfect HQV score of 130? I bet we can't tell the difference in picture quality, though. Man, so the PS3 can do TrueHD, DTS-HD MA, play BD, play PS3 games, play SACD, and can upscale SD DVD with a HQV score of 100, which is practically the same as the $400 Oppo.

I didn't read the entire view, but how does the Oppo get a Hi-Def Video performance at all when it's just a SD DVD player and not a BD/HD player?

I think the only 3 advantages of the Oppo over the PS3 include Region Free playback, DVD-A, and the looks of an audio component vs game console.

The advantages of the PS3 over the Oppo include Blu-ray (true HD PQ & SQ -TrueHD/DTS-MA), and PS3 games.

If I had 2 boys, instead of 2 daughters, I would definitely get the PS3!