Evaluation, Remote and Benchmark Tests
One thing I will not do is re-review this player in the way that I reviewed the NeuNeo HVD2085 version. If you want to know my complete thoughts on this player I suggest reading both reviews together... taking into account my revised viewing tests and the new features and remote. Speaking of new features, here they are:
New remote control with improved layout and glow-in-the-dark buttons (not backlit)
5' HDMI cable included
480i/576i support via component and HDMI
Blue LCD front screen color
Improved high-end power board and audio capacitors
Smart Play / UOP-Off function which lets you bypass copyright warnings & movie trailers located at the beginning of many DVDs
Taking a look at the internals, we didn't see too much of a difference, but you could see the new caps vs. the old and the HVD2085 still uses an AMLogic AML3428 chip to handle MPEG-2 decoding, digital to analogue audio conversion, and the deinterlacing and scaling for the component video and HDMI outputs.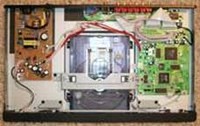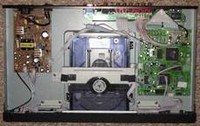 NeuNeo HVD2085 (left) Helios HVD2085 (right)
As you can see above, the internal components are just about identical between the models. The Helios-branded product does feature some new audio capacitors as advertised in the product literature: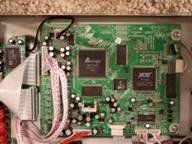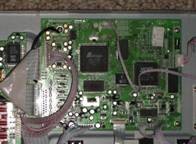 And a revised power supply board:


Responsiveness

Responsiveness is still an issue with this player. NeoDigits fixed the issue whereby the player would load, but not play a disc when the tray was open and you hit 'Play' on the remote control. It takes forever for a newly inserted disc to play on this machine. Ejecting a disc, however, now takes only 4 seconds. The other odd thing is that the unit will not power up out of standby unless the Power button is pressed. It would seem to make sense that the 'Play', or 'Open' buttons on the unit or remote would also wake up and power on the unit from Standby mode.
Chapter skip was slow, but responsive and I noted that the remote still did not have separate on and off commands. Since the 'Play' button will not turn on the player, working out any sort of discrete on and off macros in a universal remote control system continues to be nearly impossible.
For some reason, the player seemed to default to activating subtitles when playing many movies. This happened with three separate discs and I had not selected
Connections
The back panel is unchanged from the NeuNeo player. I would not recommend using the analogue audio outputs on this player simply because there should be no reason to unless you have a very old receiver that does not support Dolby Digital or DTS. The Helios HVD2085 does not support DVD-Audio or SACD discs, removing one of the main reasons for using analogue outputs. The bass management of the Helios is very basic and, in fact, does not support certain room configurations in terms of its delay adjustment parameters (such as rooms with the surrounds closer to the listening position than the main speakers). There are both coaxial and optical S/PDIF connections which will serve most users for all audio needs. In addition, the HDMI connection will send high resolution Dolby Digital and DTS audio to any receiver or display that is capable of receiving this information.

Editorial Note:
If you want a tour of the menu and setup system, simply check out our review of the NeuNeo HVD2085.
Remote Control

The Helios HVD2085 sports a brand new remote control. This remote is much improved over the last one, but there are still a few hang-ups (yes, as soon as manufacturers fix a few things we find more!) The MENU button was hidden at the bottom of the remote. This is a button I tend to use and it should be located near the navigation keys along with the TITLE button. The remote control is now made up of glow-in-the-dark keys. They are NOT "illuminated" or "backlit" as the website and certain literature states.
Video Performance: "It's the Resolution, Stupid."

This time we measured the performance of this system on our 1080p reference Westinghouse LVM-42w2 display. The difference in resolution and quality was impressive. While the Helios player bombs the HQV tests and a lot of unflagged deinterlacing, the resolution - for the most part - really overshadows the issues with jaggies.
All final test scores were derived using both the Helios HVD2085's HDMI and component outputs in 1080p mode unless otherwise specified.
Audioholics/HQV Bench Testing Summary of Test Results

Perfect Score is 130
Helios HVD2085 Benchmark total score: 30 (This player will do well on properly flagged material but watch out for jaggies during 2:3 pulldown)
Test

Max
Points

Component
Results

Pass/Fail

HDMI
Results

Pass/Fail

Color Bar

10

10

Pass

10

Pass

Jaggies #1

5

0

Fail

0

Fail

Jaggies #2

5

0

Fail

0

Fail

Flag

10

0

Fail

0

Fail

Detail

10

10

Pass

10

Pass

Noise

10

0

Fail

0

Fail

Motion adaptive Noise Reduction

10

0

Fail

0

Fail

Film Detail

10

0

Fail

0

Fail

Cadence 2:2 Video

5

0

Fail

0

Fail

Cadence 2:2:2:4 DV Cam

5

0

Fail

0

Fail

Cadence 2:3:3:2 DV Cam

5

0

Fail

0

Fail

Cadence 3:2:3:2:2 Vari-speed

5

0

Fail

0

Fail

Cadence 5:5 Animation

5

0

Fail

0

Fail

Cadence 6:4 Animation

5

0

Fail

0

Fail

Cadence 8:7 animation

5

0

Fail

0

Fail

Cadence 24fps film

5

0

Fail

0

Fail

Scrolling Horizontal

10

5

Pass

5

Pass

Scrolling Rolling

10

5

Pass

5

Pass

Total Points

130

30




30



*All tests were done with the HDMI/component outputs set to 1080p. We found in subsequent testing that the Helios, inexplicably, only provides 2:3 pulldown during 480p mode, causing it to show jaggies on all other modes. As I think the purpose of this player is to be used at higher resolutions, we didn't post the test results here for 480p.
Comments on Audioholics DVD Torture Tests

Other than a slight increase in detail (and remember, this is a different display as well), the Helios HVD2085 player still fails most of the HQV tests. What users need to realize, however, is that these tests are purposely designed for standard definition, unflagged content relying on the video processor to catch bad cadences and edits. In the real world, many of the newer DVDs are mastered such that bad edits aren't as much of an issue. One major problem, and I observed this consistently with real-world movies - was the below average 24fps to 1080p/60fps 2:3 pulldown required to turn native DVD content into 1080p/60 output. On a high resolution monitor, this player looks fantastic, but you WILL see jaggies. This bothered the heck out of me, if only because the player looked so good otherwise.