Denon DVD-5910CI Technology Overview
While watching old Looney Tunes cartoons as a child, I always recalled Bug Bunny's nemesis (i.e. Yosemite Sam, Elmer Fudd, etc) say "it has everything but the kitchen sink" seconds before they'd get knocked upside the head with said item. When Denon announced the 1080p upgrade to the DVD-5910 I quickly put us on the list to receive a review sample. I had a mindful eye when the FedEx guy arrived at my front door. Lugging this nearly 50lb box up my flight of steps to the Audioholics Showcase system, I couldn't help but wonder if Denon did, in fact, ship me the kitchen sink as part of a package deal with this DVD player. Enter the DVD-5910CI - Denon's latest flagship DVD player packaged in a rugged chassis that would make most receivers envious. Seriously, this DVD player looks out of proportion to all receivers but Denon's own venerable AVR-5805.
Comparative Differences of the DVD-5910/5910CI and DVD-3930 DVD Players

For those wondering what the difference between the DVD-5910 and DVD-5910CI is, I tabulated them below along with a direct comparison of Denon's own DVD-3930CI.
Metric

DVD-5910

DVD-5910CI

DVD-3930CI

Simultaneous output of scaled HDMI and Component Video

Yes, 480p

Yes, 480p

Yes, 480i

480i Pass-thru via HDMI

No

No

Yes

Audio DAC's

PCM-1792

PCM-1792

PCM-1796

HD Scalar

DVDO-HD Scalar by Anchor Bay Technologies

DVDO-HD Scalar by Anchor Bay Technologies

Realta

Max Upscale Resolution
1080i
1080p
1080p

IEEE 1394 Outputs

Yes (2)

Yes (2)

No

Denon Link

Ver 2
(upgradeable to 3)

Ver 3
Ver 3

THX Certified

Ultra

Ultra

No

Dimensions (W x H x D)

17.1" x 6.2" x 17.1"


17.1" x 6.2" x 17.1"


17.1" x 5.2" x 13"


Weight

41.9 lbs

41.9 lbs

25.3 lbs
Audio Components

There is no doubt the DVD-3930CI wins hands down in the value category and certainly delivers in every category nearly as good as the 5910CI flagship unit. There are however discernable differences in parts usage such as the Burr Brown DAC's. One would think that the higher numbered DAC (PCM-1796) would be superior to the lower number unit (PCM-1792), but this is NOT the case. Aside from the 30% component cost adder of the Burr Brown PCM-1792s found on the DVD-5910CI and the PCM-1796s found on the DVD-3930 there are significant specification difference between these two DAC's. The PCM-1792s have superior dynamic range (about 3dB better), better channel to channel separation (about 4dB) and better filter characteristics, particularly with respect to superior Stop Band Attenuation(-130dB on the 1792s vs -98dB on the 1796s) as well passband ripple. The 1792s also appear to have greater drive capabilities than those of the 1796s which isn't surprising since the 1792s are the Burr Browns flagship DAC's and arguably some of the highest performance multi function audio DAC's ever created. Whether or not a consumer could hear a sonic difference between these units depends upon many factors such as: hardware implementation, quality of upstream components and loudspeakers, room acoustics, listeners hearing capabilities.
Other notable featured about the audio prowess of the DVD-5910CI include:
Independent PCM and DSD Decoders
Separate PCM-1792 DAC's for 2 Channel mix down outputs
Advanced AL24 Processing on all channels
Denon Link and IEEE-1394 Outputs
SACD Audio Filter Select (50 or 100 kHZ)
HDCD Decoding
Bass Management for HDMI output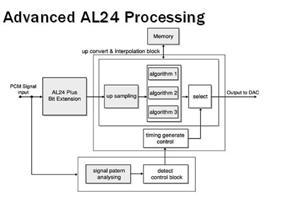 Denon's AL24 processing, found on many of their high-end receivers and DVD players is a 24-bit reproduction technology utilizing real-time bit extension, up-conversion and interpolation algorithms proprietary to Denon. Over the last few years, we've tested many Denon AVRs and DVD players and always found them to be among the best in low level linearity, with a superbly low noise floor. The DVD-5910CI was a prime example of this based on our extensive listening tests and measurements.