DVD-5900 Overview, Bass Management and Setup
Last year Denon dazzled us with the introduction to their first Universal DVD Player known as the DVD-2900. In a single stroke, a manufacturer was able to produce an affordable machine that obsoleted much of the hardware limitations we noted in prior technical articles we wrote regarding DVD-A and SACD.
The DVD-2900 satisfied many of our concerns, and performed admirably, especially for its asking price ($999 MSRP). As good as this player was, it did leave room for improvement thus paving the way for the DVD-5900.
You're probably wondering what the main circuitry improvements of the DVD-5900 are over the DVD-2900 which justify doubling the price. Listed below are some of the most notable advantages of the DVD-5900:
Power Supply, Dual Video Circuitry paths for interlaced and progressive including Dual Video DACs
Dual Melody 100 Analog Devices DSPs to handle a more flexible Bass Management for DVD-A and SACD
Different MPEG decoder, the ESS Vibrato II, for the DVD-5900 and Mitsubishi for the DVD-2900 (Denon used the ESS decoder on their previous high end DVD-A only players the DVD-3800 and DVD-9000.)
For a more detailed look on comparative circuit and other internal differences between the DVD-2900 and DVD-5900 check out our supplemental First Look Review.
Bass Management Block Diagram for DVD-5900

This is a basic block diagram of the bass management system for the Denon DVD-5900. This illustrates how the DVD-5900 handles PCM (DVD-A, CD) and DSD (SACD) signals in the digital domain through DLink/IEEE1394, and via the analog multi-channel outputs. Note that in order to maintain SACD decoding in its native format, you must sacrifice all bass management, but thankfully not delay time or channel trims via the external analog outputs. Denon is still playing the waiting game with Sony for provisioning of SACD passage via DLink/IEEE1394. DVD-A can of course immediately be passed through via DLink, soon IEEE1394 (awaiting Denon firmware update), or through the analog outputs with full digital delay compensation and bass management. I opted for DLink for DVD-A due to the superior bass management facilities and differential DAC section of the AVR-5803 as well as convenience of controlling all settings at the receiver.
The AVR-5803 does not decode DSD in its native format which can arguably degrade fidelity. However, it is important to remember that currently all receivers/processor on the market, with perhaps the exception to Sony, handles bass management and digital delay compensation in PCM, thus at some point or another if you desire these features you will likely have to go through this conversion process. This also does not consider the fact that many SACD discs are mastered with PCM equipment. This discussion goes beyond the scope of this review and will likely be expanded upon in a future article.
Audio Set-Up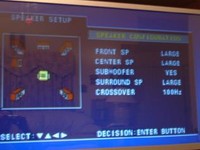 DLink Reset Anomaly
I enabled the "Bass Enhancer" feature so that I could have sub out in 2CH SACD mode, but with DLink enabled on the player, it automatically sets
Source Direct = On
Bass Enhancer = Off (grayed out so you cannot change it)
Thus, you have to disable DLink, then configure Source Direct "Off", followed by turning Bass Enhancer "On" to achieve subwoofer output in 2CH SACD. Aside from the inconvenience of this three step process, there is an annoying operational bug when going through this routine. It resets the Speaker Sizes to "Large", Sub crossover to 100Hz, and Delay Times to 12ft. It appears cycling DLink On/Off, resets the bass management/time delays to default settings.
Tech Note: Relax, there is a workaround for this quandary which incidentally Denon also recommends.

Step1: Hookup the standard 5.1 cable to the EXT inputs, but also use the extra stereo Front outputs to an unused analog input, say the CD input.

Step2: When you listen to 2 Ch SACDs and regular CDs use that input and Pure Direct. The AVR-580 will do analog bypass for the mains while at the same time output a sub channel through the DSPs.
For all other audio operational modes (ie. CD, DD , DTS, DVD-A) I relied on the DLink connection. This is an absolute wonder as it allowed flawless operation for all of these audio modes with a single digital cable (supplied by Denon). Once Denon gets provisioning from Sony to pass SACD over DLink, exotic cable vendors be warned :-)
As with the DVD-2900, the channel trims were accurate only to +-1dB and +-1ft delay increments. The channel trims have no boost, only cut settings referenced to 0dB. This is about on par with most low-end receivers and, unfortunately, many so-called high-end processors. I recommend that if you have an AVR-5803, do all of your audio processing inside the receiver except SACD until that rides down the DLink to an IEEE1394 digital connection.
Denon has an Audio Set-Up Tips technical paper that discusses this very issue. They went through great lengths in documenting how to properly configure the DVD-5900 for DLink and analog multi-channel operation on the AVR-5803 receiver, thus I highly recommend perusing this informational before setting up the player.
"Pure Direct" Mode (AVR-5803) For DVD-A DLink and EXT Multichannel Analog Inputs Set-Up
I initially noted some rather unusual behavior in the AVR-5803 when engaged in DLink with the DVD-5900 set for DVD-A playback. While this is a review of the DVD-5900 and not the AVR-5803, I felt it appropriate to offer set-up suggestions for owners of both pieces of hardware to avoid any potential configuration pitfalls.
| | |
| --- | --- |
| AVR-5803 Configuration: | DVD-5900 Configuration: |
| DLink On | DLink: 2nd Generation |
| Surr Back: Off | |
| EXT IN: S.Back "Not Used" | |
| Pure Direct (see red set-up note below) | |

While I was thoroughly enjoying DVD-A playback via DLink connection, I accidentally hit the "Pure Direct" mode on the AVR-5803 via the clumsy RC-8000 remote and noted some rather interesting behavior. I was surprised that DVD-A was still playing in multi-channel surround, even though theoretically "Pure Direct" is supposed to bypass DSP processing to everything but the subwoofer. A quick test of a DD/DTS DVD verifies this operational certainty for that application, but decoding DVD-A appeared to be another story. In reality the only way to decode MLP via the Dlink is in the receiver, so it made sense that the AVR-5803 engaged the DSP for this function. According to Denon, only the video and front display shut off in "Pure Direct" mode on the AVR-5803 but the primary analog signals are provided a direct path bypassing the DSP processing.
I did notice that the balance of the rear soundfield changed when toggling between normal and "Pure Direct" mode and I scratched my head for a few minutes trying to figure out why. What I discovered was that the Back Surround speakers were now playing rear source material even though I had them disabled in what I thought to be the appropriate menu. When I disengaged "Pure Direct" I again heard the correct 5.1 mix. I consulted Denon about "Pure Direct" Mode decoding multi-channel DVD-A and also causing Surround Back Channel engagement. I also noted this operation when engaging the EXT multi-channel analog inputs for SACD in "Pure Direct" mode. What we discovered was that the AVR-5803 had independent "Surround Mode" settings for normal and "Direct" modes. This was just another shining example of the endless configuration options of the venerable AVR-5803.
Tech Note: In order to properly playback 5.1 channel music in "Pure Direct" mode while using DLink for DVD-A or the EXT multi-channel analog inputs for DVD-A/SACD you must proceed as follows:

Step1: Engage the "Direct" mode of the AVR-5803.
Step2: On the RC-8000, select "Surr Para".
Step3: Disable the S.Back speakers by selecting "not used". (for more configuration details, see page 44 of the AVR-5803 user manual)

Alternatively if you feel your set-up would benefit from duplicate information being feed to the rear and surround back channels, by all means leave them on!