Denon DVD-5900 Universal DVD Player First Look
by
Steve DellaSala
—
October 18, 2003


Denon DVD-5900
Mechanical and Electrical Differences Between the Denon DVD-2900 and DVD-5900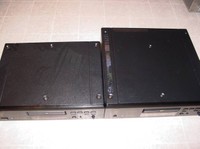 With their continued efforts in forging technology, Denon has taken the Universal type DVD player beyond expectations. Just when perfection seemed to be nearly grasped with the DVD-2900, along comes the DVD-5900 to set yet another example of excellence. The following brief article will outline some of the basic differences in the mechanical and electrical features of both Universal DVD players. This article is intended to be a prelude to our pending detailed review.
Mechanical
The player on the left, is the solidly built DVD-2900. The unit on the right is the overshadowing DVD-5900. The comparative dimensions are as follows:
| | | | | | |
| --- | --- | --- | --- | --- | --- |
| Model# | Width | Height | Length | Volume | Weight |
| DVD-2900 | 17" | 5" | 13" | 1105 cubic-in | 17.6 lbs |
| DVD-5900 | 17" | 5-1/2" | 16-1/2" | 1543 cubic-in | 27.7 lbs |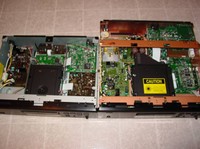 As you can tell by the dimensions, the DVD-5900 is about 1 ½ times the volume or 50% larger than the DVD-2900. Along with the size difference, is a notable difference in weight by approximately 10.1 lbs.
But dimensions and weight are not the only deciding differences between the players . Once the top covers were removed to reveal the internals, was easy to quickly observe a host of different design and hardware implementation features.
Grounding
Let's start with the differences between the grounding of the players . The DVD-5900 has a series of grounding strips along the top brackets and all along the side of the unit to assure the chassis and cover are securely grounded to each other. The DVD-2900 does not have this feature. In addition, the chassis of the 5900 is coated with a copper colored material. We will confirm with Denon as to what this coating is. It's either some form of copper impregnated coating or another possibly another conductive coating. This is most likely for better grounding, but it may also reduce EMI.
Laser Mechanism
Aside from the clear mechanical differences in the laser mechanism, and housing, there is also a difference in their outputs as found in the following table.
| | | |
| --- | --- | --- |
| DVD Player | DVD Output | CD Output |
| DVD-2900 | 21.0-mA | 46.5-mA |
| DVD-5900 | 26.3-mA | 42.1-mA |
Based on the above parameters, the DVD-5900 is putting out 5.3-mA more power current in DVD mode than the DVD-2900. This may result in an improved picture or audio performance, or tracking capabilities as we will attempt to quantify in our upcoming review. What's also interesting is the DVD-5900 actually out puts out 4.4-mA less power current than the DVD-2900 while in CD mode. It will definitely be interesting to compare their Redbook CD performance with CD's to note if there are audible implications.
Aside from the differences in output, the mechanism in the DVD-5900 is more robust with a better tracking guide than the already beefy DVD-2900.
Power Supplies
This is another area where the two units differ, and likely where the weight and volume differences are justified. The DVD-5900 has discrete and isolated power supplies for digital and analog, whereas the DVD-2900 appears to integrate both together on the same CCA with separate regulators for the digital sections . The makeup of the analog PS for the 5900 consists of a 2" transformer with two large 50V and / 3,300µf capacitors and two 50V and / 470µf, along with additional smaller decoupling ones. The digital PS has a separate 1" transformer coupled with one 400V and / 100µf capacitor and a host of 16V caps. The DVD-2900 implements only separate supplies via smaller one 1" transformer for both digital and analog PS's with only one 400-V and 100µf capacitor coupled with smaller 16V, 15V and 100V caps. There are no large storage caps as found in the analog PS of the 5900. It is likely that the added horse power of the 5900 (implemented dual SHARC processors) demands a more robust power supply.
Electronics
Both the DVD-2900 and the DVD-5900 use some of the most sophisticated electronics commercially available. But the 5900 sets a new standard by offering an even higher caliber list of electronics, as found in the following table.
Electronics

DVD-2900

DVD-5900

Deinterlacing Engine

Silicon Image/DVDO Pure Progressive (SiI504)

DCDi by Faroudja (FLi 2310)

Video Decoder

"Chroma Bug Free" Mitsubishi MPEG/DVD-Audio Decoder

ESS Vibrato "Chroma Bug Free" MPEG/DVD-Audio Decoder

DSD Decoder

Sony CXD-2753 Second Generation DSD Decoder

Sony CXD-2753 Second Generation DSD Decoder

Audio DACs

DENON designed, Burr-Brown

24-bit, 192-kHz DSD-1790 Audio DACs

DENON designed, Burr-Brown

24-bit, 192-kHz PCM/DSD 1790 Audio DACs

Video D/A Converters

High resolution Analog Devices ADV-7300, 12 bit/108 MHz, 4:4:4, Video D/A Conversion

Dual, discrete, Analog Devices ADV-7310 - 216 MHz, 4:4:4, 12 bit Video D/A Conversion (1 chip each Progressive and Interlace)

Analog Processors

Analog Devices Melody 32-bit processor

Dual Analog Devices Melody 100 'HammerHead' SHARC processors

Video Output

4x Oversampling Progressive and 8x Interlace output

8x Oversampling Progressive and 16x Interlace output

Buffer Memory

8MB drive buffer

8MB drive buffer

Circuits (note: this is not the power supplies)

2 box, 5 block internal layout to isolate analog, digital and video circuits

3 box, 5 block internal layout to isolate analog, digital and video circuits

Audio Processing Plus




New AL24 Processing Plus for all 6 Channels

Clock Synchronization




exclusive DENON Clock Synchronized System (DCSS), a proprietary and defeatable system
Back Panels
The back panels of the two units are certainly different. Kudos to Denon for providing true 75-ohm BNC component video output connections on the DVD-5900. This will simplify connections for those with front projectors, and will help decrease signal degradation for long cable runs . In addition, the 5900 also has two IEEE 1394 (S400) connectors, one DVI output (more on this later), a Denon link to connect to the Denon AVR-5803, two S-Video output connections and one RS-232C connector.
DVI Connector
The DVD Forum has officially approved the DVI-HDCP output on DVD players. With this announcement, Denon will be activating the DVI connector on all 5900 DVD players. This is great news for those with true digital TV displays .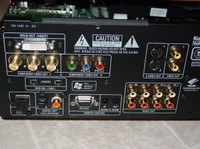 Denon DVD-5900 Rear Panel

Compatibility
Denon has assured that the 5900 will be compatible with not only the latest audio formats, but video and multimedia as well. It plays Audio/Video CDs; DVD-Audio/Video; Super Audio CD; D+/-R/RW(conditional); Audio CD-R; Audio CD-RW; MP3/WMA CD-R/RW; JPEG photo file viewer, Kodak Picture and Fujicolor CD compatible; HDCD decoding and Windows Media. It also incorporates Denon's proprietary D-link for interfacing with their flagship receivers to pass DVD-Audio and hopefully SACD in the digital domain for external processing and bass management. Firewire connections are available for digital interfacing DVD-Audio and SACD (A&M protocol) to compatible Receivers or Pre/Pro's.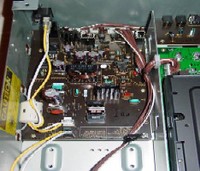 DVD-2900 Dual Purpose Power Supply (Digital and Analog)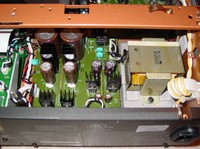 DVD-5900 Discrete Analog and Discrete Digital Power Supplies
Note: Digital Power Supply is on the top right of the picture and the analog is on the bottom right.