HVD2085 Benchmarks, Viewing Tests & Conclusion
Performing measurements and tests on a DVD player using tools at our disposal is somewhat objective, but still results in a certain amount of subjective decision-making in terms of scoring and evaluation. As such, we recommend that these test results be used as a guideline only. For the review of this DVD player, the performance was based on the player in conjunction with the display monitor. We used the Yamaha LPX-510 3LCD projector which was calibrated as close as possible to ISF reference standards. For the test and evaluation of the HVD2085 we used selections from Avia Pro and the Silicon Optix HQV Technology benchmark DVD test discs in addition to various test clips from popular movies.
All final test scores were derived using both the NeuNeo HVD2085's HDMI and component outputs in 720p mode unless otherwise specified.
AudioholicsHQV Bench Testing Summary of Test Results
Perfect Score is 130
NeuNeo HVD2085 Benchmark total score: 25 (This player is very bad at reading non-flagged cadences and provides no noise reduction)
Test

Max
Points

Component
Results

Pass/Fail

HDMI
Results

Pass/Fail

Color Bar

10

10

Pass

10

Pass

Jaggies #1

5

0

Fail

0

Fail

Jaggies #2

5

0

Fail

0

Fail

Flag

10

0

Fail

0

Fail

Detail

10

5

Pass

5

Pass

Noise

10

0

Fail

0

Fail

Motion adaptive Noise Reduction

10

0

Fail

0

Fail

Film Detail

10

0

Fail

0

Fail

Cadence 2:2 Video

5

0

Fail

0

Fail

Cadence 2:2:2:4 DV Cam

5

0

Fail

0

Fail

Cadence 2:3:3:2 DV Cam

5

0

Fail

0

Fail

Cadence 3:2:3:2:2 Vari-speed

5

0

Fail

0

Fail

Cadence 5:5 Animation

5

0

Fail

0

Fail

Cadence 6:4 Animation

5

0

Fail

0

Fail

Cadence 8:7 animation

5

0

Fail

0

Fail

Cadence 24fps film

5

0

Fail

0

Fail

Scrolling Horizontal

10

5

Pass

5

Pass

Scrolling Rolling

10

5

Pass

5

Pass

Total Points

130

25






25
*All tests were conducted with the HDMI/component outputs set to 720p.

Comments on Audioholics DVD Torture Tests

For the full list of features and testing, please see the new DVD Player Features and Benchmark Comparisons Chart . This player has the dubious honor of achieving the lowest score of any player we have tested to date with regards to the HQV Benchmark. Keep in mind, however, that the cadence and deinterlacing tests are for the most part all unflagged. The NeuNeo player's deinterlacer is built to look for flags. If you don't have a ton of bad edits and missed flags in your source material it is likely that these results won't show up in your day-to-day viewing. I'll admit it; there is more to a DVD player than just deinterlacing and bad edit detection - especially when you get a good transfer or source on DVD.
The HDMI output of the player cropped three pixels from the right side of the picture only - which I consider to be very good. The HVD2085 cannot pass blacker than black and it also does not pass whiter than white in a manner that is consistent with what we are looking for (white was actually output at a very high level overall). There seemed to be about a pixel of Y/C delay in both the HDMI and component video outputs, though it was very subtle. It passed our macroblocking bug test with flying colors - one of the few advantages the NeuNeo gained in not going with a Faroudja chip.
Viewing Evaluation

After reading the benchmark test results you'll wonder if the HVD2085 can be considered a decent player. Well, there is a lot of material out there that isn't poorly encoded or incorrectly flagged. For these sources you trust the NeuNeo's excellent resolution and color performance to carry the day.
Viewing evaluations are always subjective, but they are a great opportunity to see the practical demonstration of the above test results. We typically select some reference DVDs as well as some content with less than stellar source material. A few examples of our experiences are included in our following viewing evaluation.
DVD: Fantastic Four
Fantastic Four was an action packed movie that had some annoying edge enhancement. It did possess enough detail however to make for some good reference material with which to evaluate the NeuNeo DVD player. One thing I really noticed on this unit was that it did not seem to bring out the detail in standard definition DVDs. On a myriad of close-ups and detail shots I consistently felt that the NeuNeo was a bit soft - an observation that gelled with my perception and rating of the HQV Detail test. Another thing that crept up was the very noticeable judder motion present in any horizontal pans across the screen. In addition, there was a tendency for the player to 'skip' and 'jump' a bit while playing scenes - not in the sense that it hit an error or broke up the audio track, but just enough to let you know you had just passed over a few frames.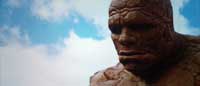 HVD: Le Peuple Migrateur (720p)
This HVD disc is mastered in 720p and is only compatible on HVD-compatible players. It was absolutely phenomenal footage and it showed off the resolution capability of the NeuNeo player magnificently. While I was not terribly impressed with the NeuNeo's handling of standard DVDs, I was absolutely captivated by its rendering of this 720p HD content. The screen captures I've provided here will show a bit of the landscape detail as well as the edge and feather detail present in the birds.
I wish all DVDs had this type of quality. I finally felt as if I had gotten a small glimpse into the future of Blu-ray Disc and HD-DVD titles. We have a lot to look forward to if the industry doesn't self destruct first.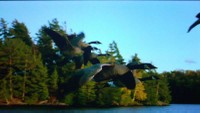 Listening Evaluation

I noticed no audio delay or sync issues with this player. Output was commensurate with other players in this price range in that it was indiscernible via the digital outputs. At some point down the road we may do some more in depth comparisons of analogue outputs of budget players versus higher end models, but for now suffice it to say we noticed no major issues with this player.
Conclusion

We received an email from NeoDigits some time ago which prompted this review. In it they bragged a little bit about how this player didn't have the'macroblocking bug' because it didn't use a Faroudja chip for video processing. While this is certainly true, the downside is that it also failed most of the video tests we ran it through. I think I'd prefer the macroblocking bug personally. Still, no Faroudja player I know of outputs 720p, 1080i, or 1080p from its component video outputs. Actually, I am not aware of any player that outputs 1080p at this point save Denon's new $3,800 flagship DVD-5910Cxi with 1080p upgrade. The performance of the HVD2085 is akin to many HTPCs I've seen - great picture resolution, provided you don't ask them to do anything fancy. If you've absolutely got to have a 1080p source or you have an older analogue projection system that can take HD over component but not HDMI, I suppose $249 isn't too much to ask.


NeuNeo HVD2085
MSRP: $245
http://www.neodigits.com
The Score Card
The scoring below is based on each piece of equipment doing the duty it is designed for. The numbers are weighed heavily with respect to the individual cost of each unit, thus giving a rating roughly equal to:
Performance × Price Factor/Value = Rating
Audioholics.com note: The ratings indicated below are based on subjective listening and objective testing of the product in question. The rating scale is based on performance/value ratio. If you notice better performing products in future reviews that have lower numbers in certain areas, be aware that the value factor is most likely the culprit. Other Audioholics reviewers may rate products solely based on performance, and each reviewer has his/her own system for ratings.
Audioholics Rating Scale
— Excellent
— Very Good
— Good
— Fair
— Poor
| Metric | Rating |
| --- | --- |
| Deinterlacing & Scaling | |
| High Definition Video Performance | |
| Standard Definition Video Performance | |
| Bass Management | |
| Build Quality | |
| Ergonomics & Usability | |
| Ease of Setup | |
| Features | |
| Remote Control | |
| Performance | |
| Value | |