Samsung UN55ES8000F 55" SmartTV Review
Summary
Product Name: UN55ES8000F 55" LED SmartTV
Manufacturer: Samsung
Review Date: November 26, 2012 04:05
MSRP: $2400
First Impression:

Pretty Cool

Specifications

Video
Backlight: LED
Screen Size (in.): 54.6" Diagonal
Native Resolution: 1,920 x 1,080
Resolution: 1080p
Dynamic Contrast Ratio: 30,000,000:1
Clear Motion Rate: 960
Aspect Ratio: 16:9

Audio
Sound Effect System: DNSe
Sound Output (RMS): 10W x 2
Speaker Type: Down Firing + Full Range
Wireless Connectivity

Features
Smart TV with Samsung Apps and Web Browser
Smart Hub
3D
AllShare Play
Wide Color Enhancer
Ultra Clear Panel
ConnectShare Movie
Eco Sensor
Skype
BD Wise
Game Mode
Anynet+ (HDMI-CEC)
Auto Channel Search
Auto Power Off
Auto Volume Leveler
Clock & On/Off Timer
Closed Captioning
DTV Tuner Built-in
Sleep Timer
V-Chip
Micro Dimming
4 Pairs of 3D Active Glasses Included
Dynamic Noise Filter

Inputs & Outputs
HDMI: 3
Component: 1
Composite (AV): 1 (shared Component)
Ethernet: 1
USB 2.0: 3
Digital Audio (Optical): 1
Audio Out Mini Jack: 1
DVI Audio Input: 1
RF In: 1
RS232 (EX-Link) 1

Dimensions
Product Size (W x H x D) Without Stand: 48.4" x 28.4" x 1.2"
Product Size (W x H x D) With Stand: 48.4" x 30.0" x 8.3"
Shipping Size (W x H x D): 53.1" x 34.4" x 10.2"

Wi-Fi: Built-in

Weight
Product Weight Without Stand (lb.): 36.6 lb.
Product Weight With Stand (lb.): 42.5 lb.
Shipping Weight (lb.): 56.0 lb.

Power
ENERGY STAR Compliant
Standby Power: 0.09W
Typical Power: 82W

System
Tuners: ATSC/Clear QAM

Warranty
One (1) Year Parts and Labor
Parts and Labor Commercial Use: 90 Days
Executive Overview
This is Samsung's latest Smart TV, the UN55ES8000F. A, B, C, D, and E were killed in a tragic skydiving accident... just kidding! This is a rather large upgrade in terms of both the hardware and software. The last couple iterations of Samsung Smart TVs were impressive, but they were tweaks on what was already a pretty advanced media system. This TV... this one is a pretty big leap forward.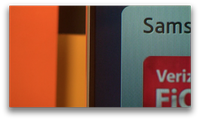 Let's start with the screen. It's bigger and... well, smaller... Samsung reduced the bezel to around 1/2" in thickness, so the TV seems to float in the air. We remember when TVs attempted to purposefully add black around the screen to make it look bigger. Now the trend is for the screen to be no bigger than the actual viewing area. The ES8000F also integrates a camera and microphone into the top bezel. You see, this TV is "aware". Once configured, it's constantly listening and sensing for motion and voice with its camera and microphone. Which was a tad creepy because we installed it in the bedroom... but anyway.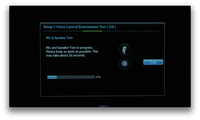 The TV has a setup wizard which runs you through some voice and motion tests to see if your environment meets the required noise and visual requirements. Once set up, you can raise your hand and do a sort of Queen Elizabeth wave to get the TV's attention. Then you can control volume, enter the menu system, activate the Smart TV features and, yes, even play Angry Birds. The controls are subtle - it's not quite Minority Report yet. In fact, if you swipe your hands around; the TV, like a scorned woman, will likely completely ignore you. Take your time and use deliberate movements and you'll be able to control what you need.
Now the Samsung has a host of Smart TV features, most of which we've covered in previous Samsung TV reviews. First, let's start with the Voice Control. You can literally say phrases like "Hi TV, Power Off" and the TV will shut itself down. Yea... pretty cool. But you can also say "Hi TV, Power On" and it will turn on - without ever touching the remote control. And you can say a bunch of stuff to go where you want. Like "Hi TV, Samsung Apps". You can raise and lower the volume, even by number, up to 20. After that it's just "Hi TV, Volume Up"... which, if you're trying to get to 35, well, you might want to grab the remote.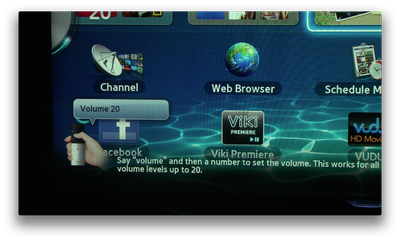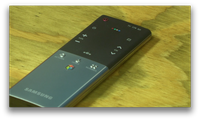 The Samsung ES8000F also comes with two remotes. The standard remote is IR and looks pretty much as you'd expect, but the other remote is RF and can be paired with the TV. It features an integrated mic so you can use voice commands even when the room may not be ideally suited for it. You just pick up the smart remote, press the microphone button and speak into it. "Hi TV... just checking in..." We also like that it has a track pad built right in, so even if you don't purchase the optional keyboard/trackpad that's available as an accessory, you can still use the browser in a way that's more organic. There's also an IR blaster that will control your cableTV box and your Blu-ray player. You just hit the Functions button on the Smart Remote and you can set up or use your devices as desired.
The Smart Remote is actually something that is an evolution of remote controls. It's the first time we've seen a simplified remote that actually works. A very minimal amount of buttons can be used to activate, intelligently, additional controls as needed. With this seemingly innocuous remote you can use the guide on your DISH set-top box, control your Blu-ray player's pop-up menu, even power on and off the individual components.
Samsung even redesigned the back of the TV. The inputs include three HDMIs which support Audio Return Channel and the new Mobile High-Definition Link or MHL format for portable devices and media control. We connected the coaxial digital output of the TV to the digital input of our Samsung sound bar. While the TV sound wasn't awful, just about any 2.1 soundbar or speaker system is going to be offer a marked improvement, particularly in terms of dialogue intelligibility and low frequency response.
Picture quality on the ES8000F is superb. For the best picture, we recommend using the Movie mode. When we measured it, white levels were most accurate (close to D65) and colors were vibrant, particularly when room light levels were dimmed. Of course, the Dynamic mode will give you the most output, so feel free to dial that in during daytime viewing if you need more output to combat ambient room light.
Now, in getting back to the Smart Hub, Samsung has updated the interface from the former, adding larger icons for topical sections like Fitness, Kids, and Family Story - and having a dedicated area for accessing Samsung Apps and Your Video, which is a place that, like search aggregates all of the different places you can rent or watch a movie. Now, however, the system even includes results from Netflix, which is awesome and makes search and movie functions. And speaking of search, you can SAY words and Search will enter that into the field. Like this: "Star Wars". Pretty cool.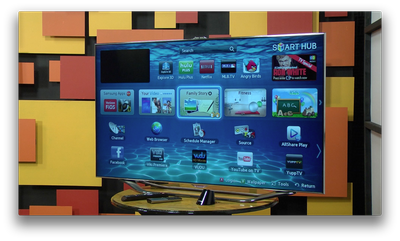 So, even for $2400, there's a lot to like about the new Samsung 8000 Series televisions, and really, we want to encourage new technology like voice and motion control. But that's not to say that it's perfect. For example, the motion control doesn't work in some apps, like Netflix. And voice control doesn't do everything... we couldn't mute the TV, for example though we COULD set the volume to zero. And while the Smart Remote could bring up our DISH program guide, which surprised us, we couldn't figure out how to get it to access the DVR. All of this is to say that Samsung has a compelling and impressive system... one that makes for not only a great party trick, but which we found ourselves actually using. The Samsung ES8000F has all the markings of being a step towards the future of television control. With a little more refinement and advances in voice and gesture recognition technology, it might end up being a giant leap.
This week we want to know how big is your TV? Let us know in the comments below the video and while you're there, subscribe to our YouTube channel. Our Facebook page is pretty active these days, so if you want a quick way to stay on top of the newest products in A/V, be sure to 'Like' our Page: facebook.com/audioholics. And if you need for AV information qualifies as insatiable, well then follow us on Twitter @AudioholicsLive.
mike c posts on December 18, 2012 23:17
is there a PQ difference between this and the ES7100 series?
also, is the bezel the same size, or does this one have the smaller bezel?

is micro dimming important?

-0-

can all the bells and whistles be turned off? i have a mac mini in the system, so i don't care about all the internet doodads, just the PQ

-0-

i just blew my wad for a camera ... but i'm thinking it's time for a new TV (my tv is ancient)

-0-

i can fit a 55 without major work, i'm sitting about 65" away, if i go 65" i'll need to wall mount my main speakers, 55 or 60 or 65?
agarwalro posts on November 26, 2012 18:26
TheWarrior;926610
Do you want a top picture quality monitor, that may or may not include any speakers, and certainly does not include a camera and microphone that gets rolled in to production and retail costs!?
I got a 50" 720p Panny Pro plasma monitor way back when and it was a pure monitor (I even had to buy a HDMI input board at additional cost), but was more expensive than its full featured consumer variants. That said, post calibration PQ was miles ahead of anything I came across at friends and family homes.
The equivalent current generation 60" Panny Pro plasma is $2000 for a barebones 1080p monitor. Still more expensive than a ST50 series and almost double that of ST30.
TheWarrior posts on November 26, 2012 10:00
I think these new TVs are needing to draw a line in the sand.

Do you want an internet connected web browser and SD card reader, maybe an option to include a Sound Bar speaker, that is great for people who only use computers for their internet capabilities and the couple times a year word processing?

OR

Do you want a top picture quality monitor, that may or may not include any speakers, and certainly does not include a camera and microphone that gets rolled in to production and retail costs!?