Zenith Setup and Installation

Setting up the 26" Zenith Z26LZ5R is easier than remembering its model number. It features enough connections to ensure that a DVD player, cable box and video game system can all be connected without having to reach for an external switcher. In addition, using the DVI w/HD M I input frees up a component connection for yet another device. You will want to utilize the lower Component1 Input for any HD sources or high quality DVD players since the side-mounted Component2 input only allows a 480i signal (such as those found on older non-progressive DVD players or many satellite set-top boxes). With the availability of so many progressive and high-definition sources these days, it would be much better if both component inputs were capable of handling higher resolution signals. If you have a receiver with component video upconversion and switching this will likely not be an issue for you.
The user manual does a decent job of explaining the various connection options, but glosses over the differences between the two Component inputs. Those trying to use the side inputs with progressive scan players may wonder why they are not able to get the picture to show up. Once you have connected your sources, the remote control or side panel allows the TV/Video button to cycle through the inputs. There are no direct input selection buttons available.
The On-Screen M enu interface for the Zenith is driven by a pictoral navigation menu with text submenus. Connecting cable TV to the unit is a pleasantly easy process. The Z26LZ5R has the expected cable/antenna RF connection, but also features an EZ Scan function that automatically scans through and tunes in the channels available from your Cable TV or antenna. You can also manually Add or Erase channels once the scanning progress has completed by selecting " M anual Prog." I found the EZ Scan process to be extremely fast in comparison to other models I tested. In the Antenna menu. You can also designate up to 8 "Favorite Channels" which allows you to cycle through those selections at any time by pressing the FCR button on the remote while watching TV.

Audio is straightforward, with EZ Audio settings for Flat, M usic, M ovie, Sports, or a manual 5-band EQ (100Hz, 500Hz, 1kHz, 5kHz, and 10kHz). I recommend keeping the TV on "Flat" as it sounded the most natural, though you can certainly experiment with the alternate modes to provide very rough compensation to aid in dialogue intelligibility. The " M ovie" and " M usic" modes played with phase by throwing the midrange out of phase and creating a wider soundstage, but overall I felt that the sound was artificial and the incorrect phase bothered me - at least up close. The "Sports" mode gave a slight edge to dialogue so if you are using the TV for audio you can try this mode should you have difficulty hearing dialogue. A "User" mode allows for adjustment of a 5-band EQ with allowances for +/- 12 steps of adjustment and a handy "AVL" or "Auto Volume Leveler" function maintains and even volume by automatically reducing program peaks (it even works when changing channels). This is a good late night mode.
The "ARC" button, conveniently located on the bottom of the remote control controls the aspect ratio and zoom of the picture, allowing you to view 4:3 and 16:9 material in its proper or scaled aspect ratio at the touch of a button. A missing feature was any kind of "Smart Stretch" mode whereby the center of the image is scaled less than the sides. This presents a nice option for viewing 4:3 content at a 16:9 aspect ratio while maintaining the correct proportions on most of the centrally-located content (where most television action takes place). This is an oversight we'd love to see in future models
Remote Control

The Zenith 26" LCD TV comes with a simple, but easy to navigate remote control. It is not fancy, has no backlight, and does not feature some niceties such as direct input selection. It does, however, fit nicely into the hand, provide access to all the required functions and can control the set from 12 feet away at a 45-degree horizontal angle.
The Zenith remote control has some handy, if not expected, functions including Flashbk for jumping to the last channel, Sleep for allowing the display to turn off after 10 - 240 minutes (user selectable in various increments), and CC for enabling closed captioning in on/off/or EZ M ute mode (where captioning comes on automatically when the TV is muted).
There are two input selection buttons labeled TV/Video and M ultimedia which do exactly the same thing except that the M ultimedia button skips over the composite and s-video inputs when cycling. I suppose this is to eliminate some steps when switching between component and DVI inputs. As the remote has lots of space left on the front, direct input selection buttons would have been a very welcome addition.
Volume control and channel selection are navigated via the ergonomically-located center 4-way switch. The enter button is positioned in the center and nothing could be simpler. A direct-access number pad is provided as are buttons to cycle through the available audio and video modes.
The Menu System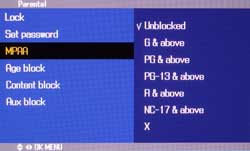 We covered much of the menu system in the basic Setup section; however it's good to point out that you can access the menu system by pressing M enu on the remote or TV. The setup menu is very simplistic and can be broken down into the following hierarchy:
Channel Menu
EZ Scan (automatic channel scan)
M anual Program (on/off per channel)
Favorite Channel (select up to 8)
Picture Menu
EZ Video

Clear

Optimum

Soft

User (settings for User below)

User

Contrast

Brightness

Color

Sharpness

Tint

Cinema (on/off)
Sound Menu
EZ Audio

Flat

Music

Movie

Sports

User (5-band EQ adjustable in +/-12 incremental steps)

AVL (Auto Volume Leveler on/off)
Balance (adjustable in steps)
Timer Menu
Clock (auto or manual to set time zone and DST)
Off Timer (can set to specific time)
On Timer (can set to specific time, channel and volume level)
Auto Off (on/off - engages standby mode after 10 minutes of no input signal)
Special Menu Options
Language
Caption/Text (select from 4 options)
Key Lock (on/off - enables remote-only operation)
Parental (see below)
Set ID (allows setting an ID from 1-99 to control the unit distinctly with RS-232C)
PC Menu Options
(available with DVI-analogue mode only - PC use of monitor via DVI connection)
H-Position (adjusts position of picture from 0-100)
V-Position (adjusts position of picture from 0-100)
Clock (adjusts clock frequency; adjustable 0-100)
Phase (adjusts phase; adjustable 0-100)
Auto Configure
Reset (factory default)
The menu system is simple, but makes for an easy and hassle-free setup with little room for complications. I found most of the items to be self-explanatory with the possible exception of the PC M enu Options - which the majority of people will either not require or will simply make good use of the Auto0configure function.