LVM-47w1 Menu System, Remote & Calibration
The menu system of the LVM-47w1 is very easy to understand and is identical to the 42-inch model we reviewed earlier this year (see that review for more in depth descriptions of those functions). It's important to note that there are no RGB Gain/Cut controls for this display, meaning you will only be able to adjust Brightness, Contrast, Color and have access to the various preset Color Temperature options given by the display. You will also want to bring down the backlight control all the way to 0 for night time viewing as this delivers the best black levels possible. During the day go ahead and crank it back up to 100 to get the most light out of the unit.
Watch That Sharpness Control!
The Westinghouse's Sharpness control is unusual in that it can actually blur the picture when set to less than "4" (the median setting). I found this out when running the HQV Color Bar test. The unit initially failed, which made no sense to me since I had noted this to be a very clear display from observations of various scenes to date. After adjusting the Sharpness control I quickly realized that if it was turned down all the way the picture was made artificially softer – something users of this display will NOT want. A setting of "4" (smack dab in the middle) seemed to be the best setting for this monitor. Since the LVM-42w2 also failed the HQV Color Bar test I went back and re-ran the test with the new settings. It passed and we've updated the HQV score and added a note in that review.
Remote Control

The same remote is supplied with both the 42-inch and 47-inch models and it works well except for a rather narrow IR beam angle (annoying to say the least) and lack of any backlighting. The remote control again has five (YPbPr, VGA, DVI, S-Video, and AV) hard buttons for input selection. We wish there were no toggling needed, but understand remote control real estate issues.
As this is a monitor and not a television (with tuner) this doesn't strike me as a remote that will be getting much use and so any deficiencies are almost moot (except for the IR reception range which does seem to severely limit the effectiveness of universal remote controls.)
I would highly recommend the use of an RF remote control system which typically provides IR emitters that can go directly over the IR sensor for the monitor, eliminating any and all IR reception difficulties.
Calibrating the Television
We used Datacolor's Colorfacts Professional 6.0 software to measure and help calibrate black and white levels on this LCD display. In general, the Westinghouse is an extremely limited display, offering almost no user controls beyond the typical Brightness, Contrast, Hue and Color controls. My opinion is that, at minimum, the user controls of a display should include RGB Gain and Offset. This is not a valid place to cut corners or attempt to up-sell consumers on a more expensive display. As there are really no user controls for RGB Cut or Gain we didn't get much in terms of 'before' and 'after' for this display. I make it a point not to go into the service level menus in reviews; however this would be exactly where you'll want to be in order to tweak this display a bit closer to perfection. The defaults are pretty good provided you select the correct Color Temperature.
CIE Chart – Color Reproduction & Saturation Potential
The datacolor ColorFacts 6.0 CIE Chart is used to show the range of colors the Westinghouse LVM-47w1 LCD display is able to reproduce. This appears as a white triangle overtop of a darker triangle which represents the gamut of colors in the HDTV-capable range. The full "shark fin" chart is a representation of everything we are capable of seeing with the human eye.
You can see that the 47-inch and 42-inch models produce nearly identical amounts of color. Though the greens are slightly tilted towards blue, they are still quite vibrant. Reds and Blues are almost perfectly saturated within the typical limits of HDTV.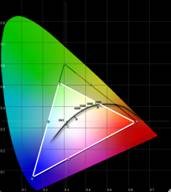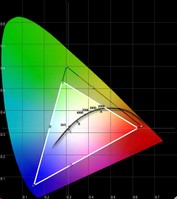 LVM-42w2 (left) and LVM-47w1 (right)
HDMI Input 1080i (Contrast and Brightness configured for night time viewing)




While the display technically showed a cool response in the lower IRE range, the end result is a nice white picture with a very convincing grayscale tone that is absent any obvious color shifting.
The luminance histogram again showed an almost pristine curve with no crushed whites or blacks.


The color temperature showed cool at lower IRE levels (see RGB response above) but averaged 6850K in "Warm" mode. "Neutral" mode yielded 9700K (a perceptually brighter white), while the ambitious "Cool" mode gave a very blue reading of 12,500K (visibly blue).
ANSI contrast was measured at 312:1 with Color Temp set to "Warm" and with Contrast and Brightness correctly set for night time viewing. The backlight was also set to 0 – its lowest setting. This is an acceptable real-world contrast measurement, though we've certainly seen higher (as well as darker black levels).
Audioholics/HQV Bench Testing Summary of Test Results
Perfect Score is 130
Westinghouse LVM-47w1 Benchmark Score: 68 (good, but missing some of the better implementation/features of the Genesis video processing)
Test
Max
Points
Component
480i
Component
PassFail
Color Bar
10
10
Pass***
Jaggies #1
5
3
Pass
Jaggies #2
5
0
Fail
Flag
10
5
Pass
Detail
10
10
Pass
Noise
10
0
Fail
Motion adaptive Noise Reduction
10
0
Fail
Film Detail
10
10
Pass
Cadence 2:2 Video
5
5
Pass
Cadence 2:2:2:4 DV Cam
5
5
Pass
Cadence 2:3:3:2 DV Cam
5
0
Fail
Cadence 3:2:3:2:2 Vari-speed
5
0
Fail
Cadence 5:5 Animation
5
0
Fail
Cadence 6:4 Animation
5
0
Fail
Cadence 8:7 animation
5
0
Fail
Cadence 3:2 24fps film
5
5
Pass
Scrolling Horizontal
10
5
Pass
Scrolling Rolling
10
10
Pass
Total Points
130
68


*** Make sure the Sharpness setting is on "4" or the display will blur pixels resulting in a loss of resolution.
Comments on HQV Testing
Other than the surprise revelation of the Sharpness control, this display mirrors that of the LVM-42w2 in performance. The 2-3 Moving Zone plate test did excellent in horizontal movement, but failed on both vertical and diagonal movements. Component inputs showed around 5% overscan on all sides of the display which is slightly disappointing. HDMI and DVI-D inputs showed no overscan.