VF551XVT Setup, Remote Control and Calibration
We started by mounting the VF551XVT to our reference StudioTech TV stand which has two vertical supports and an integrated flat panel mount that can support displays up to 60-inches in size. It worked, but it seemed a bit overbearing. As a result, we quickly started eyeing our fireplace to see if we might do better putting the TV up there. If anything, it was a great excuse to go ahead and wire up the room like we wanted. It wasn't long before we mounted the television over the fireplace and were sitting back configuring the system for use.
We won't go over the menu system in detail because it is almost identical to that of the Vizio SV471XVT we reviewed earlier. We maintain that the Vizio menu system is certainly usable, but not exactly intuitive. It's also in the way, making on-screen adjustments all but impossible since the translucent panel sits atop anything you are using for reference. This makes calibration in the user menu a real pain. We're starting to like Vizio's implementation of 120Hz video processing and 120Hz flicker reduction (which together form their 240 Hz SPS system). It's effective and really makes Blu-ray and television content pop on the screen. It's so obvious to new viewers that they comment rather frequently about how clear the picture is. Like all 120Hz systems we've witnessed to-date, the Vizio has difficulty with truly fast-moving images and cross-screen action, but it does a far better job at reducing fringe effects than most – besting even Samsung's latest 5000/6000/7000 series in this regard.
Audio Evaluation
Not much has changed with respect to the audio capabilities of this Vizio over past products. The optical TOSlink output let us get 5.1 surround through our A/V receiver, a Pioneer VSX-23TXH. The speakers included with the VF551XVT are sufficient, but any dedicated system is sure to best it, especially if you add in a subwoofer for low frequency impact – something the Vizio lacks in entirety. We tried TruSurround [HD] again and really thought we could take it or leave it. It certainly produced some neat phasey effects, but nothing authentic or even as good as a dedicated sound bar. For the most part we left it off, and tended to use our A/V system. SRS TruVolume was again successful at evening out the dynamic range of movies and television, particularly when overly loud commercials come on, however it continues to limit the maximum output volume – just something to keep in mind.
Remote Control
The VF551XVT remote is still a beautiful, though basic, product. It remains unchanged from the SV471XVT model we already reviewed. You can program three additional sources into it, including your DVD/Blu-ray player, A/V receiver, and a set-top box (we use Dish Network). The biggest flaw is the lack of fully discrete input selection. To cycle through all of the HDMI inputs you must hit the HDMI button 4 times. We're hoping for a potential 5-star rating with the upcoming Bluetooth remote with QWERTY keyboard in its next generation Internet-connected model, the VF552XVT.
Calibrating the Television
We again used CalMAN 3.6 Professional Display Calibration Software with a NIST Certified Chroma5 meter and checked out the Vizio to see how well it reproduced colors, and of particular interest with LED backlighting technology, black levels. The television had the same green emphasis across the grayscale spectrum as the SV471XVT we reviewed last year. That's not to say that anything actually had a green tint, but if you're going to have a dominant color, it should be Blue, not Green. We were able to correctly set the Black and White levels with the excellent Spears & Munsil HD Benchmark Disc and we began all of our calibrations from the Movie Mode (as we recommend you should).
Overall, the default picture was pleasing, but not accurate to D65 standards. We pulled the Sharpness control down to 0 since that was the point at which it ceased causing edge artifacts. Brightness ended up around 85 and Contrast was set to 82. At this point we found a very accurate Black and White level response in our light-controlled (but not entirely blackened) viewing room. We measured an ANSI contrast ratio of 1444:1 in Movie Mode – the mode where we recommend everyone start. Full contrast capability is insane on this television since it essentially turns itself off when the screen is displaying a full black field – our meter actually read 0.000. The Vizio has Smart (local) Dimming which works with a field of 80 different LED blocks at a time, dimming some as needed to better control light across the screen in differing amounts. If you break it down, this is what you get, though keep in mind the resolution of the dimming system is constrained to these 80 blocks:
80 blocks/display

12 LEDs per block

2,160 pixels per LED

25,920 pixels per block

Higher end televisions with LED local dimming will increase the number of blocks, thus increasing the resolution of the dimming system. At 80 blocks, the Vizio VF551XVT is on the lower end of using this technology, but it's far better than a solid CCFL backlight or even an edge-lit system that doesn't provide any local dimming. In short, it's a great start and the difference over traditional backlights is noticeable.
Color Reproduction - CIE Chart
The color primaries on the VF551XVT, in particular Green and Red, exceeded the boundaries of the reference CIE chart. While some manufacturers tout this as an asset, in reality it simply means that you are away from reference color and not reproducing what the colorist sees in the video mastering studio. That's not our goal. Our goal is to view reference material – and that's what we calibrate to, though on the Vizio those user-level calibration options are very limited. The before and after calibration charts show that through the user-level controls we were able to get our reference a little closer, though not nearly as close as if we had dedicated color controls for the primary and secondary colors.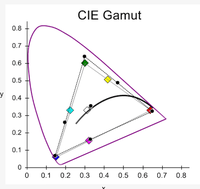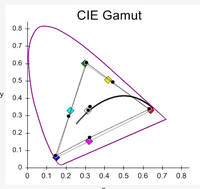 The VF551XVT before calibration (left) and after (right)
Taking our Chroma5 colorimeter, we calibrated the set and were able to get pretty decent results:

Before: Green is NOT the color you want out in front


After: Not bad considering the limited Gain/Cut controls
Calibration options have improved since the SV471XVT. In addition to the RGB color settings, Vizio now has dedicated RGB Offset controls for making adjustments in the ~30 IRE range. The HDMI inputs are also no longer partially shared, so settings like Brightness, Contrast, Color, Tint and Sharpness can be changed on a per-input basis. This is a huge improvement for those who want to perform custom calibrations (or just use different color modes) on a per-input basis.
In case you were thinking about using the Color Enhancement functions, take a look at the DeltaE for this set under both settings. It is far better to leave this mode off, particularly in the Movie color mode, which we measured here.
Color Enhancement on (left) and off (right)
Tech Note on DeltaE
Delta-E (dE) is a single number that represents the 'distance' between two colors. The idea is that a dE of 1.0 is the smallest color difference the human eye can see. In calibration we try to get as close to this as possible, but any dE less than 3.0 is practically imperceptible and thus generally acceptable in color calibration for home theater.
See also: