Vizio SV470XVT Menu System
The Vizio is truly built with the consumer in mind. With a few notable exceptions, the User Manual is written with color photos and easy-to-read language that lets consumers know that Vizio isn't assuming they know too much about flat panel sets. It certainly doesn't talk over their heads, and even provides a glossary of terms at the back.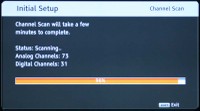 The newly redesigned Menu system is one that I have mixed feelings about. While I like its graphic look and diminished presence, it also forces users to spend a lot of time navigating back and forth and pushing buttons in a manner that doesn't follow the best practices of GUI design. It also fails to show you the current settings of each control until you actually navigate to that control and are able to adjust it. The four main areas are: Picture, Audio Mode, TV (tuner setup) and Setup (global settings). Once you understand where Vizio is coming from on these names, it starts to make more sense. Upon power up I was greeted with the Vizio "Setup Wizard" - a helpful application that guided me through the process of selecting my language, input source (antenna or cable), and performing an initial channel scan to load up the set with the proper stations. It took several minutes, but when I was done I had loaded around 104 channels, included several HD channels via the QAM tuner.
After basic setup I decided to cruise the menu system to see what I could mess with to get the picture as good as possible.
Picture Menu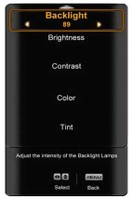 This allows you to adjust the florescent Backlight level, Brightness, Contrast, Color, Tint, Sharpness, and more. We'll get to the "More" later. The first thing I did was configure the Brightness and Contrast. The Vizio passes below black (blacker-than-black) and above white (whiter-than-white) information so it was easy to get the correct levels. I also found, as will be described later, that adjusting the Backlight didn't affect the black or white levels in the least, but merely varied the overall output of the television. This is good, and means that you might as well use a level of 0 for nighttime viewing, and 100 for daytime.
I found no reason to adjust either the Tint or Color controls. They are often unpredictable when combined with custom RGB controls (which were available - at least in part - on the SV470XVT). Continuing through the Picture menu I landed on Sharpness. From my testing I found that the default value of 4 causes excessive edge enhancement that could be noticed by a clinically blind housekeeper vacuuming the carpet in an adjacent room. Turn it down to around 1 for best results. This finally brought me to the Advanced Video settings.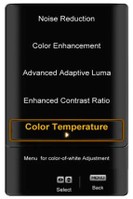 The Vizio SV470XVT allows for adjustment of Noise Reduction which I found to be adequate but not stellar. It certainly reduced the amount of noise when maxed out, but the panel speed also showed a lot of blurring, which the NR circuitry didn't exactly help (though it didn't seem to accentuate it too much either). I ended up giving the Vizio half credit in this area. You'll want to leave the Color Enhancement circuit Off - it will only artificially adjust the color in a way that is not at all accurate. Advanced Adaptive Luma is almost the polar opposite of Enhanced Contrast Ratio (DCR). The first, adjusts gamma to compensate for darker scenes where detail is hard to discern. This may be good for video games (go ahead and try it out), but is sure to cause excessive visibility of macroblocking artifacts in feature films. The DCR circuit actually adjusts the backlight - dimming it during dark scenes, and raising it during bright scenes. The problem is that it takes, on average, about 4 seconds to make a smooth transition from one extreme to the next. This is both good and bad, but mostly good. Since the transition is slow, and most movies don't go back and forth from light to dark rapidly, the effect is that you'll probably enjoy a better overall contrast experience. This is one of those functions best left to the user to decide if and when they choose to implement it.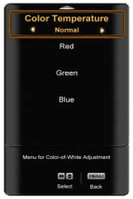 The Advanced Video menu is also where you'll find the Color Temperature system, which allows you to choose between Cool, Normal, Warm, or Custom. Here's how it broke down for us when measuring the system:
Cool - 8700K
Normal - 6200K
Warm - 5300K
With the Custom setting, we adjusted Blue to 86 and left Red and Green at their default settings of 128. The result was a pretty respectable RGB color response from 7.5 IRE through 100 IRE. This was a pleasant surprise since we couldn't adjust gain and cut separately for each color. While HDMI and component video retained their own custom color settings, we found an odd quirk where if we changed the Color mode for one input, all inputs were equally affected.
Audio Mode
The Audio Mode menu system has presets for Flat, Rock, Pop, Classic or Jazz, but can also enter you into the submenu which provides controls for a 5-band EQ. The EQ can be customized for each of the Audio Modes and is defeated if you have Tru Surround XT (SRS TSXT) engaged. Tru Surround XT is a DSP surround mode (from SRS Labs) whereby two channels can be utilized to deliver enhanced bass & dialogue with a pseudo-surround experience that serves to open up the soundstage. It's nifty for PC speakers, but typically less effective with a flat panel television due to varied seating positions and the distance to the drivers.
Dynamic Range Compression (DRC) is also provided for compressing Dolby soundtracks and it can be adjusted in one of 4 settings if engaged. Lip Sync delay is also provided and the control can adjust from 0 to 5 (very coarse adjustments only). The analogue audio output can be set to fixed or variable volume control. Variable volume is good for when you are outputting directly to an amplifier. The TOSLink Digital Audio Out can also be configured for Dolby Digital, PCM or Off. The on-board speakers can be disabled - a feature I really like to see in flat panels.
TV Menu
The TV menu is really the "tuner" menu and is the place to select antenna or CableTV and also program (or remove) channels into the system. Here you can set the MTS mode (great for those who want to listen in Spanish) and also set the Time Zone and Daylight Saving time for the program guide. I was actually never able to successfully get the Program Guide to show me anything beyond the currently-playing show - despite the user manual claiming it will go up to 2.5 hours out. This could be a function of my local cable provider, but if so then it's important to note potential difficulties in certain markets.
Setup menu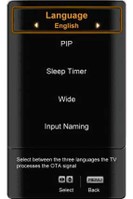 The Setup menu is the catch-all for all remaining global functions. This includes Language, Picture-in-Picture (PIP) functions, Sleep Timer, the aspect ratio (called Wide), Input Naming, Closed Captioning (CC), and Parental controls. Input naming is cool in that it places the custom input name below the actual input designation. You can call it anything, so long as it's no more than 8 alphanumeric characters in length. This helps you to never forget that your "Netflix" box is on Component 2. The PIP functions had the expected controls, with source selection, position, size and even audio source (so you can select which audio is going to the television's speakers or outputs).
The Wide, or aspect ratio, modes are incorrectly shown in the User manual, but easy enough to figure out. There is Normal, Wide, Panoramic, and Zoom mode. All modes are available with SD content, however only Zoom and Wide are present for HD material via HDMI.
See also:
gobats posts on February 14, 2009 07:58
Sorry, I placed my response at the wrong place. It should have gone to bandphan. I agree with your review. I also think that if Vizio endures; recognition will come. It does appear that they have a corner on the entry level market. No one knows what the shelf life of Plasma and/or LCD is ,unlike CRT, Time will be the measure.
gobats posts on February 14, 2009 07:43
I totally agree. They shave on after sale customer support. To me that is part of the sale. The majors, specifically Panasonic do just that with their products. Five years off existance is hardly a bench mark of endurance. If Vizio abandons the entry level market, someone else will seize that opportunity.
tmankiller72 posts on February 12, 2009 12:57
Hello, I just wanted to say that I own this TV ,picked it up for $999 at you guessed it Costco. It delivers a good picture with very good contrast ratio and color . Black levels aren't up to par with Sony XBR's or Samsungs . For the price it is a very good buy ....with that said it is no where near my calibrated Panasonic 58px 600u plasma ...mind you this is a larger screen that is "only" 768p being compared to a smaller 1080p screen and the Panny plasma still looks much cleaner and more natural.
allargon posts on November 13, 2008 16:39
I can't believe people on an audioholics forum are even mentioning TV speakers as an option. Vizio's are good for the price, but a calibrated Vizio is no match for a calibrated Sony XBR, Panny plasma or Pioneer plasma. I doubt if a Vizio will even beat a Toshiba. However, Vizio's are good for the price. Plus, they beat those overrated Philips on features.
LukeR posts on November 13, 2008 10:24
I'm interested to see about the 50" plasma too. The have it on vizio.com and with the HQV and SRS TruSurround HD it could be really amazing especially at the prices they are posting. Lemme know if you go for it.