Vizio SV470XVT Build Quality and Features
High definition television, for most readers hitting the pages of Audioholics, is almost passé. OK, not quite, but it's certainly nothing that amazes our readers in and of itself. For the most part, any display can get HD content to the screen. The key to visual bliss is found in one of two categories: a) which displays do it best, or b) which displays do it "good enough" that they become bargains for consumers. Nobody wants a TV that sucks, but they might take a cheaper model if it still performs well. Those TVs often get gobbled up by friends and family spreading their joy around and extolling the virtues of their newfound 1080p masterpieces.
In particular, Vizio has always intrigued me. It's the brand I get asked about the most - probably because it's available in a majority of big box stores like SAMs, Costco and Sears. Heck, even Dell sells them online. So it's almost a monthly (sometimes weekly) event where I'll get a call from somebody asking me about the latest Vizio deal they found while they were shopping for lawn gnomes and 5 pound bags of white rice. The company has certainly made its mark on US consumers. My job, as I see it, was to see if that mark should extend to those readers who grace the pages of our magazine.
Vizio currently has 11 displays which fall into its 42- to 49-inch category. Of those, prices range from $799 (for plasma solutions) to $1699 (for this display - their top-of-the-line 120Hz LCD model). As their flagship product (the only thing more expensive is a 52-inch LCD), the SV470VXT is still a bargain when compared to other 120Hz models. 120Hz is quickly becoming the buzzword technology of 2008, promising to eliminate "judder" a motion effect that results from converting 24fps film to 30fps video. We've found it to be hit or miss, but it's a technology that certainly shows lots of promise.
Features
The Vizio SV470XVT has a nice list of new and possibly compelling features:
120Hz "Smooth Motion" processing
4 HDMI and 2 YPbPr inputs (half of the inputs are located on the side of the unit)
Redesigned menu system
Integrated Digital/QAM television tuner
Updated chassis design
Delivery and Build Quality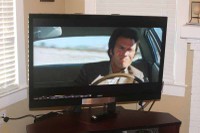 The Vizio came in a standard "lift-off" box that arrived shrink-wrapped for additional protection. Once I pulled off the protective cover I had easy access to the television and included accessories. It was a two-man lift to get it out of the box, but we were able to easily remove the integrated stand and mount it to our StudioTech DP-2 TV stand. If it were up to me, built-ins would be outlawed in the land of flat panels. LCD and plasma displays are meant to be hung on the wall, but it seems people are still trying to utilize their old stands and wall systems which housed previous CRT models. Perhaps in another decade rooms will truly reflect the promise of minimalistic beauty that flat panels are capable of delivering.
The display is truly beautiful. It features a piano gloss black bezel that is just over an inch in height on the top and sides of the display. The bottom is adorned with the permanently-affixed speakers and a silver central accent area that is really an inactive center channel speaker. There is a wireless 5.1 surround system option that is talked about in the manual (but not to be found anywhere on the Vizio website). When activated with a valid 5.1 source signal, the bottom right of the center channel lights up with a red LED logo that spells out "5.1". Nifty, and I would have liked to have seen this discrete center channel used even without the wireless surrounds.
The back of the Vizio SV470XVT has two HDMI inputs, a component video input, HD15 (PC) input, Composite/S-video (shared), and an F connection point for NTSC/ATSC/QAM. There are also analogue and TOSLink digital audio outputs which allow the TV to be used as a source device for your AV receiver. This is extremely helpful for those who do not have a dedicated cableTV set-top receiver. Both rear HDMI inputs can handle audio, and a single analogue stereo pair of audio can be used between both inputs when needed. The HD15/PC input has an 1/8-inch input for stereo audio and the component video and AV inputs have their own analogue stereo audio inputs as well.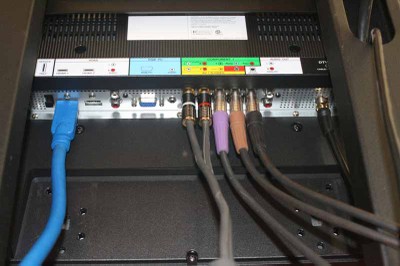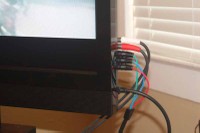 Where it gets a bit dicey is the fact that there are two more HDMI inputs, another component video input and a composite video input on the side of the Vizio. And when I say "side" I mean it. Right on the edge of the bevel of the right-hand side of the display. The fact that Vizio didn't place one of these extra HDMI inputs on the back of the display is perplexing. In my opinion, side inputs are for temporary connections - so having more than one of any type is a waste. Their presence on the very edge of the screen also means that you'll have all manner of unsightly cables splayed all over a very visible area of the display. The stereo analogue audio present on the side connectors is shared between the component and composite video inputs. The HDMI side inputs need to carry the audio as well since there is no analogue option provided.
See also:
gobats posts on February 14, 2009 07:58
Sorry, I placed my response at the wrong place. It should have gone to bandphan. I agree with your review. I also think that if Vizio endures; recognition will come. It does appear that they have a corner on the entry level market. No one knows what the shelf life of Plasma and/or LCD is ,unlike CRT, Time will be the measure.
gobats posts on February 14, 2009 07:43
I totally agree. They shave on after sale customer support. To me that is part of the sale. The majors, specifically Panasonic do just that with their products. Five years off existance is hardly a bench mark of endurance. If Vizio abandons the entry level market, someone else will seize that opportunity.
tmankiller72 posts on February 12, 2009 12:57
Hello, I just wanted to say that I own this TV ,picked it up for $999 at you guessed it Costco. It delivers a good picture with very good contrast ratio and color . Black levels aren't up to par with Sony XBR's or Samsungs . For the price it is a very good buy ....with that said it is no where near my calibrated Panasonic 58px 600u plasma ...mind you this is a larger screen that is "only" 768p being compared to a smaller 1080p screen and the Panny plasma still looks much cleaner and more natural.
allargon posts on November 13, 2008 16:39
I can't believe people on an audioholics forum are even mentioning TV speakers as an option. Vizio's are good for the price, but a calibrated Vizio is no match for a calibrated Sony XBR, Panny plasma or Pioneer plasma. I doubt if a Vizio will even beat a Toshiba. However, Vizio's are good for the price. Plus, they beat those overrated Philips on features.
LukeR posts on November 13, 2008 10:24
I'm interested to see about the 50" plasma too. The have it on vizio.com and with the HQV and SRS TruSurround HD it could be really amazing especially at the prices they are posting. Lemme know if you go for it.