Sony 46" XBR HX929 LED TV Review
Summary
Product Name: 46" XBR HX929 LED TV
Manufacturer: Sony
Review Date: April 19, 2012 00:25
MSRP: $2500
First Impression:

Pretty Cool

Executive Overview
There are three things I honestly look at when shopping for TVs: picture quality, features, and the TV's overall look. If you can find a TV that has the features you need, looks good and, well... looks good, then you're really in good shape - of course, you're typically going to have to pay for it as well. Sony's XBR series TVs have always been fascinating to us because they represented the best the company has to offer. Back in the day you simply couldn't find a better TV than an XBR Trinitron. Nowadays Sony has a lot more competition, but the XBR line is still their cream of the crop.
This TV is the XBR HX929. It's an LED backlit TV with local dimming and it also supports streaming media services as well as 3D. You're not going to find another TV from Sony that looks better or does more. Of course, you also aren't going to find one that costs more per square inch, either. And that's where we aimed our focus: What does the Sony XBR do, and is it worth the $2500 price tag for this 46" set?
Let's start with the design. Unpacking the set we looked at the front and saw a sea of black glass. Sony covered the entire front of this display with Corning Gorilla Glass - that's more or less the same type of durable and scratch-resistant glass Apple (unofficially) uses on its iPhone and the exact same glass used by Samsung, HTC and many other smartphone and tablet manufacturers. To our knowledge, Sony is the only company using it on their televisions. While I've never had issues with scratches on my TV glass, one fringe benefit is that you can't really tell where the screen starts and the bezel ends - until you turn it on...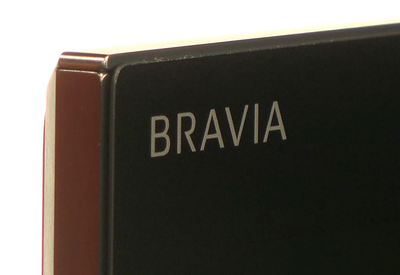 It's a beautiful TV and it's also really thin - just under 1-1/2", and less than 1/2" at the edges. The connections, of which there are plenty, are recessed into the bottom and sides of the set and include 4 HDMI inputs and component video. There's also analogue and digital audio inputs and USB. When we hooked up standard HDMI cables we found them to fit quite nicely and this allowed us to mount the TV very close to the wall.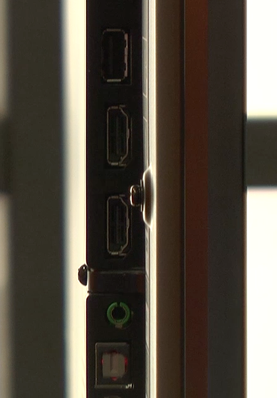 Now, focusing on the picture quality, it's hard not to be just as impressed. Sony has included a couple of bang-up features that really produce a nice image. First, they've isolated the LED backlighting into zones - this is called local dimming and that means that the TV can simultaneously crank up the gain of bright areas of the screen, while dimming other areas and creating an exceptional contrast ratio. It seemed to do reasonably well, though in some instances we could notice some halos around bright, isolated images on darker backgrounds.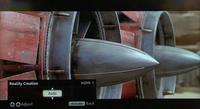 The other standout features are broken up into a slew of names that are confusing to consumers. There's MotionFlow, Smooth Gradation, CineMotion... even something called Reality Creation. I kept turning that on, hoping the TV would materialize something into my living room. The bottom line is that Sony uses these features to do several things really well. First, they can time the backlight to work with their 240Hz refresh rate to yield something that's kinda like a 960Hz display... sort of. But they also enhance the picture using frame interpolation to create new frames in-between that enhance the look of fast-moving images. Of course, enabling everything will make the on-screen images look like a daytime soap-opera, but some people really like the crispness and increased resolution. We found everything to be a bit harsh when set to the maximums - but it's all adjustable to taste.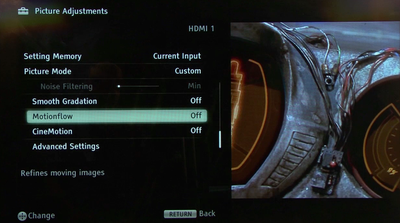 So, what about features and content? Well, as always there's actually too much to cover. Let's sum it up by saying that Sony's approach to multimedia has always been a bit of a smorgasbord, and the 46" HX929 is more or less the pinnacle of Sony's foray into content distribution. In addition to the usual suspects: YouTube, Hulu Plus, Amazon, Pandora, and Netflix - which, incidentally, they have a dedicated red button for on the remote - Sony includes access to Yahoo Widgets, Music & Video Search, and an Internet browser (which is made a lot more usable with the free MediaRemote software so can control your TV from your smartphone.)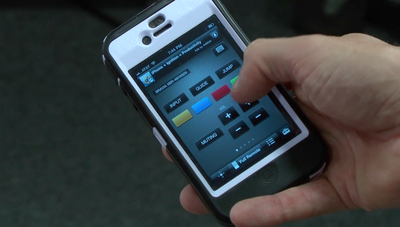 Sony is really into media streaming and online content. If you pick up this set you're not going to miss out on any major opportunities to gain access to all of the content you could dream of. So... is the Sony XBR HX929 worth the $2500 price tag? It is one of the best LED backlit TVs we've seen this year. But it does come at a premium price and so the real question will be whether or not you need all that Sony is offering.
As always, if you liked this video please hit the 'Like' button in YouTube and subscribe to our channel so we can be sure to bring you more great reviews. Also reach out to us at Facebook.com/audioholics or via Twitter at AudioholicsLive.