Sceptre E320PV-FHD 32" LED TV First Look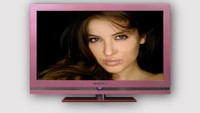 Summary
Product Name:

E320PV-FHD

Manufacturer:

Sceptre

Review Date:

April 15, 2011 03:05

MSRP: $499
First Impression:

Pretty Cool

Specifications

LED Panel

Active Screen Size

31.5"

Aspect Ratio

16:9 Wide Screen

Frame Rate

60 Hz

Brightness

400 cd/m2

Contrast Ratio

4000 : 1

Dynamic Contrast Ratio

50,000 : 1

Resolution

1920 x 1080

Response Time

6.5 ms

Colors

16.7 million

LED Backlight Life

> 30,000 hours

Viewing Angle

178º (horizontal) / 178º (vertical)

Features

On Screen Display Control (OSD)

Picture, Sound, Channel, Parental, Setup, Others

OSD Language

English / French / Spanish

Build-in Tuner

ATSC / NTSC

Auto Dynamic Contrast Enhancement

Yes

Comb Filter

3D

De-interlace Technology

3D

Noise Reduction

Yes

Noise Reduction

Yes

Build-in Speaker

9 Watts per Channel x 2

Surround Mode

Virtual surround

Sound Equalizer Setting

Yes

Auto Volume Level Control

Yes

Swivel Angles

+/- 30 Degree

Height Adjustable

No

Neck & Base Detachable

Yes

Wall Mountable

VESA

Inputs

HDMI

3

Cable / Antenna Input

1

Component Video Input

1

Composite Video

1

S-Video

0

VGA

1

Audio In

1

USB Input

1

Outputs

Headphone Output

1

SPDIF Audio Output (Coaxial or Optical)

1 (Coaxial Type)

Analog Audio Output (L + R)

1

Signals Compatibility

HDTV

1080P, 1080i, 720P, 480P, 480i

HDMI Input Support

1080/24P, 1080/60P, 1080i, 720P, 480P

Component Input Support

1080/60P, 1080i, 720P, 480P

VGA Input Support

1920 x 1080@ 60Hz (Native & Max)

Regulation

Certificates

FCC, cCSAus

Compliances

RoHS

Power Source

Power Range

100 – 240VAC, 60/50 Hz, 3A (Max.)

Power consumption

110W (Max), 100W (Typical), < 0.5W (Standby)

Wall Mount Specification

Hole Pattern (mm)

200mmx100mm

Screw Size (mm)

M4 x 12mm

Weight

Net Weight (lb)

24.4 lb (with Stand), 19.8 lb (without Stand),

Gross Weight (lb)

32.67 lb

Dimensions

with stand (inch)

30.5"x7.5"x22"

without stand (inch)

30.5" x1.9" x20"

Packaging Dimension

33.86" x 5.51" x 25.19"

Warranty

One Year Limited Parts and Labor
Executive Overview
That's right, it's freaking pink.
Okay, now that we've gotten that out of the way, Sceptre has released an new line of 32" LED LCD televisions that come in a variety of colors, one of which is pink with brushed nickle accents. The others are black with brushed nickle accents and nickle with black accents. The difference in the model numbers changes the P to a B or G respectively.
When we think of devices we'd like customized, we think of things like remotes, cell phones, and MP3 players. We might even think of small LCDs to put in our blinged out Chevy Nova. What we don't think of is 32" LED LCDs.
But now that you mention it, we can see the allure. Spectre's new line of LED backlit LCD panels come in at a fairly affordable $500 MSRP (street price sure to be less) and in three colors. Funny thing is that it is already discounted. The list price on the Spectre site is $699 but the press release says $499. As you can imagine, it is a bit of a gamble offering different color options. Spectre risks being stuck with warehouses full of pink monitors (unless they just made a handful, cause that's what we'd do). But that said, it isn't a bad strategy. There are so many displays on the market these days, having a way of differentiating yourself is definitely a bonus. Plus, when you just can't buy your daughter a pony, a pink display is the next best thing right?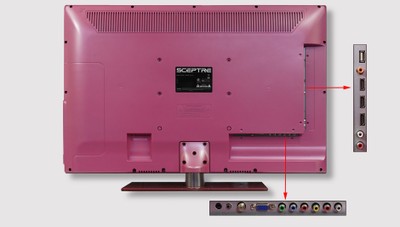 The E320PV-FHD is a 1080p display with a 60Hz refresh rate. It claims a 50,000:1 dynamic contrast ratio and over 30,000 hours for the LED backlight. There are three HDMI inputs, a cable/antenna input, a component video input, and a composite video input. There are one each of headphone, SPDIF (coaxial), and analogue audio (RCA) outputs. Lastly there is an USB input for streaming pictures or music directly to the TV.
What is telling here is not the lack of technology (really 60Hz?) or the missing features (3D), but the intended use. Spectre is marketing these displays not only as televisions, but as alternative to monitors. For that, we really like them and the color option makes sense. This is not a TV that is designed to be a centerpiece of a home theater (at 32", that'd be a pretty sad home theater - sorry for those offended but come on, 32"?) but as one that is designed for an office (black/grey) or kids room (pink), they start come into focus. Sure, for $500 you might be able to get bigger or even better, but can you get something that matches you room?
Well, maybe but let's leave it at "probably not."
The inputs are all well recessed which means hiding the cables won't be a problem. Plus, you can remove the included stand and use any VESA compliant wall mount to give your new pink beauty the clean look she deserves. With an internal tuner, more than enough inputs, and the ability to stream off a USB drive, the Sceptre E320PV-FHD and her cousins look to be a great second monitor.
Conclusion
We did some research and a starting point of $499 for a 32" LED LCD isn't too high or low. It comes in about middle of the road. Of course, where that price ends up is the real question. With the added advantage of multiple colors (something that Sceptre has done in the past with smaller TVs so one has to assume they've had success enough to justify more line), they are sure to grab attention. While you won't see cutting edge technology in them, what you will see is a monitor that you can use in a game room, office, or just about any casual viewing environment.
For more information, please visit www.sceptre.com.