LN52A750 Build Quality and Setup
The first thing I do when I get a unit in for review is set it up and just play with it for a few days before ever cracking the manual. It's sort of this "Joe Everyman" thing I do to see how intuitive a device is. It didn't take me long to realize that the Samsung LN52A750 is a special display. The styling cues are dead on - that "Touch of Color" (which might be more accurately labeled "Touch of Red") is just enough to make it stand out without being gaudy. The panel is thin enough to be ahead of the curve. But the picture… out of the box I was very impressed. I'm used to turning on a set and having to deal with too much blue or red. Not this one. It looked dead on to me. And that, alone, was reason enough to be impressed.
First Impressions and Build Quality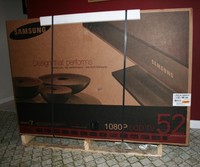 The Samsung LN52A750 arrived as displays always do these days - in a tall, thin box strapped to a half pallet. In all honesty, I can't believe that more of these displays aren't damaged in transit. The standard packaging that everyone seems to use just seems a bit inadequate to me. But, after doing so many reviews of displays, I have to admit that it must be working as I've seen damaged boxes but no damaged displays.
The 52" Samsung isn't all that heavy but it is a bit impossible to handle by yourself. You're going to want to get some help. Even then, the stylized beveled edge tends to bite into your hand if you don't use a towel or glove or something to protect it. The display sits on its own attached stand which can be removed for wall mounting if you prefer. I had the review unit sitting on top of my Diamond Case TT-400 Credenza. Most of the connections are on a panel on the back though there are a few on the side.
The front of the LN52A750 is as clean as can be. In fact, you'll probably have a hard time finding the front controls. Gone are the buttons that my kids are so used to playing with. The Samsung has a small touch screen on the right with labels that are so light that you can only see them in the right light (and even then, only on an angle). When the unit is powered off, you can find the power button by looking just below the red "standby" light. When the unit is powered on, the standby light is not illuminated which means you'll have to memorize the location for just take a stab at it. The "buttons" don't have any feedback so it is a little "hunt and peck" but once you hit the power button, all the rest of the buttons illuminate. The channel and volume controls illuminate with their normal arrow shapes making them easily identifiable but the source and menu buttons are just dots. Since the control labels are so faint, it is generally pretty hard to use these functions correctly without memorization.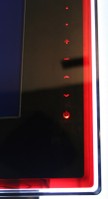 The LN52A750 is a very sharp looking display with all gloss black for the case and stand and a large ~3 inch glass border (a little more on the sides, a little less on the top and bottom). The border is mostly black which switches to a red layer and finally clear. The "Touch of Color" is actually a very nice aesthetic addition that mostly goes unnoticed but really stands out when you see it. The only real issues is the beveled edge of the glass is hard to handle when you move it (as mentioned) and it tends to reflect what is shown on the screen. Generally, when the screen image is all the way to the edge (i.e. not letterboxed), the bevel will reflect on two sides. This wasn't noticeable all that much except is a very dark room and even then, only occasionally.
When powered on, there is a red light in the lower right of the border that illuminates whenever an IR signal is received from the remote. In fact, I've noticed it illuminating when IR signals are received from a number of remotes. Now, this illumination only seems to translate into action when it is the Samsung's remote that is being used and I couldn't seem to get it to consistently illuminate with any specific button push on any other remote but it was weird that it would light up.
Set-Up & General Use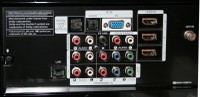 Setting up the LN52A750 isn't much different from any other display - just plug everything in and you're good to go. I set mine up with component and HDMI cables from Impact Acoustics. The LN52A750 has 4 HDMI inputs which is more than enough for most users. There is a PC input for those still holding on to the promise of an HTPC and a couple of Component inputs. Samsung also included a Composite and S-video input or two but at this price point, no one really expects the user to have many of these devices left.
Usually, this is the portion of the review where I tell you everything you need to do in order to get your picture as good as possible. That usually involves multiple steps including changing some settings. Not this time. If you have a brand new display on your hands - turn it on and make sure it is in "Movie" mode. If you have an "open box" special or a display unit, turn it on, enter the Picture menu, and enable the "Restore Defaults" option. Again, check to see if you are in "Movie mode" and you are done. You are now 99% of the way to a near perfect picture. In fact, for most of your viewing, this is about as good as it gets. The only thing left to do in this "calibration" is to enter the Picture menu and set Film Mode under Picture Options to "Auto." This setting defaults to "Off" (at least it did on our sample) and can only be accessed when there is an interlaced signal coming in. For each input that has the possibility of an interlaced signal, you'll want to make sure that you are switching the Film Mode on. This will ensure that you are getting the very best picture possible. After that - you're done!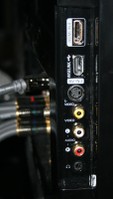 One of the concerns we often (too often in my book) hear about with LCDs is viewing angles. Early LCDs had a tendency to "wash out" as you moved off axis (meaning as you were viewing from an angle rather than head on. Samsung claims that the LN52A750 has a 178 degree viewing angle. That's right, pretty much if you can see it, the colors shouldn't wash out. At all. Not even a little. You might find this hard to believe, I certainly did. But I can tell you that it is absolutely true. The funny thing was that I noticed it even before I read the spec. The day I set up the display, I was walking back into the room and was amazed that the picture was still so bright from that angle. So of course I started experimenting and found that the picture would disappear behind the case before the colors would dim. I was amazed.
bandphan posts on November 03, 2008 03:22
pnutbutter81;476855
Even after looking over the original ln52a750 article Tom Andry wrote, it still seems like there are more settings for the picture and detailed settings. Can anybody do a list of what those are? Or does anyone have the exact calibration levels?
That would be up to your room and your display
pnutbutter81 posts on November 02, 2008 15:33
Even after looking over the original ln52a750 article Tom Andry wrote, it still seems like there are more settings for the picture and detailed settings. Can anybody do a list of what those are? Or does anyone have the exact calibration levels?
yettitheman posts on October 09, 2008 11:59
newguru;465236
What exactly is the "purple haze" issue? This is the first I have heard about that one.

Who the heck comes up with these names? LMAO
Purple Haze... it's something I kinda came up with on the fly.
It remined me of the TN panels; when the whole screen was black, you move your viewing position off center axis and the screen looked purple instead of black.
I think that either panel would have been a great choice; but the 750 is so close in price to the 650, I don't know why many would choose the 650.
That's just me though.
drpiranha posts on October 08, 2008 20:57
Yes, Thanks Carl.

We actually read the whole thread prior to making the decision.
s52e368 posts on October 08, 2008 07:43