PDP-5070HD Build Quality and Inputs
My first display review was a plasma and I've long held that I prefer plasmas to LCDs (in general). It's easy to make such generalizations when you've reviewed 3-1 plasma v. LCD. But I've been living with a 1080p LCD for a while now and have gotten used to it. And no matter how objective you try to be, it is hard (at first) to get past the propensity to prefer what you know. Pioneer has had a reputation for putting out quality displays and I've never had the pleasure of reviewing one. It wasn't hard for me to get excited about a Pioneer review much less a Pioneer plasma review - even if it was "only" a 720p display.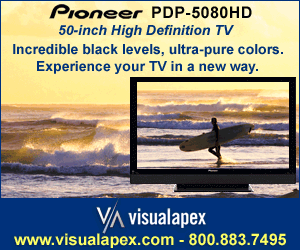 advertisement
Build Quality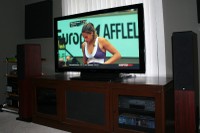 The PDP-5070HD weighs in at over 75 pounds so you're going to want to have a little help moving it. The supplied base will be attached (which will make your life a lot easier) so all you'll have to do is pick the unit up out of the box and set it up on whatever plasma stand you choose. Wall mounting is of course an option with the purchase of a wall mounting bracket. The speakers are included but not installed on the unit. Basically, they are mounted to the bottom of the display with the supplied hardware. There are a number of reasons why the speaker isn't installed for you, the most important being that its location would make it far too easy for someone to use it as a handhold when setting up the unit. And that would be bad as it would certainly break right off under the strain. I'd hope that people spending three grand on a display wouldn't consider using the supplied speakers but I know there are some out there that would (for shame!) Installing the speaker is as easy as attaching three brackets, securing the speaker to the brackets, and connecting the speaker wire. Pioneer suggests that you lie the unit face down on a protective cover (like a thick blanket) on top of a strong table (with the tip of the base overhanging the edge of the table if it is attached or will be). This will give you the access you need to attach the speaker or remove/install the base.
It seems that you can't start a thread about a flat panel display without someone wondering about the fan or other noise that the unit produces. Personally, I've never run into a display that was so noisy I thought it was distracting. The Pioneer PDP-5070HD is no different. While a slight whine can be heard from the back of the unit I didn't notice it until I was back there checking my connections with my ear right up to the vent. Pioneer seems to be very concerned with the stability of this unit and has a number of suggestions in their manual about it. First, the base has two holes so that the unit can be physically attached to your furniture by screws (yeah right). They also suggest attaching the unit to the wall with a rope or chain. Perhaps this is just for legal reasons as I never really found that this unit was any less steady than other units I've tested. The base is sort of lightweight and perhaps that's where this paranoia comes from. You'll have to use your best judgment here. Aesthetically the unit is gorgeous with a gloss finish around the screen and only a very small blue light to indicate power.
Input Configuration

The back of the PDP-5070HD is full of inputs that you can see and a few that you can't. The inputs are labeled numerically (even in the menu) rather than by function (composite, component 1, component 2, HDMI 1, etc). There are three connection points, one on the back of the unit parallel to the screen, one on the back of the unit perpendicular to the screen, and one on the side of the unit. You'll want to familiarize yourself with the inputs that are perpendicular to the screen before you set the unit up (and perhaps go ahead and connect a couple of cables). I'll take you through the inputs one by one and list their type and location:
Input 1 – S-video, composite video, analogue audio – back parallel

Input 2 – Component video, s-video, composite video, analogue audio – back parallel

Input 3 – Component video, analogue audio – back parallel

Input 4 – Component video, composite video, analogue audio – side

Input 5 – HDMI – back perpendicular with additional analogue audio on the back parallel

Input 6 – HDMI – back perpendicular with additional analogue audio on the back parallel
Other inputs of note:
PC – video is on the back perpendicular but the audio is on the back parallel

USB – for pictures and movies to be displayed – side

Cable CARD – for direct control of digital cable service – back perpendicular

Cable/Antenna input – two are located on the back perpendicular

Subwoofer out (to supplement the display's speakers – back parallel

Digital out – TOSLink connect if you want to route your audio/video through the display and out to the receiver – back perpendicular

G-link – an IR flasher to control a VCR if you want to use one to record your programming – back perpendicular

Monitor out – Composite, analogue audio – out to a VCR or other recording device – back parallel
The only thing missing is a digital input for audio other than the HDMI's. Since display's don't typically offer bass management, however, the analogue inputs typically serve 99.9% of anyone's needs should they want audio to be routed through the television.
nellie7799 posts on August 04, 2007 08:18
kleinwl;277924
Clint,

Why did they not send you the 5080? That is the hot new pioneer, not the older 5070.
Seriously. I love how the MSRP is $3,000 and one of the cons is "price." I don't know where you're shopping but I just got my 5080 for 2600 shipped. You guys really need to get on the ball. Who cares about a display that is no longer current generation?
kleinwl posts on June 22, 2007 11:49
Clint,

Why did they not send you the 5080? That is the hot new pioneer, not the older 5070.
oasis posts on June 21, 2007 15:17
thank you sir.
Clint DeBoer posts on June 18, 2007 06:11
oasis;274834
1.) could you recommend a good calibrator in my zip 32563
Check out
http://www.imagingscience.com/isf-trained.cfm
[imagingscience.com]
oasis;274834
2.) can RG-6 be used to deliver 2 different signals simultaneously and in opposing directions. i want to receive simultaneous OTA HD via outdoor antenna into the house and SAT signal to TV outside on back porch area using the same RG-6?
I don't see how this could be possible unless you switched it.
Lohrville posts on June 17, 2007 10:12
Has anyone successfully used the Pioneer remote's favorites buttons to use to jump to channels selected as favorites?
My cable box is made by Motorola and it responds to many of the buttons on the Pioneer remote when the little indicator under the flap at the bottom of the remote is moved to the mark for cable operation, but I cannot get it to switched to the favorite channels.
I have tried to follow the directions in the manual and can get the heart to show up for a selected channel. Once I hit "enter", though, the window disappears and when I re-open it, the favorites channels show up, but the heart has disappeared.
If you have gotten this to work, please advise me as to how you did it, step by step.