Input Confinguration and Using the Television
There are several features we look for in displays that we've come to expect. One of those is the ability for each input to retain its own calibration settings. If this is not the case, and inputs are shared, then you cannot truly calibrate the system fully for various components and uses. The Pioneer correctly allows for full, independent calibration of all inputs (they had to or the guys at ISF would have never given them a certification). The other important item we look for is the ability to directly select each input via remote. This not only makes it easy to use the television, it also aids in setting up a universal remote control. After using this set for several weeks I found that this Pioneer plasma has about every feature I could ever wish for in a television... and then some.
The Pioneer is a very easy product to use. There are three modes: television, display (with external audio/video feed) and Media Gallery. If you've got this plasma display you're doing one of these three things with it at any given time. Let's walk through each and discuss the process and methods of getting the best performance from this display. As I got through the modes I also cover the menu system used to configure the television.
PRO-940HD as a Television

The Pioneer PRO-940HD makes an excellent TV for several good reasons. One, it has one of the best TV tuners I've ever seen. Feeding cable into this unit results in pristine, almost digital-like images. While the ultimate potential of your system will depend upon the quality of your local cable TV or OTA broadcasts, the Pioneer does a phenomenal job at not skimping on its tuner section. I have utilized several televisions in this testing location and none of them has looked as good as this plasma. Lines were crisper, there was less noise, and responsiveness was above-par.
One other thing that really makes the PRO-940HD stand out among its peers is the inclusion of the TV Guide ON Screen Programming Guide system. This system works seamlessly through your local cable network and automatically updates your set with up to two weeks of programming material overnight. Updates are done when the set is put into standby mode and the full color interface for the system is absolutely incredible. Its functionality is intuitive, with arrow keys that can get you around the menu and provide access to more information on different ways of browsing the available shows on your TV. If there are any negatives, it's the fact that the channels don't have obvious numbers listed in the guide and they aren't in numerical order - so if you've memorized numbers over the years you can punch them in, but you may also have to readjust and start looking at logos.
The tuner interface of the PRO-940HD is something that makes most other television sets we've seen look like child's play. This is a professional looking GUI interface and for the most part everything is laid out in an easy to follow and logical manner. Upon first connection and power up, the system will prompt you to enter the country and zip code, and determine whether you have cable and/or OTA signals running to the TV. The TV Guide system will give you a selection of local cable providers to match your existing service. It then proceeds to ask if you have a VCR (or disc recorder) connected to the set so that you can optionally record shows. Control over an external device is provided through use of the G-Link port on the back of the set and provided IR emitter.
To manually set up the Tuner, enter the Tuner Setup menu from the Home Menu after connecting the physical cables and choose the Channel Setup option to configure the TV to auto scan and log available cable TV channels. This area of the menu can be accessed any time should you need to add or remove channels from the lineup. In this same area you can also find access to Parental ratings, CableCard info, and Closed Captioning options.
I didn't test the recording functions of the system - mostly because I have no use for VCRs or DVD recorders at this time (with a VidaBox Lux Media Center and an HD DVR this isn't something that I find necessary.)
PRO-940HD as a Display

Aside from TV, the Pioneer Elite plasma has an array of features that makes it an excellent choice for use with other source components like DVD players and Home Theater PCs. I connected our review sample to a Denon DVD-3910CI for the majority of our testing and found that I couldn't ask for a better display. While feeding the Pioneer a 480i component video signal I had access to all of the plasma's high-end processing features, such as PureCinema and Noise reduction. To say that these functions were numerous is an understatement. I'll try to break down each function in the menu system.
Basic Picture Adjustments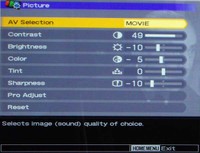 From the main menu you'll find access to the Picture Menu which houses Brightness, Contrast, Color, Tint and Sharpness controls. My default settings when using the HDMI inputs and a Denon DVD-3910 DVD player in 720p mode were as follows:
Contrast: 49
Brightness: -10
Color: -5 (note default for Movie mode)
Tint: 0
Sharpness: -10
Pro Features and Advanced Adjustments

Entering the Pro Adjust Menu from the Picture Menu gets to where all of the "money" features of this display are located. PureCinema handles the method by which the PRO-940HD will deinterlace source material located on DVDs and I have a special section which covers this in more detail. Color Detail is a submenu that give users access to Color Temperature controls (5 options plus custom RGB gain/cut controls). We did a quick analysis of the Color Temp settings and found the following temperatures per setting (using an HDMI input):
Low: 6000K
Mid-Low: 6800K
Mid: 7700K
Mid-High: 8700K
High: 9700K
As you may guess, it appears that Mid-Low is the best default choice to use when running this display out of the box - at least with the HDMI inputs. We're not sure of the tolerances, but I feel comfortable recommending this setting if you're trying to hit D65 white.
We calibrated using the Manual Color Temp setting and ended up with the following settings for night time viewing (calibration notes will follow):
R High: +1
G High: +3
B High: -7
R Low: -1
G Low: 0
B Low: -1
The same Color Detail submenu also gives access to the CTI (Color Transient Improvement) setting which increases the steepness of color edges without causing ringing. This is accomplished by sampling the non-processed input signal, a twice-delayed input signal and a derivative of a once-delayed input signal and providing an output signal with steep color edges. Full 4:4:4 color would be nicer, but most DVD transports don't really give us that option. To see this in effect, simply put up some color bars and look at the transitional edges between colors. Adjacent Magenta and Yellow colors show the CTI effect best as do Red and Blue. The processing is quite subtle but there is a difference.
The Color Management functions are a toy in my opinion and are only to be use to amuse yourself or by persons looking to compensate for visual impairments. Intelligent Color didn't seem to do anything after my set was calibrated, so either the effects are extremely subtle or it takes very particular conditions in which to be noticeable.
The Noise Reduction features of the PRO-940HD are outstanding. You'll want to keep the NR and MPEG NR settings to Low or Mid (at the most) to avoid smearing on motion scenes. I was unable to get BNR (Block Noise Reduction) to visibly affect any of the source images I fed the display, but this function is designed for high definition "mosquito" noise reduction. I also tend to shy away from Dynamic Contrast and Black Level modes, however I would encourage you to experiment with the different settings, especially given the slight s-curve gamma response we found in the calibration section of this review. The Automatic Contrast Limiter will actually bring up white levels during darker scenes in order to increase overall dynamic picture output. This is a pretty nifty feature and is a very practical feature that many will want to engage cautiously depending upon your viewing environment. If you have perfect light control, you may opt for having a fixed contrast and leaving your dark scenes as dark as possible.
We also tried all three gamma modes and got various response curves, getting progressively lower (brighter) results from Gamma 1 up to Gamma 3. I'd probably go for Gamma 1 (which we measured at 2.12) assuming you are going for a richer, darker image.