TC-37LZ800 Build Quality and Menu Setup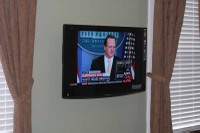 Panasonic's use of IPS (In-Plane Switching) in their LCD panels has been a favorite choice of ours for the simple reason that light output remains almost constant from all viewing angles. When you're not the only one watching TV in a room, this can be a big deal. The TC-37LZ800 uses a newer generation of this technology called IPS-Alpha (see our Tech Note) which improves upon earlier designs. Panasonic is the #3 plasma display manufacturer in the world (beat out of the #1 spot just this year thanks to an emergence in smaller sized displays that flooded the market), but the company seems to have a very good understanding of what makes a great LCD television.
Tech Note: In-Plane-Switching (IPS-Alpha)
IPS-Alpha was created through a joint partnership of Panasonic, Hitachi and Toshiba. IPS-Alpha claims to increase transmittance (the representative amount of light that passes through the system) by 50% and triple the contrast ratio when compared to the early IPS method. While the viewing angle is generally displayed at a contrast ratio of 10:1, this technology enables a contrast ratio of 100 or more in all directions.
Build Quality and Features
The face of the TC-37LZ800 sports a wide bezel with a piano gloss finish. The screen, inset about 1/4-inch into the unit utilizes a glossy "plasma-like" Plexiglas surface that is highly reflective but presents an incredibly vivid picture. The whole TV is less than 4-inches deep, not counting the little "chin" at the base of the monitor that adds maybe 1/3 of an inch. The right side of the television (looking at it from the front) has a membrane control surface for Power, Channel, Volume, Input and Demo functions. Nearby are the side inputs, which include HDMI, composite, analogue audio and an 1/8-inch headphone output. Just below is an SD/SDHC card (up to 16GB) reader for cards containing JPG, DCF, and/or EXIF formatted image files.
The back of the TV supports two HDMI inputs, two component video inputs, a PC input and a shared composite/S-video input. Separate stereo audio channels are included for use with all of the non-digital inputs (HDMI requires audio be sent over HDMI if you want to use the TVs internal speakers).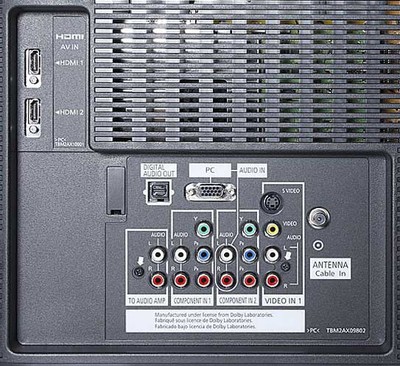 One very important thing to note is that the HDMI inputs will be covered up if you use a full size traditional flat panel mount that includes a full face horizontal mounting plate (see below).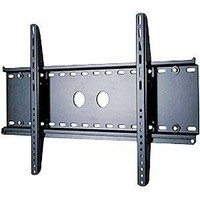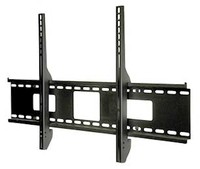 The mount on the left will not play well with accessing the two rear HDMI inputs on this TV; the model on the right will give you a fighting chance but is still not a guarantee and is sure to be awkward.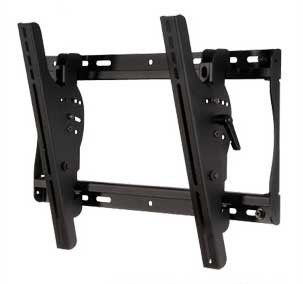 This type of open-backed mount is going to be your best bet.
Setup and Menu System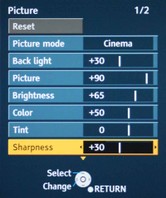 There is a lot to like about the menu system on the Panasonic. It's easy to navigate and it's very simple. Of course, that's also because there aren't a ton of truly advanced picture controls (at least not until you venture into the Service menus which we won't get into here). Primarily, after first setting up the display, you'll land squarely in the Picture menu for most of your tweaking. Here you can select between Cinema, Game, Vivid and Standard color modes. We go into detail later about how each of these affected lumen output and color temperature, but suffice it to say Standard and Cinema will be your best bets for serious viewing. Within this menu there are two pages. The first addresses the basics like Back Light, Picture (Contrast or White level), Brightness (Black level), Color and Tint. We dropped the Sharpness setting to 0 for the best "halo-free" picture. Anything higher and you'll see artificial edge enhancement which detracts from the picture. With the television set to Cinema Mode, here were our settings:
Brightness +42
Picture +80
Backlight 0
Color Temp - Warm (the default when Cinema Mode is selected)
Making adjustments on the TC-37LZ800 is an exercise in frustration. One second after making any adjustment, the menu snaps the sub-setting you are working on back to the big menu window - obscuring any test pattern you may be looking at. As a result, it was nearly impossible to set Black and White levels perfectly without guessing at the final exact setting.
The set has a significant overscan in SD mode which cannot be defeated, though HD sources correctly displayed with an option to set the HD Size to either 95% (5% overscan) or 100% (no overscan).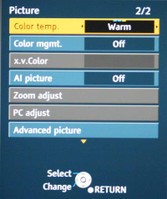 The second page of the Picture menu (accessed by merely scrolling up or down until the page changes) allows you to change the Color Temperature and engage options like Color Management and AI Picture. Color Management is a setting you should leave off - it enhances greens and blues and is mainly for people who want sports-related colors to pop at the expense of accuracy (for shame!).
AI Picture messes with black levels, but not in a way that is helpful to accuracy. It's a sort of gamma control for the darker scenes in movies and program material. x.v.Color can be enabled with HDMI sources to allow for the display to properly display and deal with 10-bit color sources (or simulated 10-bit sources as the case may be). PC Adjust is used when a PC is connected to the HD15 ("VGA") input and you can configure Phase, Position, Sync, etc... all the things that make geeks stay up at night chatting away on instant message boards. Zoom adjust is extremely cool in that it can adjust the image such that the Zoom function provides a custom experience tailored to your most common needs. This can include adjusting the vertical position up or down, or even changing the vertical size to fill the screen as needed.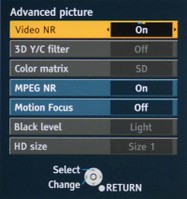 Advanced Picture controls, while not all that advanced, do deliver access to Video and MPEG Noise Reduction, 3D Y/C filter controls and Motion Focus. Motion Focus, unlike 120Hz refresh systems, utilizes the advantages of IPS-Alpha's bright light output to allow for blanking in between the video frames. This gives the LCD screen (and your eye) and artificial refresh which results in a real reduction of motion blur. Since the panel puts out extra light due to the nature of IPS, the blanking takes away overall panel brightness, but doesn't negatively affect the user experience.
Let's talk about setup. While the Picture menu is where you will spend most of your time, the Setup menu is where you'll first configure the television to do your bidding. In addition to setting up the internal tuner for analogue and digital (QAM in my case) channels, the Setup menu lets you browse channels via Favorites, Analogue Only, Digital Only or All. This means that if you're a digital/HD snob (like me) you can surf your TV in Digital only mode and skip all those annoying analogue channels. And why not? The QAM tuner ensures that I have my networks, Food, Discovery, Sci-fi, FX and more - all in wondrous HD. And that doesn't count all of the digital CD channels.
Audio can be taken from the TV via optical or analogue outputs. We actually took a feed off the analogue outs and sent it to a subwoofer in the room. If you have a sub that has an automatic wake-up feature then you would do well to couple this TV with some low end. The subwoofer filled in the missing low frequency information nicely and created a much better overall sound in our listening room. The speakers (twin 10 watt drivers) by themselves aren't so bad, but it's always good to add some real bass whenever possible.
Beyond what I've mentioned here, you're likely to spend more time watching this TV (go figure) than messing around with anything you find in the menu system... and that's a good thing.
Nemo128 posts on February 19, 2009 11:30
I have the LZ85. It is a kick @$$ unit, no doubt, but my plasma trumps it in PQ. I also used the LZ800 for a while, and it's also not competing. But yeah, price does seperate them. =)
D-Jingle posts on February 17, 2009 14:02
This LCD Panel is the best value around. The PQ is terrific. Compare with the best LCD's and not far off from Panasonic's state-of-the-art plasma's. These Panels are available today for less than $800 (internet, not at best buy or pc richard), and are a mad steal!