Build Quality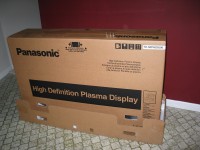 Bragging rights. You want them, you know you do. We all do. Some small (or large as the case may be) part of our mind wants people to be impressed with our purchases, abilities, etc. Nothing is more depressing than showing someone something that they should be impressed by just to have them respond, "So, what is that again?" Case in point, reviewing home theater equipment is full of interesting items... to other Audioholics. What does Joe Average say when you tell him you are reviewing a new set of speakers, HTPC, media server, or receiver? "Oh, that's nice." What does he say when you tell him you are reviewing a 50" plasma display? "I hate you, man!" Now, THAT is respect!
Build Quality

The 50PHD is a hefty unit so you'll need at least a friend (preferably two) to help you set it up. The set came triple boxed - the outmost box seemed to be just a mask for the brand labeling on the inner carton. Didn't want people to know that a plasma was being shipped I suspect. Honestly, though, what else could it be? A thin box that large has got to be a flat screen right? The delivery driver helped me unpack it and inspect it for damage - no problem there.
As impressive as the box is (it's freaking HUGE), the screen is no less so. A 50" screen is the stuff of dreams (at least mine) and frankly, it lived up to my expectations. The back of the unit has two removable handles near the top that are useful when installing. I set the unit up on the TY-ST08 stand. There was some assembly required... a few screws is all... and the setup went well. All my male friends in town wanted to come over and help me set the unit up but none of them could come over until that evening. A few moments after I broke the news, my wife, who's main "workout" is picking up our children helped me get the unit set up. Afterward she told me someone else would have to help me take it apart, but we did it.