232V Build Quality and Remote Control
The Olevia 232V comes in a pretty standard rectangular cardboard box. While a removable lid would have made getting the display out a bit easier, I was able to get it out easy enough with a little help from my wife. Because this display was purchased and would be staying in my house permanently, we installed it in the recessed area over our fireplace.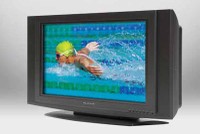 The outer frame of the 232V is made of black plastic with a recessed black plastic frame around the 32" diagonal thin film transistor (TFT) liquid crystal display (LCD). On power up, a bright blue LED light comes on indicating that the display is receiving power. For those who find these lights to be irritating, the user menu will allow you to disable this light. The front of the display includes buttons along the bottom right that include: Power, Menu, Channel up and down, Volume up and down, and Source. The Olevia emblem is in raised silver on the bottom middle of the black plastic frame. The stand is also made of black plastic. Each of the two speakers are approximately 3 inches wide and run vertically along the left and right side of the display. Over all the build quality of the 232V seems very solid with a pleasant enough aesthetic.

The video and audio inputs are all located on the back panel of the television. They are set up in a down facing configuration and were fairly easy to access during my set up.

Remote Control

The remote control is of the standard, unimpressive variety and was easy enough to use during calibration and day-to-day use of the display. The remote control has individual buttons for some functions (lighting, aspect ratio, freeze frame, and favorite television channels. However, it only has a single button for the source so you have to toggle through all the potential inputs (VGA, VGA-component, Tuner, Composite, S-video, component, and HDMI) to switch sources. Fortunately there are not that many sources to select from, so it isn't the headache it could be, but can still be irritating over time and makes for more difficult universal remote control programming. Other quirks involve scenarios where there are separate buttons, for example Display and Time, which appear to give you exactly the same information in default use. With space being such a precious commodity on a remote control, the Time button (presumably tied to the Sleep function) seemed superfluous.
gbenfield posts on June 18, 2008 19:43
Maximoigleias - Glad you found the review useful. Let us know how you like it once you get it home and installed. As long as you have a progressive scan DVD player I think you'll be pleased what this display gives you for the money.
Clint DeBoer posts on June 18, 2008 09:55
That receiver was awesome.
maximoiglesias posts on June 17, 2008 18:32
I am buying this TV tomorrow thanks to this review and another on Playback magazine.
Also bought my Pioneer SVX-516V, thanks to Alcoholics review, which I highly recomend to anybody looking for a budget system.
BMXTRIX posts on June 17, 2008 13:22
See, now I think this is the display I have, and we put it in our three year olds playroom. I am really unimpressed with the overall quality of the display compared to the 3 plasmas we have in our home, but it does do what it's supposed to.

Reaction time is really slow on start up and shut down. It doesn't have discreet codes for universal remotes as far as I've seen, and the black levels are really - really poor. With a good HD signal, you aren't doing to poorly, but with almost anything else, especially so-so SDTV it can look downright awful.

I will double check my model as it could be a 242v or something like that, and this model could be an improvement on what I have.

The one nice thing is that we are using a Crestron control system and the LCD, despite its low price, included a serial port and the protocols were straightforward enough that I was able to integrate power, source select, and volume onto a 10" touchpanel that is easy enough for our three year old to use.
birdonthebeach posts on June 17, 2008 13:07
Great review, Gary. Glad to see you surface again here at Audioholics. Looking forward to more display reviews!