232V Calibration and Bench Testing
We began our calibration by using the Digital Video Essentials Pro discs and set our Contrast, Brightness and Sharpness. This is the first step where we noticed some shortcomings with the user controls. When attempting to set the Brightness, just one click went from being able to clearly see all 3 dark bars on the test pattern to being able to see only one. This forced us to make a decision on which side of right we wanted to set our brightness. A similar problem with fineness of control was found in trying to set the Contrast. In attempting to set the White levels we were never able to produce whiter than white levels.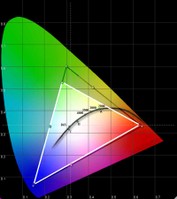 We used Datacolor's Colorfacts Professional 6.0 software to measure the 232V's performance in various modes and Color temperature settings. The CIE Color chart shows the 232V is pretty close to right on with both red and blue, but is a little deficient in green. We should point out however that two very important factory presets in the Picture menu that need to be changed to set the display for home use. Under Picture/Mode there are two options (Home and Power Up). The factory default is Power Up (so it looks as bright as possible when powered up in show room settings); but as usual, the preferred setting for use in our home was, oddly enough, Home. The other factory default we recommend changing is also in the Picture menu under the submenu Color Temperature. The two options are Native (the factory default) and 6500K. Prior to changing this default, we got a color temperature of around 9200 (again heavy blue in an attempt to make it stand out in the showroom). Making this simple change gave us a measurement of 6255K, much closer to the goal of 6500K.
We prefer displays be capable of producing at least 400:1 contrast. This display couldn't quite live up to that expectation and produced the following ANSI contrast readings in our room:
Dark Room 273:1
Medium Room 271:1
Bright Room 269:1
When we first tested the RGB performance out of the box prior to making these changes the display showed a heavy bias toward blue. Simply changing the mode setting to Home, and the Color Temp to 6500K brought the blue back down and we got a very acceptable grayscale performance with this setting. You can see the RGB levels look pretty stable across the entire spectrum from about 10 IRE through 90 IRE. Unfortunately, there are no User calibration controls for RGB Cut and Gain so other than making a few basic changes there is little you can do to alter the out of the box RGB performance.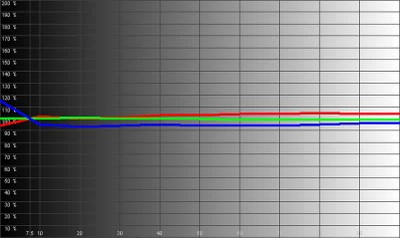 With the color temperature set to 6500K (rather than native) the color temperature of the display also stayed pretty stable in the range of 6300K. Not bad, actually, though some prefer a picture that is a bit less red.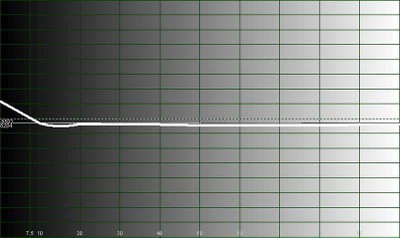 The Gamma reading (1.49) was a bit off the target of 2.2 to 2.5 and it suffers slightly from S-curve issues. As a result the blacks do not get black quickly enough and then the whites take off a little to quickly. I could quickly see why my Contrast and Brightness settings resulted in quick clipping of the top and bottom end.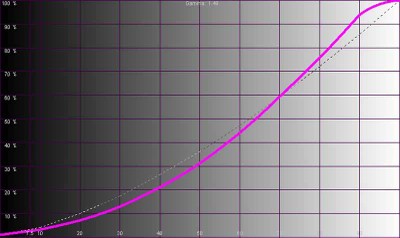 Audioholics/HQV Bench Testing Summary of Test Results
Perfect Score is 130
Olevia 232V Benchmark Score: 61
Test
Max
Points

Score

Pass/Fail
Color Bar

10
5
Pass
Jaggies #1

5
3
Pass
Jaggies #2

5
3
Pass
Flag
10

0

Fail
Detail

10

5

Pass

Noise

10

0

Fail
Motion Adaptive Noise Reduction

10

0

Pass

Film Detail

10

5

Pass

Cadence 2:2 Video

5

5
Pass
Cadence 2:2:2:4 DV Cam

5
5
Pass
Cadence 2:3:3:2 DV Cam

5
5
Pass
Cadence 3:2:3:2:2 Vari-speed

5
0
Fail
Cadence 5:5 Animation

5
5
Pass
Cadence 6:4 Animation

5
0
Fail
Cadence 8:7 Animation

5
5
Pass
Cadence 3:2 24 fps film

5
5
Pass
Scrolling Horizontal

10
5
Pass
Scrolling Rolling

10
5
Pass
Total Points



61



Comments on HQV Testing
Not a great score, but really pretty solid at the important things like Film Detail and 2:3 cadence tests. The jaggies tests really exposed some weakness on producing straight lines. So you are really going to want to feed this display a good progressive signal (480p or 720p) to really enjoy great video.
gbenfield posts on June 18, 2008 19:43
Maximoigleias - Glad you found the review useful. Let us know how you like it once you get it home and installed. As long as you have a progressive scan DVD player I think you'll be pleased what this display gives you for the money.
Clint DeBoer posts on June 18, 2008 09:55
That receiver was awesome.
maximoiglesias posts on June 17, 2008 18:32
I am buying this TV tomorrow thanks to this review and another on Playback magazine.
Also bought my Pioneer SVX-516V, thanks to Alcoholics review, which I highly recomend to anybody looking for a budget system.
BMXTRIX posts on June 17, 2008 13:22
See, now I think this is the display I have, and we put it in our three year olds playroom. I am really unimpressed with the overall quality of the display compared to the 3 plasmas we have in our home, but it does do what it's supposed to.

Reaction time is really slow on start up and shut down. It doesn't have discreet codes for universal remotes as far as I've seen, and the black levels are really - really poor. With a good HD signal, you aren't doing to poorly, but with almost anything else, especially so-so SDTV it can look downright awful.

I will double check my model as it could be a 242v or something like that, and this model could be an improvement on what I have.

The one nice thing is that we are using a Crestron control system and the LCD, despite its low price, included a serial port and the protocols were straightforward enough that I was able to integrate power, source select, and volume onto a 10" touchpanel that is easy enough for our three year old to use.
birdonthebeach posts on June 17, 2008 13:07
Great review, Gary. Glad to see you surface again here at Audioholics. Looking forward to more display reviews!