NuVision NVU40FX5LS Features, Setup & Remote
All of NuVision's FX5LS models also feature an ATSC/NTSC/QAM tuner as well as the FX5 5-from-1 video processing algorithms that make good use of the set's 120Hz DCS Deep Black LCD. This is a feature best realized when used in conjunction with 1080p/24 sources. Deinterlacing (including four-field 1080i-to-1080p deinterlacing) and scaling are handled by the NiDO IV engine. NuVision's DSDB (Digital Switching Deep Black) system dynamically adjusts the LCD backlight according to the average picture level being displayed on-screen. While not as effective as local dimming (which, given current technology, requires a deeper panel), it still yields an impressive total contrast ratio and aids in the watching of material with a lot of darker content.
The NVU40FX5LS LCD panel features a 5ms (best) response time. Their FFM (Frame Forward Motion) technology further reduces LCD pixel blur by creating additional interpolated frames - literally frames within the existing frames of picture available form the source. The FFM feature is user adjustable with low, medium, and high settings or the feature can be completely disabled. DCS (Deep Color Spectrum) is NuVision's term for 16-bit color capability which potentially widens the color gamut of the display with compatible sources (of which none currently exist). In conjunction with NuColor x.v. (x.v.Color Expanded Color Gamut) the set seems ready for the future. What it isn't ready for is any sort of network features. NuVision has opted to rely on external sources for any network applications. With the myriad of sources offering them, I'm not sure this is such a bad idea for the C.I. Market. Finally, the new Lucidium FX5 Series comes complete with a full, two-year, in-home manufacturer's warranty on all parts and labor. Try getting that from a big box store!
FX5 120Hz Mode
What the NuVision attempts to do with regards to its 120Hz processing is actually pretty straightforward. In addition to dealing with frame interpolation, which requires intensive video processing and advanced deinterlacing. Where the NuVision's FFM (Frame Forward Motion) system essentially makes up new frames based on guesses at what an additional inserted frame would have looked like, the NVU40FX5LS also uses its FX5 (Film Times Five) system to duplicate each frame on a 24p source (like Blu-ray or DVD) five times. That means that both the 24p source and the resulting 120fps video are evenly divisible by each other - so no deinterlacing is required. The two systems can be used together, or you can use just the FX5 by itself.
If we map this out visually, here is what it looks like: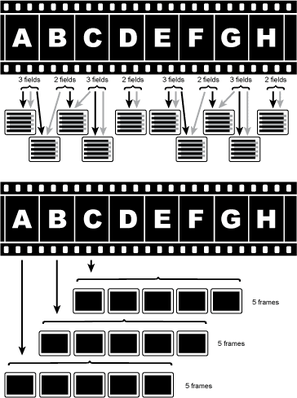 Standard deinterlacing (top); NuVision FX5 120Hz processing (bottom)

As you can see, the above version is what happens when a 24p source is regularly deinterlaced. The result is a complex field-rendered mess that must be error checked to avoid all manner of unsightly video artifacts (imagine one field from frame B and one field from frame C during a scene change, for example). NuVision cuts right through all this with straight duplication if each frame 5 times. The result is smooth motion at a higher refresh rate that eliminates the judder effect that is a naturally occurring "stutter" when you persistently try and fit 2 frames into 3.
Set-Up & Menu
Configuration was a breeze with this display. While the RGB color controls are locked away in the service menu, the user controls are quite easy to use and they seem to be ergonomically thought out. Unlike many menus where you have to go through tons of layers and subsections, most controls were only one layer of menu and all were easy to get into and retreat from during setup. Also, once a control was activated, the main menu disappeared allowing you to see the image below, while the adjustment positioned itself at the bottom of the screen. Most advanced installers using this set will want to give it a full calibration, but we found pleasing results in the default "Warm" color mode. We also liked the Lucidium's FX5 setting in conjunction with 1080p/24 content - judder was eliminated and no motion artifacts were introduced. For frame interpolation you can engage the FFM feature, but we found this to be hit or miss depending upon the content. It's easy for motion artifacts to manifest themselves when you are interpolating frames, and fast motion is where this almost invariably breaks down.
Remote Control
We liked the remote control that came with the NVU40FX5LS. There a re a few quirks, like the lack of an HDMI 4 direct input button, though the remote allows access to nearly all others. This seemed like a case where NuVision simply didn't want to redesign or recommission a remote control and simply made due with what they had - which isn't bad. The remote is completely backlit and about the only thing you can criticize, apart form the above, is the duplicate button shapes which dominate the remote. This is offset, in my opinion by the excellent backlight, so it's not much of a ding.
BoredSysAdmin posts on June 22, 2010 15:44
Not even for $1500 optional custom finish? To color match your Ferrari
Shock posts on June 22, 2010 15:41
gene;727885
and $7500 cables
I wish there was an endless thread about people who believe these make a difference. I would never leave this website.
gene posts on June 22, 2010 13:42
and $7500 cables
Shock posts on June 22, 2010 13:01
You could probably say the same thing about plenty of speakers, Shock

Oh I do

And 7500 dollar preamps......
its phillip posts on June 22, 2010 12:50
You could probably say the same thing about plenty of speakers, Shock

It is a nice looking display, and I do like how the inputs on the back panel are sideways, instead of straight out...but I do agree with Shock. Too much money for whatever few gains.