LT-46149 Calibration & Bench Testing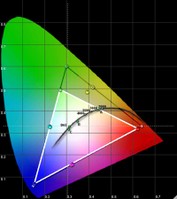 We again used our reference Datacolor's Colorfacts Professional software to measure the LT-46149's color and grayscale performance in various modes and color temperature settings. In terms of color, the LT-46149 seems to have a green deficiency, leaning more towards blue-green in that area. Red is a tiny but low as well, but neither of these was apparent when watching program material. The "laws" of contrast and the human eye are a wondrous thing. White balance was skewed towards the cool side and the set came delivered in torch mode, with the Color Mode at Brilliant and the Color Temperature set to High. After making just two quick adjustments we saw better color and contrast response, but the set never truly dialed itself in, especially given it lacked user RGB Gain/Cut controls.
Inserting my AVIA Pro DVD, I called up an 80 IRE gray field and measured 9400K at the default settings. Ouch, that's cool. Here's how the color temp broke down in various modes:
Natural Mode, Color Temp High - 8,950K
Brilliant Mode, Color Temp High - 9,400K
Bright Mode, Color Temp High - 9,200K
Natural Mode, Color Temp Low - 6,850K
Brilliant Mode, Color Temp Low - 9,400K
Bright Mode, Color Temp Low - 9,200K
I found it odd that the color temp didn't change much on the Brilliant and Bright modes, however we tested these with the backlight at a particular setting and so altering that third variable could likely deliver different results. To include all of the measurements would necessitate an encyclopedic volume of data.
We tested the contrast with the backlight at several different points and found the results promising. Since the contrast shouldn't matter much in the latter two modes, we stuck with just the Natural mode (see our LT-46148 review for additional measurements in different modes):
Backlight at 0 = 541:1 contrast ratio
Backlight at 31 = 1,925:1 contrast ratio
Backlight at 63 = 2,845:1 contrast ratio
Like the LT-46148 before it, we noticed a significant amount of brightness uniformity issues with this display. It seemed that any time we had a dark screen up you could witness a very blotchy pattern of light leakage from the backlight. It was subtle and soft in nature, but the screen most certainly did not have a nice consistent level of black throughout. This is something Mitsubishi really needs to fix in future models, even if it means employing a new backlight or LCD panel technology.
The Mitsubishi LT-46149 is unable to pass blacker than black (below black) signal. We tried a number of ways to get the information to the display, but it simply wouldn't take it (and neither did the LT-46148). It did pass whiter than white (above white) information; however we noticed that we were unable to calibrate the Contrast high enough to correctly set the white levels as we'd like. It was very close, but the Contrast ended up being maxed out to achieve the best performance, something that seemed odd to us, especially on an LCD display.
RGB grayscale measurements showed lots of Blue in the Cut range with an overall drop in Red throughout the IRE range: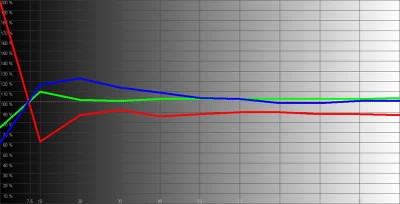 Temperature tracked with what we were seeing, showing a consistently higher temperature than our target 6500K.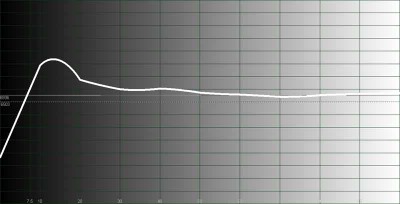 Gamma came out around 2.28 but was still smooth and had a pleasing look with real-world material. The only thing we wanted to see was more definition in the lower IRE ranges. That delicate area between 7.5 and 15 IRE was missing detail and it was sometimes visible in darker scenes where we noticed a lack of features in recesses like those found in the interior temples of Forbidden Kingdom.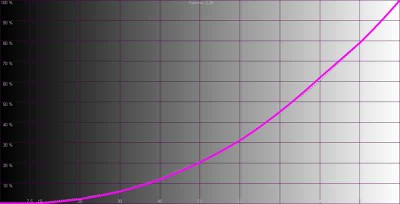 Audioholics/HQV Bench Testing Summary of Test Results
SD Perfect Score is 130
Mitsubishi LT-46149 SD Benchmark Score: 69
Test

Max
Points

Score

Pass/Fail

Color Bar

10

10

Pass

Jaggies #1

5

1

Pass

Jaggies #2

5

3

Pass

Flag

10

5

Pass

Detail

10

10

Pass

Noise

10

5

Pass

Motion adaptive Noise Reduction

10

5

Pass

Film Detail

10

5

Pass

Cadence 2:2 Video

5

0

Fail

Cadence 2:2:2:4 DV Cam

5

0

Fail

Cadence 2:3:3:2 DV Cam

5

0

Fail

Cadence 3:2:3:2:2 Vari-speed

5

0

Fail

Cadence 5:5 Animation

5

0

Fail

Cadence 6:4 Animation

5

0

Fail

Cadence 8:7 animation

5

0

Fail

Cadence 3:2 24fps film

5

5

Pass

Scrolling Horizontal

10

10

Pass

Scrolling Rolling

10

10

Pass

Total Points

130

69



Note: Tests were done at 480i via HDMI input #1 from a Pioneer BDP-05FD. Film detail tests were passed only with Smooth120Hz mode set to "OFF".
HD Perfect Score is 100
Mitsubishi LT-46149 HD Benchmark Score: 65
HD Tests (via Pioneer BDP-05FD @ 1080i)

Max
Points

Score

Pass/Fail

HD Noise

25

15

Pass

Video Resolution Loss

20

20

Pass

Video Reconstruction

20

20

Pass

Film Resolution Loss

25

0

Fail

Film Resolution Loss Stadium

10

10

Pass

Total Points

100

65



We tested the Mitsubishi LT-46149 with a Pioneer BDP-05FD Blu-ray player as our source. One of the things we paid particular attention to was the Smooth120Hz mode. It actually gives film an HDTV look. Think of the excellent cameras of Saturday Night Live or any kind of really crisp, live stage event. It's uncanny, but also not without its share of artifacts, but they were fleeting and inconsistent.
120Hz really rocked with the Moving Zone Plate test... In fact it only showed a few telling artifacts, but the overall result would have to be an improvement, and on a very difficult pattern. At other times, when I had Smooth120Hz engaged the image seemed to suffer from jumpiness and breakup on fast pans. There was also the issue of having to disengage Film Mode when some content started juddering dramatically. It seemed to be hit or miss. I really liked the look, though it was most definitely not film-like in the least. 120Hz seems to create a "new" type of video... cleaner, but less real. It's definitely something that many will want to experiment with. I believe that the video processing still has some slight catch-up to do in terms of how fast it can correctly interpolate those extra fields into the image. It does admirably, but faster performance will yield less artifacts and netter video quality in next-generation products.
See also: