LG LHX Ultra-Thin Wireless LED LCD TV
Summary
Product Name:

LHX Ultra-Thin Wireless LED LCD TV

Manufacturer:

LG

Review Date:

January 07, 2009 12:33

First Impression:

Gotta Have It!

Specifications

• Full HD 1080p via Uncompressed Wireless Transmission from media box
• TruMotion 240 Hz
• LED backlighting with Local Dimming
• 2,000,000:1 Dynamic Contrast Ratio
• 24p Real Cinema (5:5 Pulldown)
• Intelligent Sensor
• ISFccc Ready
• Four (4) HDMI V. 1.3 with Deep Color
• USB 2.0 for access to digital music and photos (MP3, JPEG)
• LG SimpLink™ (HDMI-CEC)
• Smart Energy Saving Plus
• LG Core Technologies
Executive Overview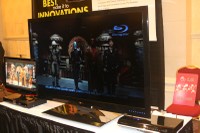 LG had an ultra-thin display on hand at CES the LHX. At only 24mm thick, the set sports white LED backlighting that increases the LED block resolution from 120 to 240, doubling the ability of the display to adequately provide higher contrast to specific areas of the on-screen picture. While we've seen thin sets and LED backlighting before, what we haven't seen is the set-top box that comes with it. Labeled the LG Wireless Intelligent AV, it comes standard with the new display. It connects wirelessly to the display through a proprietary LG wireless protocol. This means that both the box and the display are wirelessly enabled. It also should make setup a bit easier as you'll only have to run power to the display and not additional video cables. With the HDMI spec continues to threaten consumers as a moving target, routing HDMI cables through walls has often become a source of stress for users. While you don't need line of sight between the box and display, according to the LG rep, the box needs to be "exposed." When pressed, he said that it wasn't IR or RF but something new (we're guessing a form of UWB technology) and that as long as you didn't put the box in a cabinet, it should work.
It's certainly interesting and very compelling, but given that we've seen hints of this technology for years now it continues to smell a lot like vaporware. We will be excited when a product finally ships to consumers at an affordable price point
The idea is that you plug all your components into the Intelligent AV box and let it send all the video up to the display. We couldn't get too close of a look at it but we expect that the audio will be sent from there to the receiver. We wouldn't be surprised if this technology went through many changes between now and the time it actually (if it ever does) hits the shelves. For more information, please visit www.LGusa.com.