LT-42SL89 Menus, Remote, and Measurements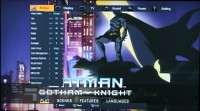 The LT-42SL89 has both ATSC and Clear QAM tuners which should serve well all those that don't know the joys of a DVR or TiVo service. It has guides, V-Chip, Auto Scan, and Closed Captioning as you'd expect. Nothing here is all that different from what you'd find on every other display. The Setting menu is nice in that it has the Front Panel Lock option (so that your kids aren't changing things when you aren't in the room) and the Auto Shut Off option so that it will turn off automatically after 10 minutes. The only menu that really needs an overview is the Picture menu. Of course you will find Tint, Color, Picture, Bright, Detail, and Backlight. Notably absent was Contrast which I suppose is covered under "Bright." Color and Tint is something you should probably never touch with Picture and Bright being used for your initial calibration. Detail should be used with care (if at all) as it will add artifacts if turned up too high. As for the rest of the settings:
Video Status - Standard, Dynamic, Game, and Theater. Theater is the only one that really looks natural. You can think of Standard, Game, and Dynamic as Blue, Bluer, and Blue Man Group.
Color Temp - Cool, Natural, and Warm. Warm is really the best with Cool just adding to the blue and Natural looking a little washed out.
Color Management - Supposedly corrects for dull colors. I played with this option a bit and it did add to the lushness of the picture sometime to the point that it looked a little "glowing." I didn't like the effect myself.
Dynamic Gamma - Even though JVC says that this should be enabled for "optimal picture quality," I found it probably the most annoying feature ever. Basically, it is supposed to adjust the detail in the dark areas so to increase black definition. What it does is make every change of scene a little lighter and then adjusts it down. EVERY CHANGE. It isn't a subtle effect either - it is very visible. And annoying. If this is what it takes to have "optimal picture quality," I'm just going to have to lower my standards.
Smart Picture - Adjusts the overall brightness based on what you are watching. If this option did anything, I couldn't discern it.
Digital VNR - Digital Video Noise Reduction is used to reduce video artifacts. There are High, Low, and Off settings.
MPEG NR - This noise reduction reduces block and mosquito artifacts. This only has an On and Off setting. I found that this setting softened the detail of the picture too much even though it did reduce noise considerably. I'd suggest keeping this option set to Off.
Natural Cinema - Essentially provides 3:2 pulldown. This option only works for 480i and 1080i sources.
The only real problem I had was that Natural Cinema (necessary for 3:2 pulldown) would turn itself off every time the unit lost power (and on other occasions though I couldn't determine the cause). If you live in a place where you get power outages very rarely, maybe this isn't such a big deal. Unfortunately, I live in Florida where power outages come 2-3 times a week on average. There is really no reason that this setting (or any for that matter) should reset and not get stored to some kind of non-volatile memory. If you own this set, you're going to have to get used to periodically checking this setting.
Remote Control

The funniest thing about the JVC remote is that it came with Panasonic batteries. Not sure exactly what that means. Like many remotes these days it is universal with a few pages in the manual dedicated to remote codes. The remote is a flat black and it a bit thicker at the bottom than the top. It is fully backlit (yeah!) but the "light" button is hidden near the center of the remote (boo). There are individual buttons for every input (yeah!) but only a single button that switched between the different devices (boo - but I don't use it as a universal so I don't really care all the much). The "Menu" and "Back" buttons are on opposite sides of the arrow keys with the "Favorites" and "Aspect" buttons far to close. It is remarkably easy to it the wrong button which will knock you out of the menu completely. As remotes go, it isn't terrible but it isn't great either. I'd call it "functional."
Video and Audio Measurements & Testing
For calibration I'm using both the Sencore ColorPro5000 and Colormetre HCFR software. Basically, Sencore is great for calibrating your set but doesn't give you the pretty graphs that we like to show in our reviews. That's where Colormetre comes in. From the default settings, I measured:
         Dynamic - 11000k (524:1 ANSI contrast ratio)
         Standard - 9500k (596:1 ANSI contrast ratio)
         Game - 11000k (390:1 ANSI contrast ratio)
         Theater - 7000k (338:1 ANSI contrast ratio)
There really aren't any adjustments you can make to the default settings. Sure, you can set brightness levels and such but there aren't any gain or cut scores that can be used to adjust the color temperature. From the standpoint of a subjective evaluation, Dynamic/Standard/Game are all pretty useless because they are so blue. I'm sure I could have eked out a higher contrast ratio based by adjusting the backlight but these were the measurements I got from the default setting. After switching the Video Status to Theater, I adjusted the brightness and detail using the Avia disc and got the following measurements:
Color Temp (left); CIE (right)
Luminance (left); RGB (right)
Audioholics/HQV Bench Testing Summary of Test Results
Perfect Score is 130
JVC LT-42SL89 Benchmark total score: 76/130 and 77/105. All tests were run through the HDMI input.
Test

Max
Points

Results
1080p

Pass/Fail

Color Bar

10

10

Pass

Jaggies #1

5

3

Pass

Jaggies #2

5

3

Pass

Flag

10

5

Pass

Detail

10

10

Pass

Noise

10

5

Pass

Motion adaptive Noise Reduction

10

5

Pass

Film Detail

10

10

Pass

Cadence 2:2 Video

5

0

Fail

Cadence 2:2:2:4 DV Cam

5

0

Fail

Cadence 2:3:3:2 DV Cam

5

0

Fail

Cadence 3:2:3:2:2 Vari-speed

5

0

Fail

Cadence 5:5 Animation

5

0

Fail

Cadence 6:4 Animation

5

0

Fail

Cadence 8:7 Animation

5

0

Fail

Cadence 24fps film

5

5

Pass

Scrolling Horizontal

10

10

Pass

Scrolling Rolling

10

10

Pass

Total Points

130

76



Test

Max
Points

Results
1080p

Pass/Fail

HD Noise Reduction A&B

25

7

Pass

HD Video Resolution Loss

25

25

Pass

Jaggies A&B

20

10

Pass

Film Resolution Loss

25

25

Pass

Film Resolution Loss - Stadium

10

10

Pass

Total Points

105

77



Comments on Audioholics DVD Torture Tests
In order to get these scores, the Natural Cinema option must be engaged or it will fail a number of tests on the regular and HD versions of the HQV test. Unfortunately, as I mentioned, the LT-42SL89 had an annoying habit of turning this option off so make sure you check it or you'll have to set all your sources to progressive so you won't have to worry about it. The JVC faltered a bit on the Jaggies test but the noise reduction actually worked. As we've experienced in the past, noise reduction can reduce detail. The MPEG NR was especially bad at this making the image much softer and seemingly out of focus. I suggest if you think you need the noise reduction to set the Digitial VNR to Low and leave the MPEG NR off. If you come across a severely noisy picture, experiment with the noise reduction - you may find the level of detail lost is not as bad as the noise would be. All in all, I'm very happy with how this display performed on the HQV tests.
Seth=L posts on August 22, 2008 14:26
I had a JVC SD tube set until recently, it was a great tv. I have also owned a couple JVC receivers, one was good, the other was FANTASTIC!
GlocksRock posts on August 22, 2008 14:17
Maybe I'm just not old enough to have had experience with those things, but I do know JVC's car audio was mostly garbage.

I still hope they do well and start making better stuff.
gene posts on August 20, 2008 17:28
I've never been a fan of anything JVC makes.
It's puzzling to me b/c back in the day, they made some fine CRT tvs IMO. I also thought their VCR's were the tops.
They had a few good years with AVR's but later liquidated their audio side of the business. It now seems they are attempting to revitalize their audio side but at a much lower end scale. Companies go through cycles and they are IMO a prime example of it.
GlocksRock posts on August 20, 2008 15:18
I've never been a fan of anything JVC makes.