JVC Viewing Evaluation and Ratings
The first thing I check on LCDs is viewing angle. Older models were prone to "wash out" if you were the slightest bit off axis. These days, just about everyone claims 178 degrees (including the LT-42SL89). While I would say that the off axis viewing was good, it did wash out a bit. I'd say at about 60 degrees you lost about 5-10% of the saturation. Noticeable? Only if you were walking side to side like I was. It was definitely nothing serious but not the rock steady off axis viewing I've seen on other LCDs. Of course, the other LCDs cost considerably more.
HDTV - 2008 Beijing Summer Olympic Games
I love the Olympics, always have. Now that I have HD, I really, REALLY love it. With a good HD signal, watching the games is like sitting in the stands. It looks so real. Of course, most of these sports are fast moving which is an excellent time to gauge how the display handles fast motion. The LT-42SL89 did remarkably well with fast motion and I was very pleased to note very little motion blur. Even on the fastest scenes, the motion blur was very subdued and only by paying close attention could I even see it. None of the others that viewed the set noted it (some, even after I asked them to look for it). The images were crisp and clean and the colors well saturated. Any major (or minor for that matter) problems I noted were attributable to bad signal quality and not any problem with the display.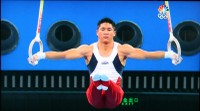 DVD - Batman: Gotham Knight
This animation DVD sports six short stories about the Dark Knight that supposedly takes place between the Batman Begins and The Dark Knight. I was very interested in this DVD as I am allergic to movie theaters (has to do with the bad sound, noisy people, and ridiculous price of popcorn) and wanted my Batman fix. You can only see so many previews for The Dark Knight before you go a little stir crazy. The animation varied between lame and just OK with most of the stories hovering somewhere between boring and "wait, did I just nod off?" I was particularly concerned about the black levels and how well the LT-42SL89 would handle them. For the most part I was pleased as I didn't note any macroblocking or visual artifacts. The blacks were just OK, however, as I noted that even after calibration they were more a dark gray than black. If I lowered the brightness enough so that the blacks were truly black, the entire picture looked a little dim. Overall, it wasn't too bad though.
HD DVD - Ocean's 13
Imagine my surprise when I found a movie on my Netflix cue that was available in HD DVD (yes, it had been there a while). Like everyone else, I had really enjoyed Ocean's 11. Ocean's 12 was sort of a bomb for me but I had heard that this one was better. It was, but it still lacked the magic of the first as far as I am concerned. The picture overall was crisp and clean and the colors really popped. There was one scene where everything was tinted red and if you had the display in anything but Theater you'd see a TON of artifacting. Even when calibrated, this scene was mighty grainy. Overall, though, the picture looked really good.
Conclusion
The LT-42SL89 was really hit or miss for me. The picture quality overall was very good, the slim size is very attractive, and compared to some of the other offerings on the market, the price is nice. Connectivity was a problem for me though it might not be for you. Calibration options are practically non-existent and even if they were, calibration is global for all inputs of a type. The Natural Cinema option resets every time the display loses power (which is a problem if you need 3:2 pulldown). The aspect ratios were a HUGE plus and are probably one of the only things that is keeping me from completely slamming this display. If "thin" is what is important to you, you may want to take a look at this display. Just make sure you purchase from a dealer with a good return policy in case you run into the same connectivity problems I did.
JVC LT-42SL89 42-inch LCD Display
$1899
JVC Company of America
1700 Valley Road
Wayne, NJ 07470
(973) 317-5000
About JVC Company of America
JVC Company of America, headquartered in Wayne, New Jersey, is a division of JVC Americas Corp., a wholly-owned subsidiary of Victor Company of Japan Ltd., and a holding company for JVC companies located in North and South America. JVC distributes a complete line of video and audio equipment, including high definition displays, camcorders, DVD players and recorders, home and portable audio equipment, mobile entertainment products and recording media. For further product information, visit JVC's Web site at http://www.jvc.com.
The Score Card
The scoring below is based on each piece of equipment doing the duty it is designed for. The numbers are weighed heavily with respect to the individual cost of each unit, thus giving a rating roughly equal to:
Performance × Price Factor/Value = Rating
Audioholics.com note: The ratings indicated below are based on subjective listening and objective testing of the product in question. The rating scale is based on performance/value ratio. If you notice better performing products in future reviews that have lower numbers in certain areas, be aware that the value factor is most likely the culprit. Other Audioholics reviewers may rate products solely based on performance, and each reviewer has his/her own system for ratings.
Audioholics Rating Scale
— Excellent
— Very Good
— Good
— Fair
— Poor
| Metric | Rating |
| --- | --- |
| Detail and Resolution | |
| Deinterlacing & Scaling | |
| Contrast and Black Levels | |
| Color Reproduction | |
| Noise Reduction | |
| Calibration Options | |
| Build Quality | |
| Ergonomics & Usability | |
| Ease of Setup | |
| Features | |
| Remote Control | |
| Performance | |
| Value | |

Seth=L posts on August 22, 2008 14:26
I had a JVC SD tube set until recently, it was a great tv. I have also owned a couple JVC receivers, one was good, the other was FANTASTIC!
GlocksRock posts on August 22, 2008 14:17
Maybe I'm just not old enough to have had experience with those things, but I do know JVC's car audio was mostly garbage.

I still hope they do well and start making better stuff.
gene posts on August 20, 2008 17:28
I've never been a fan of anything JVC makes.
It's puzzling to me b/c back in the day, they made some fine CRT tvs IMO. I also thought their VCR's were the tops.
They had a few good years with AVR's but later liquidated their audio side of the business. It now seems they are attempting to revitalize their audio side but at a much lower end scale. Companies go through cycles and they are IMO a prime example of it.
GlocksRock posts on August 20, 2008 15:18
I've never been a fan of anything JVC makes.