Aquaview D2 17" LCD TV Setup and Conclusion
Setup and Menu System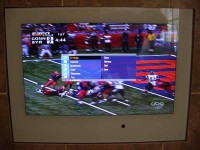 The Setup of the Aquaview TV mirrors the system utilized in the Zenith Z26LZ5R we reviewed some time ago, so I won't go into full details here. You can check out that review online for a full breakdown of features, but rest assured that you can control the basic picture controls and even add audio EQ. It's an easy to use menu system and doesn't take any special skill or knowledge to setup. "So easy, even a caveman can do it" comes to mind when using this system.
There was no real User Manual for this set when we did the install (it was still being completed) but we never found anything particularly difficult. At one point we had to program the water resistant remote control and the short instructions shown on the back of the remote were completely sufficient to the task. Installation of the backbox was by far the most intensive part of the installation process, but once you have that measured and positioned, there's really nothing to it (thanks to the presence of adjustable depth slots).
Remote Control(s)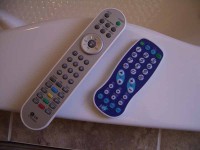 Our Aquaview TV came with a three straightforward remote controls. None of them were particularly impressive. There was an LG-branded remote which had th4e most features, a "waterproof" remote (which we found out was actually just water resistant), and a hard-wired remote that can be installed into the wall.
We decided to test the waterproof remote by dropping it into the tub (OK, actually my nephew dropped it in, but at that point we decided to test it). It was only underwater for a couple of seconds, but it ceased to function and would no longer control the television. We dried it off, removed the battery and reprogrammed it and it continued to function correctly. As a result we've dubbed it more of a water resistant remote, just keep that in mind. The LG-branded remote worked perfectly with no problems.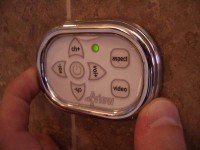 The hard-wired remote is a great-looking device, simplistic and elegant. It has a chrome trim around the edge and features a power button (very important), volume and channel buttons. There are also very important aspect and input (video) buttons as well. This is just about everything you need in order to successfully use the TV and keeps you from having to have a remote control around that you could lose or misplace (or drop in the tub!) Aquaview also has a float remote that is completely waterproof (we didn't review this one) so if you dream of reaching in the water for the remote you have an option for that too.
Volume control and channel selection are navigated via the ergonomically-located center 4-way switch. The enter button is positioned in the center and nothing could be simpler. A direct-access number pad is provided as are buttons to cycle through the available audio and video modes.
The Audio Performance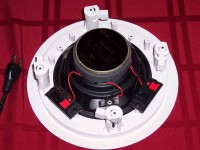 If you take a close look at the speaker you'll note that it has two sets of inputs. This is because it is a single woofer, dual tweeter design that allows for a "stereo" image to be sent from one enclosure. The idea is not new and does a decent job of allowing left and right information to be sent into close quarters (as is common with bathrooms). We found the speaker to be sufficiently loud for the bathroom and it didn't distort until you maxed out the volume (at which point it was a bit too loud for our room). If you have a cavernous bathroom you may want to opt for getting separate speakers to separate the audio sources.
Viewing Evaluation
TV: College Football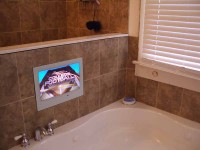 We checked out a lot of program material on this set, but decided to start with some College Football (hey, we were working on a Saturday!) The image was clear and clean - but to be honest, this is what we expected for a 17-inch widescreen LCD display. I noticed no problem with blurring, though this certainly wasn't a high-performance display as noted by its lack of advanced calibration options or features. What was impressive was its brightness. You can really get the unit to show a nice, vivid picture even with all the lights on (as shown here in the photo). One thing we did notice was the potential for glare as the screen is polished and somewhat reflective - welcome to just about all flat panel displays. To say that this picture would be enjoyable while taking a nice bath is an understatement - this is simply a very cool product and our actual use of it allowed the mental picture we had to be fully realized.

We viewed other TV material as well and were very pleased at the results. This is a nice display and the picture was always clear and bright: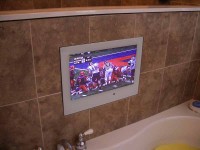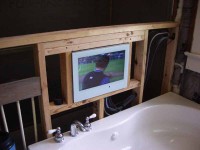 DVD: Blue Collar Comedy Tour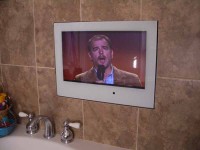 Yes, it's not a high quality, action-packed DVD, but we simply wanted to see how the system performed with a standard definition DVD. The results were pleasing and I knew that this display not only handled NTSC cable and off-air channels well, but also DVD material fed through the component inputs. Skin detail was present and the contrast of the set allowed black levels to come across distinctly. IN the picture we took you can notice a glare off the screen - this is simply something you'll want to note and ensure that you have the ability to close the blinds or curtains on any windows you may have behind the set.

Conclusion
The Score Card
The scoring below is based on each piece of equipment doing the duty it is designed for. The numbers are weighed heavily with respect to the individual cost of each unit, thus giving a rating roughly equal to:
Performance × Price Factor/Value = Rating
Audioholics.com note: The ratings indicated below are based on subjective listening and objective testing of the product in question. The rating scale is based on performance/value ratio. If you notice better performing products in future reviews that have lower numbers in certain areas, be aware that the value factor is most likely the culprit. Other Audioholics reviewers may rate products solely based on performance, and each reviewer has his/her own system for ratings.
Audioholics Rating Scale
— Excellent
— Very Good
— Good
— Fair
— Poor
| Metric | Rating |
| --- | --- |
| Detail and Resolution | |
| Contrast and Black Levels | |
| Color Reproduction | |
| Calibration Options | |
| Build Quality | |
| Features | |
| Remote Control | |
| Performance | |
| Value | |