HSU VTF-15H Measurements & Analysis
The first part of testing was to measure the frequency response from a modest output, all the way to the point where the system was clearly compressing and had hit the output wall, so to speak. I must admit, using the CLIO unit in this way, is a bit like using an elephant gun to shoot down mosquitoes. CLIO is an incredibly powerful and accurate instrument capable of taking a huge number of valuable metrics for characterizing an audio system. That said, on to our audio 101 exam of the Hsu Subwoofer. With the crossover control bypassed, the "Q" control set to 0.7 (meaning maximum bass), both ports open, and the "Operating Mode" switch set for both ports open, (Higher cutoff frequency) the following curves were run.
Hsu Research VTF-15H Frequency Response at Various Output Levels
Without compression, the level difference between the two top curves, the dark gray and the blue, should be the same db difference as between the two lowest curves, the red and the light gray. Since the power output is not limitless, at some point, the input is compressed, and a 3 db increase in input does not result in a 3db, or even a 2db increase in output. That, in essence, is compression. That is also the point to be understood and taken away from the above collection of curves. What is also noteworthy about this is that this is LONG TERM CONTINUOUS power, not instantaneous or peak power. This sweep starts at a very high frequency (for a subwoofer) 400 Hz, and slowly (14 seconds) sweeps down to 10 Hz. Notice the top curve starts to head south (lose output) near 40 Hz, while the lowest red curve hangs in there all the way down to 30 Hz before starting to fall off. Once again, we see here that compression is not a frequency independent event, but rather starts at a higher frequency for a higher drive level as shown in the above curve.
What can also be gleaned from the Clio curve above is that the port anti-phase is well above the bandwidth of the speaker with both ports open, so this subwoofer can do rather well with a higher crossover point as the response up to 200 Hz is ruler flat. So much of a problem in some of the other cabinets was, with both ports open in the Hsu, pushed well outside of the passband, and not as severe in its effect. This is in part due to the port geometry, and (I would assume) also in part to the shorter length of the ports needed to tune a larger box to about 22 Hz.
This slight underdamping of this woofer in this box was evident in listening tests, and the "Q" control supplied with the amplifier did not seem to make any perceptible difference with both ports open while listening to music. Now having seen the curves, I can imagine it would have been immediately apparent with pink noise. In short, without a bass management system and measurement gear on hand, tuning the optimal Q by ear alone would be a daunting task.
Effect of Q Control on Output of System as Measured by Hsu Research
While seen from the Clio curve, although not apparent in the Hsu Resarch curve is that there is a slight rise at the bottom range of frequencies suggesting this woofer might have been more optimally damped (at the expense of some maximum output) with the optional foam plugs Hsu includes than with both ports open. While I did not take such a measurement, Dr Hsu was kind enough to provide his to me which is reproduced below
Effect on Output when Triangular Foam plugs are used to lower Box tuning
This curve clearly shows the adjustment made by the "Q" control allowing one to tweak the box slightly tilting the curve to better adjust the response in room. If you look closely, you can see that the foam decreases the system Qts, lowers the cutoff frequency (with notable loss of output) and changes the rate of slope below resonance (port is less effective as reducing cone output below Fb). You can also notice the foam damps the antiphase output from the ports at 250 Hz.
Unfortunately we had time to only measure and listen to one mode (all ports open). As seen in the curves provided by the manufacturer, the one port open mode should provide true below 20 Hz extension (at reasonable SPL levels), an overdamped response (gentle downward sloping response), with stronger output at 16 and 20 Hz, but slightly less output in the 25 - 32 Hz range (port output actually cancels woofer output at 16 and 20 Hz in the two ports open position). With this model, you can choose your own set of compromises. When listening to music that does not require as much bass headroom, but you want very tight sounding bass, set it to one port open or sealed mode. When you are watching movies with lots of sub 20 Hz, set it to one port open. When you watch movies or listen to music that does not have sub 20 Hz content but want the most visceral impact with minimum compression artifacts, use the two port open mode (and set to lower Q if you want a tighter bass).
CEA-2010 Test Results
On to the CEA 2010 testing. CEA testing was performed with both ports wide open (response as shown in Clio) for achieving maximum output over the majority of the subwoofers bandwidth at the cost of a small amount of output at 20 Hz. To understand the meaning behind the graphics below and testing methods used, please refer to the prior article (Subwoofer Shootout Measurements Overview) on this method. The process is a simple one. Drive the input to the system to the point where either the amp, its compressor, or its speaker simply refuses to give you more output, or the distortion created at that output level exceeds the CEA "redline". In EVERY system tested, the result (if not the peak SPL) was similar in one regard. At the highest frequencies in the sub's bandwidth, we ran out of amplifier power, or the compressor refused to put out more power than the amp could cleanly deliver. At the lowest frequencies, the subwoofer runs out of excursion. This is completely normal and what is to be expected. It may also explain why the CEA standard does not bother testing higher than the center frequency of 63 Hz. Below is a spectrum capture of the Hsu Research VTF-15H system at maximum usable output for each of the standard 1/3rd octave centers from 20 – 63 Hz.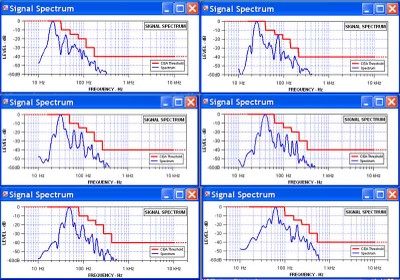 Hsu Research VTF-15H CEA-2010 Distortion Test Results
| | | |
| --- | --- | --- |
| Hsu Research VTF-15H | CEA Test Performance | |
| Frequency | Maximum Peak SPL @ 1 Meter | RMS @ 2 meters |
| 20 Hz | 112.9 dB | 103.9 dB |
| 25 Hz | 118.8 dB | 109.8 dB |
| 32 Hz | 122.0 dB | 113 dB |
| 40 Hz | 124.7 dB | 115.7 dB |
| 50 Hz | 124.7 dB | 115.7 dB |
| 63 Hz | 124.6 dB | 115.6 dB |
Max SPL Output Data of the Hsu Research VTF-15H Subwoofer
Why not test this speaker up to 80 Hz? Surely it is important, no? Yes of course. Two primary reasons I believe that the CEA standard excludes an 80 Hz measurement. Any large sub will be amplification limited by the time it is going as high as 63 Hz. Looking at 80 Hz will add little to the value of the testing. The reason the Hsu Research VTF-15H sub limits at 121.7 to 121.6 Db from 40 – 63 Hz is not simple coincidence. This is the point at which the amplifier "runs out of gas", in this case the compressor itself puts on the brakes to continue the analogy. Going higher in frequency should not yield a different result with any real serious subwoofer. Let's also bear in mind the CEA pulse signal centered at 63 Hz is only 3dB down at 80 Hz, so if the sub was falling off that low it would affect the 63 Hz measurement as well. Differences in testing of less than a db in these circumstances should not be viewed as meaningful. The 0.1 db loss at 63 Hz was likely an effect of a very minor amount of VC and/or amplifier heating as the procedure I used was in testing from lowest to highest frequency.
Update: 2/16/11:
We ran a complete battery of new measurements and analysis on various port tuning modes and configurations
HSU VTF-15H Review Supplemental
Update: 9/27/11:
In order to make it easier for our readers to compare our CEA data between subwoofers tested prior to our new Subwoofer Measurement Protocol, we scaled our 1 meter peak CEA data to 2 meter RMS by subtracting 9dB for each frequency. We also added +3dB to the 1 meter test data to represent true peak output performance.
See also:
meheather33 posts on February 27, 2013 23:45
Help!!! I am trying to decide between hsu-vtf-15, svs pb16 ulta and martin logan descent. They will be going with my ml vistas,stage and vignettes. Any suggestions?
ooobbbccc posts on February 26, 2013 08:02
gene posts on February 25, 2013 13:51
kmpurc56;944810
From a layman's perspective, the biggest problem I have is how the measurement data is not the same for each review. If you look at all your reviews together post CEA, the presentation of data varies. The data Gene provides shows a significant more screen shots of test results than than others. The data presented in other reviews will vary as well. I have enough of a background that all testing criteria be exactly the same for all subwoofers for evaluation purposes. I should see the exact number and types of screen shots of your test measurements in each subwoofer review. I also wish that explanations be in such way that I don't understand a review for a SVS subwoofer that indicates that a dbspl range of higher htz 95/93 db to lower htz 87/85 db is rated for big rooms and plenty of low output would not be more limited than this review which seems to indicate output range from dbspl 100db to 95/93 db is limited.

I know price point is a real factor, but I believe a range should be developed for example $500 to $1000 grouping. It is hard to translate the term this product compares to other products at much higher price points then see above issue. I did some research since I have a background in noise exposure and found a 90 db level at below 80 htz is still restricted by OSHA. A 4 hour exposure limit is required. Even at this limitation, continual exposure will result in hearing loss. It seems to me that a flatter range with a lower db output in the higher range and higher output in the lower range would be better. One consistency I do see is not matter what the sub is (brand and expense), there is always a substantial drop near, at or below 20 htz. Since we feel more than hear below 20 htz, I have read were the vibration is observed by the listener at lower db rates anyway. Between 30 and 80 htz is where a more continual output will occur, higher db exposure at 100 or more db will potentially cause more hearing loss issue. A logical view might be that performing numerous evaluations over hears might negatively effect listening part of reviews.
You're obviously new to the site and not aware of the following:
Powered Subwoofer Testing: Outline and Procedures Overview — Reviews and News from Audioholics
[audioholics.com]
Audioholics Subwoofer Room Size Rating Protocol — Reviews and News from Audioholics
[audioholics.com]
Audioholics Subwoofer Measurement Data Compilation & Report — Reviews and News from Audioholics
[audioholics.com]
(this link not only teaches you how we measure and what it means, but it also has a PDF with all data tabulated in a very consistent manner).
I challenge you to find another A/V magazine that even remotely does this, and at this level of completeness and accuracy.
zhimbo posts on February 25, 2013 13:41
ooobbbccc posts on February 25, 2013 00:34
Why left out the Bassaholics rating again? Is this "Medium" or "Large"?