Velodyne HGS-15X Technology Overview
Many of us audiophiles and videophiles are split personalities. We want our systems to sound great for music, be dynamic, and provide that intense impact and wow effect for home theater applications. One of the more daunting tasks an audiophile or videophile will endure when assembling their dream home theater or music system is the search for a satisfying subwoofer. This is a complex task because the subwoofer must appease the musical side of the audiophile and the SPL, bass hungry side of the videophile at the same time. What we want is a Dr. Jekyll and Mr. Hyde subwoofer. Typically the audiophile-type subwoofers are small in diameter, high excursion, low distortion designs that are able to reproduce very low frequencies. The problem is most of these audiophile subwoofers don't produce a lot of the SPL or slam needed for high impact home theater. Another thing to consider is placement flexibility. If the subwoofer is to be integrated into custom audio/video cabinetry, this is yet another performance hurdle that must be dealt with to accommodate limited placement flexibility.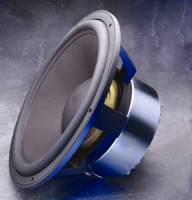 Velodyne has been manufacturing high end subwoofers for well over 25 years - and that is pretty much their entire focus. 100% of the company's resources, research, and development goes into producing subwoofers and subwoofer technology. Another very important aspect of the company, at least for me, is that all Velodyne HGS-X series subwoofers are designed, developed and manufactured in the USA. Velodyne has indicated that this is to insure quality control. I say Bravo, Velodyne!
The Velodyne HGS-15X (High Gain Servo) subwoofer incorporates a 15-inch woofer with a massive 24lb magnet structure, a tandem 3" push pull voice coil, and a mind blowing 1250 watt RMS (3000 watt peak) class D amplifier. The enclosure is very solid and has a relatively small footprint for a 15" subwoofer, coming in at just 19.875" H x 18" W x 17.875" D. Did I forget to mention that the entire unit weighs a hefty 95lbs?
Obviously, from just reading the above specifications you can tell that this subwoofer should rock the house for home theater applications - but what about music?
The knock against very large displacement subwoofers among audiophiles has always been that anything bigger than a 12" woofer cone is just too big and slow to be musical. Pithy quotes from the audiophile community about large displacement subwoofers include words such as "boomy, tubby, muddy, sloppy, overextended" and "having a localized sound." It has always been the belief that smaller diameter subwoofers are very quick and tight sounding. For the most part, the audiophile community has been correct in its assessment of these large diameter subwoofers; however Velodyne has managed to solve most of the musical problems associated with large displacement subwoofers. Here is how they did it:
First they designed a very stiff and ridged 15" cone that is Kevlar impregnated. They did this because they realized as the displacement of the subwoofer is increased, stiffness must be maintained throughout the cone material. Next, they designed a motor that incorporated two coils operating out of phase in a push pull configuration suspended by dual spiders. This allowed the motor to have an enormous amount of linearity (1-1/8" of linear motion or a maximum mechanical limit of 2 inches.) This is a huge amount of travel for a large displacement subwoofer. Finally, they topped off the woofer design with a huge 24lb magnet.
The end result was a 15-inch large displacement woofer that had very low distortion and great accuracy. Or, in other words, it is very fast. I think that when people talk about the speed of a subwoofer, what they are really trying to covey is how much distortion the subwoofer produces in conjunction with its accuracy.
The next step Velodyne took was to incorporate their patented accelerometer servo control. This is a high gain system that is designed to improve the linearity of the motor and woofer assembly. It does this by monitoring the cone movement and making adjustments between the input signal and the subwoofer's output. This provides a very accurate low distortion control over the cone movement. Again, the key factors are how "accurate" and "low distortion" equate to a "fast" and "tight" subwoofer. Many would think that this servo system would reduce output of the subwoofer and create compression. Velodyne has taken this into consideration: the only time a limiter is activated in the amplifier is when the cone and motor structure are reaching their maximum limit of travel. This prevents the subwoofer from bottoming out. It is highly unlikely that anyone using this sub, even in a reasonably large room, is going to bottom out the HGS-X series.