DEQ-15R Setup and Measurements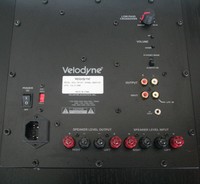 Setting up the sub really was a breeze. The DEQ-15R comes with a remote which is a nice feature that I wouldn't mind seeing with more subwoofers. There is a three character digital readout on the top right of the front of the sub that will tell you the volume or display other messages. You can turn off the display if you like. Unlike many subs with just a 0/180 degree phase switch, the DEQ sports a 0/90/180/270 degree digital phase adjustment. This can really help out with how well your sub integrates with your speakers and is something that all new users should play with. There are four DSP settings with the default being Jazz. These settings modify the frequency response of the sub as detailed below:
| | | | | |
| --- | --- | --- | --- | --- |
| Preset | Subsonic Filter Frequency | EQ Frequency | EQ Level | Volume Differential |
| Movies | 25 Hz | 37 Hz | +3 dB | +5 dB |
| R&B / Rock | 28 Hz | 50 Hz | +3 dB | +1 dB |
| Jazz / Classical | 15 Hz | - | - | - |
| Games | 34 Hz | 60 Hz | +3 dB | +4 dB |
The subsonic filter essentially tells you where the sub's low end attenuation starts. The EQ frequency tells you what is getting boosting and the EQ Level tells you by how much. The Volume Differential indicates how much the volume on the sub will be increased by turning that preset on. To me, this is a perfect example of why I hate DSP modes. Why exactly is it a good idea to roll off the sub's low end response? And how does boosting any frequency help the sub to sound anything other than more like one of those cars we all love to hate? Luckily, the Jazz/Classical setting leaves everything alone. I suggest you all use that though I certainly can't stop you from experimenting with the others.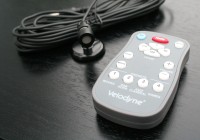 While the sub weighs in at a hefty 71 pounds, I had little problems carrying it up the stairs myself (and I have plenty of friends that will suggest that if I can do it, so can your wife). I used the RCA LFE inputs from the Denon receiver and calibrated using the test tones out of the receiver and the sub's volume control (I like to leave the receiver control alone as much as possible). What was nice was the digital readout of the volume on the front of the sub. Rather than marking the calibrated output with whiteout or tape as I've often done, now I could just record the number and know that I could get the sub back to the same calibration with no hassle or even re-measuring.
Of course, after level matching, the only thing left to do was to set up the Auto EQ. This really is as easy as pie (microwave pie even) as all you need to do is plug in the mic into the front port, set it up at your prime listening position, the hold down the EQ button for a few seconds. The sub does a dozen 20Hz to 150Hz sweeps while displaying "AU" on the screen. Afterwards, the EQ is always engaged. There is a way to reset the sub to flat through a combination of button pushes if you like. What was especially thoughtful was that if the mic is not plugged in, the sub will cancel the EQ function after two sweeps so you don't have to worry about someone accidentally resetting your sub calibration. After I EQ'ed the sub, I re-checked the level with my SPL meter but didn't find that it needed an adjustment. I'm not sure this wasn't just luck on my part so I'd re-check your levels after you EQ your sub.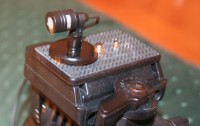 From an ease of use standpoint, the Auto EQ function is the tops. The little mic stand looks like it would fall over easily but it is very solid and quite heavy in comparison to the mic. I placed it on top of a camera tripod at the prime listening position and had no problems. The only downside is that you have no idea what the Auto EQ is doing. None. From an Audioholic standpoint, I find this unnerving. If nothing else, I'd like Velodyne to include in the manual some information about the limits of the 5-band parametric EQ and some limited control. In particular, I'd like to know or be able to limit how much boosting the sub is doing. The official Audioholics policy is NEVER to boost problemantic dips unless it reveals a measurably beneficial difference. Even then, boosting should be kept to a minimum to preserve dynamic range of the system. As the Auto EQ functions on the DEQ subs, you have no idea what it is doing. You just have to trust that it is doing something good using your ears as the deciding factor. Of course measuring the results with an audio analyzer is recommended if you have the means.
Lastly, I'd like the ability to A/B the EQ easily. As it stands, once the EQ is setup, it is always on. While I understand that for most users, they are going to set it and forget it, for more advanced users this is likely not the case. The only way to A/B the EQ is to set it, listen for a while, enter a complex series of remote commands to reset the sub to factory, re-calibrate (just change the volume in this case), and then listen again. This is far from optimal. In order to reset the EQ, you'll have to set up the mic and all of that. Really, there is no reason to think that from setup to setup, the EQ won't be slightly (or even significantly) different. This means that if you decide that you like the EQ setup on one listen, after you check it versus the factor default, you have no guarantee that the EQ will be the same. Petty and neurotic? Yes. But we are Audioholics around here and we take this stuff seriously.
Measurements & Analysis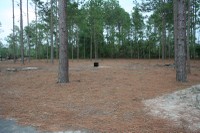 For laboratory measurements I used the Sencore SP395A FFT Audio Analyzer plugged directly into the internal amps Velodyne DEQ-15R subwoofer along with TrueRTA. I took the sub outside and did a groundplane measurement at one meter and 1/24th resolution. This was conducted in the middle of a field that had been recently devastated by a microburst. The sub was left to its default preset (Jazz) which offers the flattest frequency response. The other presets were not tested.
Velodyne DEQ-15R Subwoofer Groudplane Measurement 1 Meter (no smoothing)
Note: Not the actual output levels - graph shows bandwidth linearity only

The green trace is the sub at maximum output (80), purple is at 70, yellow at 60, orange at 50. While it is obvious that the sub's volume is not increasing significantly between 70 and 80, the Distortion Limiting System is working as there seems to be no real distortion in the waveform and I could hear none during the tests. I actually kept trying to turn the sub up (in true Spinal Tap fashion) listening for distortion. While the sub is spec'ed down to 23Hz anechoic and 14Hz in room, I'm not seeing that here. The sub seems to be reaching down to about 27-30Hz fairly flatly and dropping off significantly after that. If my time wasn't limited, I might have run tests on the other presets or more importantly, taken the sub into the house, EQ'ed it, and brought it back out for more measurements. Unfortunately, that wasn't possible.
AudioRo posts on January 03, 2011 23:47
I felt compelled to post as this was the first thing Google brought up when I was searching for a review of this sub. This is my first post and I'm no expert. I'm a mediocre musician (not my day job) with a pretty good set of ears.

Since some care about this: my current set up (in a town home while building my home) is System Audio SA510 bookshelves, NAD 747 as pre/pro and Acurus A250...

I went to Fry's today to check this sub out based on positive feedback from this review. I asked the salesman to move this sub to their theater room as an effort to get better room acoustics than the open area, with tons of background noise etc., and he did. They also ran the auto EQ.

The best thing I can say about this sub is that it puts out substantial bass. Personally I found it to be very loose and muddy sounding, boomy. It's not a 'one-note' sub but instead riddled with bad cabinet resonance. Though not as quite as loud the DEQ 12 has a smoother response in the 'bad' listening area. This sub was priced at $899 and was easily, surprisingly, outdone by the Minivee 10 in SQ... and the Minivee was only $100 more.

If you're considering this sub, I recommend listening to everything else in the general price range. It was loud and boomed but lacked detail.
westcott posts on August 09, 2009 03:47
Nousaine Subwoofer Shootout
[home.comcast.net]
I find testing a subwoofer at such low decibal levels does not tell me anything. Most good subwoofers roll off at the 80dB level, but are capable of much more.
Here is a subwoofer shootout list if anyone is interested. If you look at the data, you will find that most of the subs tested were ran well into the triple digits and quite a few averaged triple digits with +/- 3dB or so.
AVRat posts on August 07, 2009 11:40
McSmarty posts on August 06, 2009 21:04
+ or - 1k each for one initially and probably a second if needed. The room is a multi-use gameroom that is approx. 19' x 19' with 15' ceiling. A section of the left wall is projected out giving you a bench and a hall with steps lead down to it so the room isn't symmetrical. I just ordered 3 Klipsch KL-650-THX to sit in a built-in entertainment center and 2 KS-7800-THX in wall for surrounds. The subs probably will be placed in the bottom of the built in cabinets at front left and right which is probably far from optimal but have to compromise some things with wife to get what i want. Initially I will be using a Denon 3808 to power it but may add a emotiva amp if needed.
AVRat;606888
McSmarty, which pricepoint are you looking at and how large is your room? It may be better to start your own specific thread.
AVRat posts on August 06, 2009 20:02
McSmarty, which pricepoint are you looking at and how large is your room? It may be better to start your own specific thread.