DEQ-15R Listening and Conclusion
Listening tests were conducted in a smallish theater of odd shape. It is a "bonus" room in an attic with an attached alcove on the left side. I've also had experience with a JBL sub in the same space. While I can't say I did a true A/B test with the Velodyne DEQ-15R, the 12" JBL didn't really need one. If you drove a Lamborghini after driving a Yugo, would you need to do a face to face comparison to tell the differences? While the comparison wasn't exactly fair as the JBL was placed very non-optimally and the Velodyne had my "expert-within-the-limits-of-my-mother's-tolerance" placement. That being said, the differences were such that it was remarkable. The Velodyne had so much more impact, was so much more articulate, and frankly, it shook the couch like a shiatsu massager. The differences were not night and day, they were earth and mars.
Lord of the Rings - Special Selections
My parents have a very limited number of movies on hand that would be considered sub testing worthy. Luckily, they are Lord of the Rings fans and had the entire trilogy. I played the Balrog scene from Fellowship of the Ring and the Oliphant scene from Return of the King. I also demo'ed these scenes with my parents in the room. The couch was shaking, my parents eyes were wide and the only difference between them was their reaction. My Dad just said, "Wow," while my Mom asked me to turn it down. Oh well, one convert at a time. The impact of the Velodyne DEQ-15R was impressive. While it surely wasn't providing as much infrasonic information as I've experienced with other subs, the experience was visceral and bone shaking. When the Velodyne hit, there was no doubt about it. You knew it was on.
Blue Man Group - The Complex DTS
I, of course, brought some of my own demo material and the Blue Man Group is a staple. Here I was looking for integration with the other speakers. The Velodyne definitely played well with the in-wall tSc NTIW25s and NTIW26s though the placement fairly near to the listening position (to the side of the couch about 3-4 feet away from where I was sitting) was a hindrance in my opinion. It seemed that even with the crossover placed at 60Hz, well below most people's ability to localize it, I could tell where it was. This may have been partially experience mixed with a bit of psychosomatics. My parents didn't agree with me and my mother in particular commented that even though she knew where the sub was, the bass seemed to be coming from the front of the room.
Star Wars Episode Two - The Clone Wars
Not truly a Star Wars movie in my book but I have to admit that it is convenient that the first few seconds of the movie provides prodigious amounts of bass. The flyover of the space ship at the beginning offers a very nice bass sweep with lots of subsonic information. The Velodyne surprised me with its ability to be linear in a room that is definitely not optimal and not at all treated. I credit the EQ with helping significantly with the linearity of the sub. I know from experience that the room can be boomy at times and I discerned no boominess or bass bloat. I wasn't as impressed with the extension of the sub as it seemed to roll off a bit earlier than I've heard in the past but it was still very respectable. All in all, a very good subwoofer experience.
Conclusion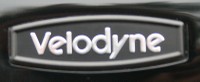 There is no doubt that the Velodyne DEQ-15R delivers the bass. One would expect no less from Velodyne. The real question is whether it is worth the money compared to some of the Internet Direct options out there. Well, at $1100, that's a bit of a tough sell. The linearity of the DEQ-15R is great and the EQ is a huge plus in my book. The EQ doesn't have nearly enough user control for me but I think most users wouldn't use it even if it did. The real problem is that the specs and measurements aren't jelling as well as I'd like. For $1100, I'd expect to get strong response at least to the low 20's. On that one count, the Velodyne could have done better. But with actual prices often far under $1000, the value of the sub increases dramatically (which is not reflected in the value rating below - at the price I paid, I have no problems bumping it up to a 4 or 4.5 value). One thing that the DEQ-15R has going for it is size. While other ID subs might offer more performance at the same price, you're going to need a hand truck and three friends to move the thing. With the Velodyne, hiding it behind (or next to as is the case here) a couch is definitely a possibility. While the Velodyne DEQ-15R may not do everything right, it certainly has enough going for it that I don't mind giving it a very strong recommendation. As someone that has had the Velodyne itch for quite some time, I'm glad I've had this chance to play with one. A word of warning to all Audioholics out there, you may not want to "try out" a Velodyne unless you plan on keeping it. I know I was tempted to try to convince my parents to let me take it home for "more measurements."
Velodyne DEQ-15R Subwoofer
$1,099/each
Velodyne Acoustics Inc.
345 Digital Drive
Morgan Hill, CA 95037
1-800-VELODYNE (835-6396)
About Velodyne
Velodyne Acoustics, Inc., founded in 1983, is universally recognized as the leading manufacturer of high-performance, low distortion powered subwoofers at all price levels. Headquartered in Silicon Valley, California, the company's technically innovative audio products are available through a select group of authorized dealers, custom installers, and distributors worldwide. For more information visit www.velodyne.com.
The Score Card
The scoring below is based on each piece of equipment doing the duty it is designed for. The numbers are weighed heavily with respect to the individual cost of each unit, thus giving a rating roughly equal to:
Performance × Price Factor/Value = Rating
Audioholics.com note: The ratings indicated below are based on subjective listening and objective testing of the product in question. The rating scale is based on performance/value ratio. If you notice better performing products in future reviews that have lower numbers in certain areas, be aware that the value factor is most likely the culprit. Other Audioholics reviewers may rate products solely based on performance, and each reviewer has his/her own system for ratings.
Audioholics Rating Scale
— Excellent
— Very Good
— Good
— Fair
— Poor
| Metric | Rating |
| --- | --- |
| Bass Extension | |
| Bass Accuracy | |
| Build Quality | |
| EQ System | |
| Fit and Finish | |
| Ergonomics & Usability | |
| Features | |
| Performance | |
| Value | |

AudioRo posts on January 03, 2011 23:47
I felt compelled to post as this was the first thing Google brought up when I was searching for a review of this sub. This is my first post and I'm no expert. I'm a mediocre musician (not my day job) with a pretty good set of ears.

Since some care about this: my current set up (in a town home while building my home) is System Audio SA510 bookshelves, NAD 747 as pre/pro and Acurus A250...

I went to Fry's today to check this sub out based on positive feedback from this review. I asked the salesman to move this sub to their theater room as an effort to get better room acoustics than the open area, with tons of background noise etc., and he did. They also ran the auto EQ.

The best thing I can say about this sub is that it puts out substantial bass. Personally I found it to be very loose and muddy sounding, boomy. It's not a 'one-note' sub but instead riddled with bad cabinet resonance. Though not as quite as loud the DEQ 12 has a smoother response in the 'bad' listening area. This sub was priced at $899 and was easily, surprisingly, outdone by the Minivee 10 in SQ... and the Minivee was only $100 more.

If you're considering this sub, I recommend listening to everything else in the general price range. It was loud and boomed but lacked detail.
westcott posts on August 09, 2009 03:47
Nousaine Subwoofer Shootout
[home.comcast.net]
I find testing a subwoofer at such low decibal levels does not tell me anything. Most good subwoofers roll off at the 80dB level, but are capable of much more.
Here is a subwoofer shootout list if anyone is interested. If you look at the data, you will find that most of the subs tested were ran well into the triple digits and quite a few averaged triple digits with +/- 3dB or so.
AVRat posts on August 07, 2009 11:40
McSmarty posts on August 06, 2009 21:04
+ or - 1k each for one initially and probably a second if needed. The room is a multi-use gameroom that is approx. 19' x 19' with 15' ceiling. A section of the left wall is projected out giving you a bench and a hall with steps lead down to it so the room isn't symmetrical. I just ordered 3 Klipsch KL-650-THX to sit in a built-in entertainment center and 2 KS-7800-THX in wall for surrounds. The subs probably will be placed in the bottom of the built in cabinets at front left and right which is probably far from optimal but have to compromise some things with wife to get what i want. Initially I will be using a Denon 3808 to power it but may add a emotiva amp if needed.
AVRat;606888
McSmarty, which pricepoint are you looking at and how large is your room? It may be better to start your own specific thread.
AVRat posts on August 06, 2009 20:02
McSmarty, which pricepoint are you looking at and how large is your room? It may be better to start your own specific thread.