SVS SB12-Plus Build Quality and Conclusion
Left: SB12-Plus Interior View: BASH Amp. Red & Black leads connect to driver.


Right: Faceplate View: Driver removed. Note the panel recess to facilitate driver flush-mount. Faceplate is just over 1" thick. Fiberglass cladding affixed lining the walls and extends ~ halfway back into cabinet.
The cabinet is a straightforward design, built sturdily with thick panels, and partially filled with fiberglass. The BASH amp & all processors, as already noted, are bolted into the back panel of the cabinet. The faceplate has been recessed to accommodate flush-mounting of the 12.3 driver. The driver is affixed to the cabinet by means of bolt/t-nut mounting hardware. The outer rim of the driver is enclosed in a rubber surround which in addition to its aesthetic value forms a gasket which ensures a tight seal with the cabinet.
Set-Up
I'd like to reprise here something written in an earlier review of an SVSound product as it is just as applicable now as then:
[Do] treat a thoroughbred right - whether it be, say, a race horse or a car (such as a Ferrari) and it will deliver like nothing else can. Don't, then you're denying yourself the exceptional performance that puts it in the thoroughbred rank to begin with.
Taking the time to set up a subwoofer is essential to maximizing system performance. Big or small, passive or active, vented or totally enclosed box, every subwoofer when setup correctly will deliver the best performance it is capable of in your listening space. It's well worth making the effort.
Placement is a common first step in setting up a sub. You may already be familiar enough with the unique acoustical topology of your room to know exactly where it needs to go before you start fine-tuning phase, dialing in the perfect PEQ settings combination, and so forth. If that's the case, you're off to a running start, made all the easier because the SB12-Plus isn't (as subs go) large or overly heavy.
On the other hand, if you aren't all that familiar with the unique acoustical characteristics of your listening space you'll again find the comparatively small size of the SB12-Plus an advantage. Essentially, "small" means you have a larger number of placement options than you would otherwise if you were dealing with a "large" subwoofer. For all but the dying-est, die-hard bachelor or bachelorette audiophiles, visual impact, for better or worst, factors into placement decisions. Looked at from the what's-visually-feasible perspective, a small sub offers more placement latitude than a large one. Best of all, integrating two small subs into a room as opposed to one larger one offers the benefits of better modal control for smoother bass over a wider listening area.
One quick way of determining the initial favorable locations in your room is to run a looped sine wave test tone (eg 300 Hz to 20 Hz) and walk the room, listening for those spots where response sounds most balanced or even. There are other approaches and for a more in-depth treatment of this topic, audioholics.com provides a wealth of information for the reader to peruse.
In the particular room where the SB12-Plus was auditioned, the sub was located about half-way back along the west wall of the room. After about an hour 舗 s worth of processor adjustments based on both careful listening and measurement a well-balanced response was arrived at. Though there were the occasional minor settings changes made on the fly as I grew more familiar with the sub, by and large the initial settings were maintained throughout the listening sessions. No processing other than that provided by the sub itself was used throughout the listening sessions.
Listening Tests
1 & 2. Bela Fleck & The Flecktones "Flight of the Cosmic Hippo" (Label: Warner Bros\WEA; ASIN: B000002LOZ) and "UFO Tofu" (Label: Label: Warner Bros / Wea; ASIN: B000002MF7) are both discs that'll give any subwoofer a workout. Especially where it comes to assessing how well a sub can finesse the material presented to it. These tracks work well with their minimalist arrangements, there's little for any bad sub behavior to hide behind.
Of particular interest here are "Flight of the Cosmic Hippo" found on "Flight of the Cosmic Hippo" and "Sex In A Pan", found on the "UFO Tofu" album. On bass, Victor Wooten and on drumitar, Roy "Future Man" Wooten (pictured at right). The Flecktones self-styled "blu bop" is a quirky, virtuosic mix of jazz, blue grass and whatever else might be the inspiration of the moment.
These tracks never fail at revealing the flaws or limitations of lesser subs, said items making the bass lines sound bloated or loose, the drumitar's "kick drum" sound, top heavy or over damped - all depending on the sub. The SB12-Plus responded to the challenge by filling the listening space with tight, clean rhythm bringing the Wooten Bros virtuosity to life in a lively, powerful way. Subjectively speaking, it's not unusual to encounter the sort of quality performance the SB12 delivered, though typically you'll find it in products costing much more or occupying more real estate.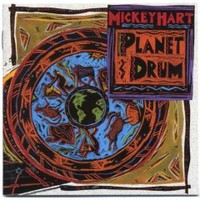 3. Mickey Hart "Planet Drum" (Label: Rykodisc; ASIN: B0000009O6). This disk is packed with challenging, musically complex compositions for voice, percussion and little else.
In the face of such percussive complexity it's easy for a sub to run out of dynamic headroom when pushed hard enough. The SB12-Plus is no exception, but owing to the quality of its design & components it maxed out gracefully, instead of simply collapsing in a heap of annoying distortion. Subsequent measurement showed the driver in the unit is held safe from harm by a built in limiter, hence its ability to play safely right out to the edges of its amplitude envelope. How well a sub deals with its own limitations when pushed hard enough is illuminating; whether or not excellence exists on the edge plays a role in determining the value of the product.
The Planet Drum disk has been around for quite a while and remains a favorite for putting any sub through its paces.
Recommendations
Any designer sitting down to design a sub must abide by the physics-imposed constraints of efficiency, bandwidth and cabinet size. In the end, any product represents a compromise of sorts, the compromise being the particular balance point chosen by the designer between the three. Whether or not that choice is musically satisfying depends on a number factors, but in the end it's the consumer that votes with his or actual purchases that determine whether or not the designer's vision was commercially valid. In the SB12-Plus we have a product focused clearly on that portion of the market that cannot or will not have a place for a large unit in their listening space. SVSound chose to go with a small, totally enclosed cabinet, pack a single 12" driver into it and powered the system with a 425-watt power amp. The end result? SVSound pushed the SB12-Plus 舗 performance right to the edge of the small-sub envelope. While in terms of raw dB spl output it cannot hope to rival the performance of something such as its big brother the PB12-Ultra/2 there are other musically-important performance metrics where it equals the performance of its larger siblings.
If making the furniture shake a floor or two up is how you define a sub's worth then a single SB12-Plus is not for you. On the other hand, if you're listening tends to be done in a small room or a system the size of the aforementioned PB12-Plus/2 just isn't going to happen because the SAF heads into the cold zone at the mere mention of a box big enough to house Fido, then the SB12-Plus is an obvious way to go.
Where the SB12-Plus keeps up with its much larger siblings is the flat response, quality design & build and a comprehensive set of built-in processors. One advantage of its small size is how well it lends itself to multiple-sub setups - an approach for which there are some definite sonic advantages.
Conclusion
SVSound has, once again, brought to the market a product that outright excels in the value-for-dollar category. It may be relatively small in size (about 1 cubic foot), but it's SVSound through and through: well built, and lots of power and SPL output. Coupled with its collection of built-in processor features and it's the logical choice for those who want the SVS sound but have chosen not to go with or have no need for something along the lines of SVSounds larger dual driver subs. Park two or more of these acoustical dynamos in your listening space and get ready to enjoy great sound your friends' will envy while garnering gratitude of your significant other who hasn't given up a king's ransom in floor space in pursuit of your audio nirvana.
The Score Card
The scoring below is based on each piece of equipment doing the duty it is designed for. The numbers are weighed heavily with respect to the individual cost of each unit, thus giving a rating roughly equal to:
Performance × Price Factor/Value = Rating
Audioholics.com note: The ratings indicated below are based on subjective listening and objective testing of the product in question. The rating scale is based on performance/value ratio. If you notice better performing products in future reviews that have lower numbers in certain areas, be aware that the value factor is most likely the culprit. Other Audioholics reviewers may rate products solely based on performance, and each reviewer has his/her own system for ratings.
Audioholics Rating Scale
— Excellent
— Very Good
— Good
— Fair
— Poor
| Metric | Rating |
| --- | --- |
| Bass Extension | |
| Build Quality | |
| Fit and Finish | |
| Features | |
| Performance | |
| Value | |