Sunfire HRS-12 Design and Construction
I have become Subwoofer Man.
At least that is what Gene and Clint seem to think now that I have that pair of Fathoms sitting in my home theater system.  I've been asked to do more reviews of subwoofers since the JL Audio review than I have had a chance to get to, and now two of the last three reviews I've authored are subs.
That's ok.  Being subwoofer man can be fun, especially when I am sent subwoofers with power output that exceeds the total output from all channels of the majority of multi channel receivers on the market.  Powerful, deep, clean bass is where all the fun is in movies and it certainly makes viewing much more engaging.
This is where Sunfire comes into this picture.  Sunfire Corporation has brought a new line of subwoofers to market called the High Resolution Series (HRS), and Clint asked if I wanted to have a look at them.  So, I asked for two.
For any readers unfamiliar with Sunfire Corporation, it is the brainchild of Mr. Bob Carver, a well known name that has been around in hi-fi circles for many years.  Bob Carver is probably best known for his long history of manufacturing electronics and speakers that he sold under his namesake Carver brand.  In the mid Eighties, Carver also gained some infamy with certain high end audio publications when he tweaked a $550 Carver amplifier to be indistinguishable from a $12,000 amplifier selected by the magazines using off the shelf parts and null difference testing to match transfer functions to -70 dB and the staff could not identify the copy from the actual amplifier.
Carver Corporation operated from the 1970s into the 1990s, primarily producing high end audio preamplifiers and power amplifiers.  Much of Carver's work became associated with Sonic Holography, a proprietary processing filter that was incorporated into many Carver products.  Several notable products from Carver's history include the Silver Seven and Silver Nine amplifiers as well as the Carver Amazing Loudspeaker, a design that utilized a full range, 60 inch long ribbon driver supplemented with four 12 inch woofers.
Bob Carver introduced Sunfire Corporation in 1994 and soon launched the Sunfire True Subwoofer, a diminutive 11 inch cube that boasted a 2700 watt amplifier with dual 8 inch drivers.  The High Resolution Series (HRS) subwoofers are the latest in Sunfire's product line and are said to draw from Sunfire's current 2700 watt flagship SubRosa subwoofer.  The HRS series consists of three different subwoofer models available with 8, 10, and 12 inch diameter drivers all powered by what appears to be an identical power amplifier design.
Design and Construction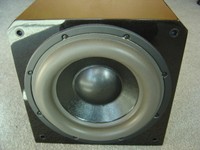 The HRS-12 is a modestly sized powered subwoofer with a front firing 12 inch driver housed in a cubic enclosure that is a mere 1½ inch larger than the driver.  Considering that standard cabinet design is ¾" MDF, the HRS-12 is no larger than the driver and the thickness of the panel to either side.  The cabinet design is a sealed enclosure that weighs in at a mere 38 pounds.
The HRS series subwoofers are available primarily with one finish: gloss black.  The finish is not a true piano gloss black lacquer, but rather, a vinyl laminate that pulls off a very good approximation of a lacquer finish from a distance, so unless ones guests are poking around in the corners and under the end tables, it is very likely that no one will ever know the difference.  The one exception to the single finish option is the HRS-8, which is also available in a glossy white finish, something they say appeals to the European crowd and those in southern climates.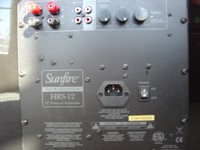 As is standard for most subwoofers, the various controls, connections, and the internal amplifier are plate mounted at the back of the HRS-12.  Audio connections and controls are located across the top of the back plate.  Audio connection options include binding posts for speaker level inputs, single ended (RCA) line inputs, and RCA high pass outputs that have a fixed frequency crossover of 70 Hz.  The inputs include automatic standby capability that can detect input signal and move the subwoofer between on and standby when the main power switch is left on.
All of the controls for signal processing utilize knobs that allow continuously variable settings.  The crossover on the sub can be set anywhere between 30 and 100 Hz and frequency bypass is accommodated when the knob is turned completely clockwise.  The remaining knobs are for volume and phase, which can be set anywhere from 0 to 180 degrees of phase adjustment.  Further down the back plate, near the center, is a connection for a detachable IEC power cord with fuse access located below it and a rocker power switch located next to it.
Disassembling the HRS-12 by removing the flange mounted driver, I found the cabinet construction to consist of 3/4" MDF panels with adhesive sealed joints.  Internal bracing consists of mid-panel joint reinforcing which serves to stiffen the panels by restraining panel edge rotation.  The driver assembly is flange mounted to the face with eight machine screws that supports a cast metal frame and a substantial motor structure.  At the back of the motor magnet, there is a flared opening at the center, apparently to improve thermal venting.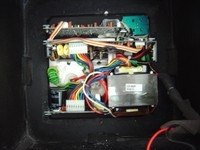 The amplifier section is mounted to the back plate, occupying the entire available surface area with functions divided up corresponding to the inputs and controls on the exterior of the plate.  The bottom half is dedicated to power supply with a decent size EI core transformer to one side and the main power supply board to the other.  This main board is home to a couple of 1000 microfarads, 160V main power supply capacitors.  Two boards for input/processing and amplification occupy the top half of the plate. It's little and its light, but the HRS-12 has it where it counts: a kilowatt RMS rated amplifier section. That's quite impressive for a 38 lb subwoofer.  What is also impressive is a specified 18 Hz –3 dB roll off point on an enclosed subwoofer design that is housed in a 13.5" cubic cabinet.
Sunfire says that the HRS drivers feature an extra long throw driver utilizing a new ultra low mass cone design.  The HRS-12 drivers use an embossed 12" polymer treated paper cone with a treated foam surround roll.  Movement of the driver cone is controlled and limited at two points in a standard dynamic driver, at the voice coil and the surround.  The large surround gives the sub the ability to accommodate large driver movement while remaining in the linear range, which is important to move the amount of air required by bass frequencies to develop accurate high SPL output especially with such a small enclosure.  The user's manual qualitatively suggests that the HRS driver design allows for an excursion range that is five times greater than typical designs, but does not specify what that number in fact is.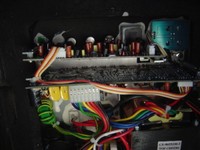 The driver motor utilizes Sunfire's High Back EMF technology (patent 5,937,074), which is said to allow substantial deep bass output from a small cabinet.  Small sealed cabinets have to generate higher internal pressures to match the frequency response depth and SPL output of larger cabinets.  This in turn requires larger motor forces to overcome the resistance to driver motion at these high outputs.  Heat becomes a problem if the solution to providing the force is just to dump additional amplifier power into the motor, which can lead to voice coil damage.  The High Back EMF driver utilizes a long throw woofer design with a motor structure based around a small bore, tightly wound voice coil with a large, oversized magnet that can develop the high force levels required without the damaging heat levels.
The HRS series subwoofers also employ several other proprietary Sunfire technologies.  One that the HRS series has in common with the SubRosa is referred to as Frequency Filtration Design, a sonic filter that according to Sunfire tailors the sub's sonic signature to provide improved accuracy and depth.  The HRS series subwoofers also use Sunfire's Tracking Down Converter amplifier design that is said to run cool while capable of supplying twice the output voltage of competing designs to provide better control of driver motion.  The HRS-12s also include a signal compressor and soft clipping circuitry to protect the units against audible distortion, mechanical contact of the driver with supports, and voice coil damage from amplifier clipping at high output SPL.
System Setup
There were no surprises with setting up the HRS-12 subwoofer.  Once an acoustically acceptable location has been preselected, place the sub, plug it in, and adjust the controls.  If the subwoofer is used for an LFE channel with processor bass management, crossover bypass can be selected by rotating the crossover frequency knob fully clockwise, otherwise dial in an appropriate frequency based on the roll off point of the accompanying main channels.  Next, using a full range source signal, adjust the phase to the setting that produces highest bass output with the main speakers.  Finally, manually adjust the volume level to balance the overall system frequency response and use the processor functions for speaker setup to tweak the final output setting.
azimuth posts on January 28, 2011 08:42
I would be very interested about the frequency response of this sub.
I didn't find anywhere a FR graph it seems weird that anybody measured it.
rmk posts on April 14, 2008 11:05
I had the HRS-12 in my system for about a week. I had limited time to actually play with it but the HRS left a very favorable impression.

At first I ran it with my dual F113's placed front right (the Fathoms are on the left side wall) and felt it blended very well with the Fathoms. Then, I turned the Fathoms off and ran it alone and then did a brief A/B with a single F113. It really is a very nice little sub for the money. Build quality and finish are good and it plays clean and loud down to the low 20Hz region. It handled music and movies very well clean output that was almost Fathom like. At its street price, two or even four of these would make for a very nice HT implementation and the small form factor is a big plus for flexible positioning and hence bass optimization.

I have returned this "demo" model to my dealer but I am thinking of going to quad subs in my HT room and this little sub (it makes the small Fathom's look huge) is on the short list for that duty.

One side note, the packaging is incredible … triple boxed with a velvet sock cover on the sub. Nice job Sunfire!
sbeveraggi posts on March 29, 2008 17:34
Do you think this sub will blend well with satellites crossed over at 100hz?
Will 1 HRS-12 be enough to fill a 3000 cubic feet room?
Thanks.
haraldo posts on March 28, 2008 18:03
And the weather
Aaaaaa sorry, you already stated that
gene posts on March 28, 2008 17:53
I'm considering going all the way from Norway to CE state of the Union, do you think, that'll be worth it?
Wow you would probably qualify as the longest traveler to our event in its history if you come! Its definately worth and I am not just saying that because I am hosting it
2 days of great product demos
Debut of new products from Yamaha, EMP, Pioneer, Emotiva and others
Great food! (breakfast for 2 days, formal dining event)
Costume party, dance and entertainment
free educational seminars
chance to hang with Audioholics staff
tons of free party swag and product giveaways
a nice week of warm weather
Check out our video from last years event which was only about 1/2 the size of this one:
http://www.audioholics.com/news/trade-show-coverage/videos/2007-ce-union-overview-video
[audioholics.com]