Rythmik Audio F25 Direct Servo Subwoofer First Look
Summary
Product Name: F25
Manufacturer: Rythmik Audio
Review Date: February 04, 2011 03:15
MSRP: $1299
First Impression:

Gotta Have It!

Specifications

| | |
| --- | --- |
| Driver | Dual DS1501 15" high excursion with custom sensing coil |
| Driver materials | Black anodized aluminum with rubber surround |
| | Cast aluminum basket |
| | Copper flux modulation shorting rings |
| Amplifier | 600 RMS class H patented servo controlled |
| Dimensions | 19"(W) x 33" (H )x 21"(D) - (23" D with grille and heatsink) |
| Shipping Weight | 140 lbs |
| Frequency Response | 14 - 90 Hz (-2 dB @ 14 Hz) |
| Crossover slope | Selectable 12 or 24 dB / octave (PEQ and XLR versions) |
| Crossover range (Low pass) | 25 - 100 Hz |
| Rumble Filter (High pass ) | 20 Hz 18 dB / octave |
| Phase response | 90 degrees phase shift at 20 Hz |
| Phase adjustment | 0 - 180 degrees continuously variable |
| Bass damping factor settings | high (Q=0.5), med (Q=0.7), and low (Q=1.1) |
| Finishes | Available in honey oak vinyl or black oak vinyl |
| Warranty | 5 years warranty on driver and 2 years on electronics |
| | 30 day satisfaction guarantee |
Executive Overview
When looking at subwoofers, there is very much a "go big or go home" mentality. We like to harp on Internet direct brands for this but honestly, many high end subs suffer from the same syndrome. This is cause, mostly by physics. It is just not possible to hit those extremely low notes without a big box with big drivers. The question is how to build such a behemoth in such a way that it provides the impact and extension the customer wants without getting the customer divorced in the process.
One of the current trends we're seeing in subs, specifically Internet direct subs, is building up rather than out. In the past it wasn't uncommon to see a wide, thin, short sub that was designed to be placed along a wall or behind a couch. Since we know that it is usually much better to place them away from corners and walls, this design has, thankfully, fallen out of favor. Now, the small footprint is the new "in" thing and frankly, we like it. The wife might not know why you need another floorstanding speaker but she will more readily accept it than a coffee table sized sub you have to hide behind a piano.
Rythmik Audio has developed a new servo sub that attempts to fulfill the new trend for a small footprint will still giving you the bass you want. The F25 is a diminutive 140 pounds shipped (yikes, better get a few friends, some beer, and an extra large pizza when it's time to set that badboy up) but is only 19" wide and 21" deep. While the footprint is quite a bit larger than your standard floorstanding speaker, it isn't as large as many of the subs that claim the bass response of the F25. At 33" tall, there is quite a bit "up" to this sub which gives it plenty of room for the dual 15" drivers.
That's right, two of them.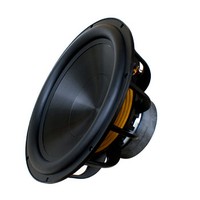 The Rythmik Audio F25 claims a frequency response down to 14Hz at just -2dB. That's pretty impressive (heck that's REALLY impressive). They do this through a combination of a big, heavy box, huge drivers and technology. The box is not ported, is internally braced, and has a front baffle that is twice as thick as the other walls (most likely because of the dual the drivers). The box comes in walnut or black ash vinyl veneers or you can opt for the high gloss piano black signature edition for a premium though the pricing on that has yet to be listed. As mentioned, the F25 utilizes two 15" black anodized aluminum coned woofers with rubber surrounds. The drivers are designed for high excursion, have cast aluminum baskets, and are forward firing. The class H amp behind the drivers is pumping out 600 watts and is servo controlled.
Here we get into the technology side. A servo sub uses a feedback mechanism by which the movement of the cone is compared to the original signal. If there are any differences, the signal fed to the driver is modified so that the cone is reproducing the sound intended. While other servo mechanisms rely on an accelerometer, the Rythmik system is direct feedback so that the measurements and adjustments are happening simultaneously with the cone movement. This, according to Rythmik, equates to zero latency between sound reproduction and correction.
But there is more on the technology side. Rather than a 0/180 degree phase switch, the F25 incorporates a variable control for those that use phase to dial in their sub's performance. There are unique bass extension controls for adjusting how low the sub will go (14/28/20hz). This filters out any sounds below that point. There is also a Damping control determines how quickly the sound below that point is filtered with Hi equating to the steepest slope (the filter will cut the frequencies quickly) and Med and Low allowing for a more gentle rolloff. You can also set the crossover slope to either 12dB or 24dB/octave, a feature rarely seen on commercial subwoofers. Lastly, Rythmik has included a single band of parametric equalization with the amp that can be defeated. You can control not only the frequency and the gain but also the bandwidth. For those with one problem frequency, this is a godsend.
Conclusion
We can hear you now. You're saying, "Yeah, yeah, it plays low, the footprint isn't too big, and it has lots of tweaker options that I may never use. But it costs a mint, right?" While some manufacturers use vinyl wraps to indicate cost cutting while still charging a premium with their speakers, we're shocked to report that the Rythmik Audio F25 is only going to cost you $1300. While that may seem like a chunk of change to some, we DARE you to find a sub that claims the features and extension (much less servo) at anywhere close to that price. That's just crazy. It's so crazy, we just might buy two.
For more information, please visit www.rythmikaudio.com.
Matt34 posts on December 15, 2011 18:53
raynist;848704
So this is never getting a pro review or did I miss it?
I believe they are still on back order due to amp shortages.
raynist posts on December 15, 2011 18:28
So this is never getting a pro review or did I miss it?
tigerissmiling posts on February 18, 2011 17:50
Hi Brian,

do you have a plan to upgrade F25?

will you give it a new Amplifiers which has a higher output?
Cos_sound posts on February 06, 2011 14:17
Love to see a pro review of this sub
ntrain42 posts on February 05, 2011 18:08
scott911;789653
night train guy - (or rythmyc guys)

this thread is amazingly informative... thanks

I saw in a signature that you have a pair of downward firing sealed subs. Can you explain why that's the option you choose over a similiar sized side-firing option?
I use a pair of down firing subs in one setup where I want to reduce localization of the subwoofer as they are used with larger monitors. In the other setup which does double duty as HT and audio, I wanted front firing higher output(for HT) subs to blend in better with smaller monitors that require a higher crossover point.