Paradigm Signature Sub 2 Subwoofer Review Conclusion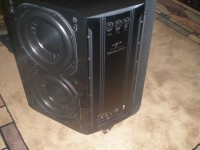 Paradigm has produced a tour de force with the Signature Sub 2. It is overall the highest performing and most thoroughly impressive subwoofer that I have encountered. The msrp of $8,999 is undoubtedly a large chunk of cash but with the amount of development, technology and hardware packed into each Sub 2 coupled with the attention to detail, high tech look, beautiful finish and high performance, that big sticker starts to look more reasonable. The performance basics are well covered with a linear response, deep extension, low distortion and plenty of headroom. Additionally Paradigms PBK system is probably the best example of an automatic equalization system that I have used to date. It made a measurable and clearly audible improvement in response smoothness in my room. I was also pleasantly surprised at the basic control scheme and lack of filler features of limited usefullness on the Sub 2. The result is a subwoofer that is surprisingly easy to integrate and set-up. I had it dialed in in about an hour and a half, at which point it sounded very good indeed. Wall shaking power is on tap at will as the Sub 2 clearly demonstrated with a couple of big time performances on movie night. Obtaining useful extension and output down to the 10Hz range is not out of the question with this subwoofer. Likewise with two channel music there is plenty of headroom to serve up near live output levels. But the kicker is that no matter how hard the Sub 2 is pushed the output is always well controlled and lacking in significant coloration. You are more likely to run into issues with objects vibrating due to the Sub 2's output in your listening space. That sort of neutrality coupled with lots of headroom goes a long way towards making the foundation of any material sound its best. The Sub 2 simply performed magnificently no matter what I happened to be listening to. One other unanticipated attribute of the Sub 2 that I noticed was that it always started a conversation whenever one of my friends or family would be over and see it for the first time where they would ask what it was or "how does that one sound"? Most of my friends have seen so many speakers come through my house that they barely get a second glance or draw a comment anymore. Not the Sub 2, it invariably received comments and questions. Paradigm's Signature Sub 2 is undoubtedly one of the most impressively engineered powered subwoofers on the market today. If this fine subwoofer is within your financial means you would be remiss to not give it an audition.
The Paradigm Signature Sub 2 receives the Audioholics Bassaholic Extreme Room rating, which means that this sub is recommended as maintaining adequate headroom in rooms or spaces of 5,000 cubic feet or greater and/or for users who usually listen at high volume levels. For further information in how we make these recommendations see the full article here.
See: Audioholics Subwoofer Room Size Rating Protocol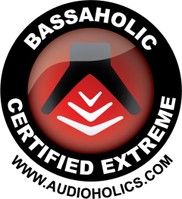 Paradigm Signature Sub 2 Review
Paradigm Electronics Inc.
Paradigm.com
Customer Support: (905)696-2845
MSRP: $8,999
The Score Card
The scoring below is based on each piece of equipment doing the duty it is designed for. The numbers are weighed heavily with respect to the individual cost of each unit, thus giving a rating roughly equal to:
Performance × Price Factor/Value = Rating
Audioholics.com note: The ratings indicated below are based on subjective listening and objective testing of the product in question. The rating scale is based on performance/value ratio. If you notice better performing products in future reviews that have lower numbers in certain areas, be aware that the value factor is most likely the culprit. Other Audioholics reviewers may rate products solely based on performance, and each reviewer has his/her own system for ratings.
Audioholics Rating Scale
— Excellent
— Very Good
— Good
— Fair
— Poor
| Metric | Rating |
| --- | --- |
| Bass Extension | |
| Bass Accuracy | |
| Build Quality | |
| Fit and Finish | |
| Ergonomics & Usability | |
| Features | |
| Dynamic Range | |
| Performance | |
| Value | |
See also:

Claire193 posts on April 24, 2012 19:54
Very good read Josh, thanks man.
haraldo posts on April 24, 2012 18:55
3db;880459
I still want that Sub 1
No why do you cheat us like this.....
You want at least two sub 1's' perhaps even two sub 1's at each channel...... he he
Hocky posts on April 24, 2012 18:34
mbfleming;880716
The sides with drivers are a little wider than the sides that don't, so it's not exactly hexagonal either.


You have a nice looking ceiling. lol
mbfleming posts on April 24, 2012 17:50
The sides with drivers are a little wider than the sides that don't, so it's not exactly hexagonal either.


Lordhumungus posts on April 24, 2012 10:47
Or would it be a Hexagonal Prism? That sounds the best anyway.

Yep, that's 100% correct. I started out saying octahedron which isn't right considering all sides aren't equal, then when I realized my error, I made another error in forgetting that the "prism" part denotes it's 3d-ness.